News
Tuesday, November 15, 2022
Camren Kring advances his career through apprenticeship training sponsored by his employer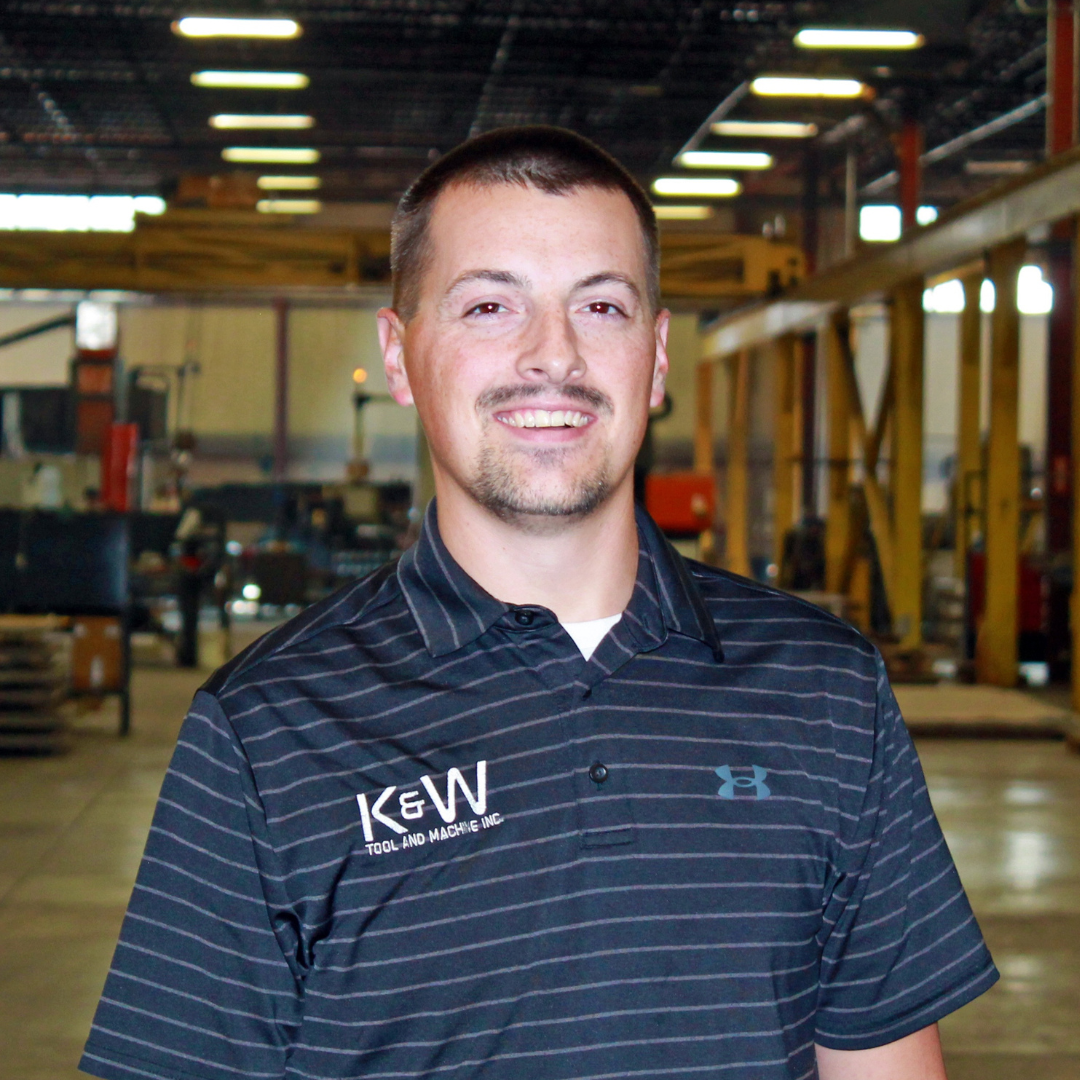 When Camren Kring first enrolled in classes at Montcalm Community College in fall 2010, he really didn't know what he wanted to do with his life.
So, he enrolled in general education courses and began looking for a job that would help put him through school.
In February 2011, he was hired by Joe Kohn, owner of K&W Tool and Machine in Greenville, and his path started to become more clear.
A 2010 graduate of Central Montcalm High School, Kring's first job at K&W was doing grounds maintenance work. As a company that leads with a diversified presence in Defense, Ammunition Tooling, Mining, Commercial Vehicle, Special Machines and Automotive Tooling industries, Kring began to find his calling.
After a year, he started training on a computer numerical control (CNC) bridge mill, followed by learning to operate a CNC waterjet and laser. It was during this time that Kring put school on hold, but in 2014, K&W presented the apprenticeship opportunity with courses at MCC. By Spring 2015, Kring was in the program taking full advantage of the moment.
"I believe all our classes were at the MCC Greenville campus, which worked out perfectly only being a mile from work," he said.
Months later, Kring was moved into the office as a project manager, which not only entailed the hands-on machining responsibilities but also communication with customers and vendors.
Receiving his Certificate of Apprenticeship Completion from MCC in May 2017 and becoming a journeyman, by late 2018, Kring was promoted to Plant Manager, which consists of quoting, scheduling jobs and employees, and assisting with the hiring process.
"My experience at MCC was great," Kring said. "The instructors and adjuncts really put in the time and effort for everyone to learn and grow in our industries."
Kring added that there was a combination of students, some more advanced in the tooling and machining world, so they were able to assist one another at different levels. He also said how important hands-on classes were, which mostly made up the program, and helped while he approached specializing in a trade.
"While attending MCC with other apprentices from our small community, I learned how important our trades really are to our local economy and to our country," he said.
Residing in Crystal, Kring is dedicated to continuing to learn and grow in his career with his current company, advising others to take full advantage of opportunities when a company may pay for your education.
"Show up to class, go the extra mile at school and the workplace, and take some courses that may be more challenging for you; if you get stuck, MCC has the resources for you to get back on track," he said.
Kring has accomplished quite a bit in his 30 years, particularly with his career development journey, pointing out how MCC made these opportunities possible. Some of these opportunities include participating on the governing boards for some of the manufacturing, welding, and career and technical education (CTE) advisory meetings, as well as for Greenville High School, Montcalm Area Career Center, and MCC, where he shares his thoughts about the curriculum for students. In addition, Kring is a Big Brother Big Sister mentor and volunteer.
"If I wouldn't have gone through MCC's apprenticeship programs and made connections with the local schools and staff, I don't think I would have had these opportunities," he said.
About Apprenticeships
This week marks National Apprenticeship Week, Nov. 14-22. According to the National Apprenticeship Week website, it is a nationwide celebration where industry, labor, equity, workforce, education and government leaders host events to showcase the successes and value of Registered Apprenticeship for rebuilding the nation's economy, advancing racial and gender equity and supporting underserved communities.
An apprenticeship is an industry-driven, flexible training model that can be customized to meet the needs of businesses across multiple industries. Workers learn the practical and theoretical aspects of a highly skilled occupation while they are employed.
Apprenticeships can be found in all industries such as advanced manufacturing, agriculture, construction, cybersecurity, energy, financial services, health care, hospitality, information technology, public service and others. More than 1,100 occupations are approved for apprenticeships through the U.S. Department of Labor's Office of Apprenticeship.
Individuals who complete a Registered Apprenticeship program earn substantially higher wages over their lifetime. According to the U.S. Department of Labor, 93% of apprentices who complete a Registered Apprenticeship retain employment, with an average annual salary of $77,000.
For more information about MCC's Apprenticeship programs, visit montcalm.edu/workforce or contact Dean for Industrial Education & Workforce Training Susan Hatto at susan.hatto@montcalm.edu or 989-328-1254.
Media contact:
Shelly Springborn
Director of Communications and Public Relations
shellys@montcalm.edu
989-560-0833