News
Monday, December 16, 2019
Crystal woman enjoys singing in the choir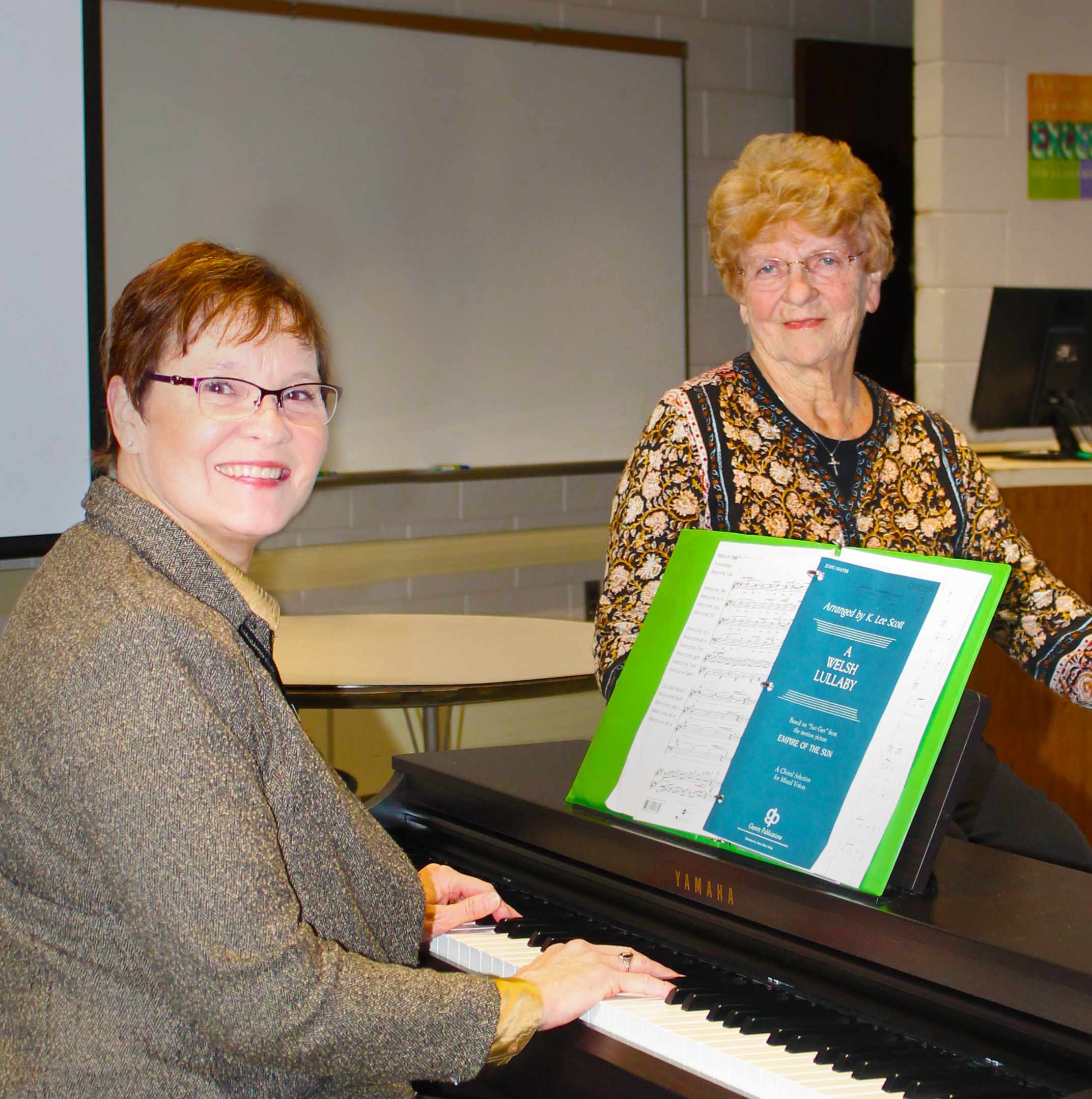 Gail Byers of Crystal grew up as the youngest of seven siblings, and her mother made sure all of her children were exposed to the arts at a young age.
Whether it was dance, piano, violin, or voice lessons, they all had the opportunity to take lessons and for their mom to instill her love of music in them.
They grew up with their mom playing hymns on the piano and singing, and Byers, too, took piano lessons and sang in the choir in high school.
Byers, who is now a widow with two sons, grandchildren and great-children, soon found that life and adulthood got in the way of her musical involvement.
"Family and jobs took  priority, as they should," said Byers, who took some classes at Montcalm Community College in the late 1960's. "But music has always been a part of my life." 
After seeing an older sister sing in MCC's Alumni & Friends Choir, Byers decided she, too, could participate.
"I thought, 'If she can do it, then so can I,'" said Byers, who joined the choir about 10 or 12 years ago.
Byers will be one of about 40 members performing during a "Celtic Christmas" concert Dec. 8 at 3 p.m. in the gymnasium on MCC's Sidney campus. The performance pairs the Alumni & Friends Choir and MCC's Philharmonic Orchestra and will include traditional and lesser-known Celtic tunes as well as an audience singalong. A special Irish dance presentation by the Hubbardston Irish Dance Troupe will precede the concert from 2:30 to 3 p.m. for those wishing to attend.
Admission to the concert is free, but attendees are encouraged to bring a non-perishable food item to support The Food Source at MCC. The MCC Food Source was established in January 2019 through a collaboration of MCC's Student Services Department and the college's Student Success Center to serve food insecurity needs of MCC students.
Byers has had a vibrant career. She retired after 25 years working in an attorney's office and then worked in the Communications Department at Great Lakes Communication in Crystal, from which she also is retired. She currently enjoys working a few hours a week at the Crystal Community Library and playing piano and organ at the Crystal Lake Community Church. She looks with excitement to the MCC concerts each semester.
A member of the men's tenor section, Byers said she had always wanted to sing during The Messiah performance.
"That is the first performance I did with MCC. I knew I needed to jump in and do it. I am not getting any younger," she said. "The most difficult performance was Carmina Burana.
"I really enjoy singing with the choir immensely," she said. "Some, like me, return year after year, and they have become invaluable friends who have made a difference in my life, and yet they don't even know it."
The "Celtic Christmas" concert will include a wind ensemble  performing several Celtic numbers including "I Saw Three Ships," "Celtic Carol" and "Yuletide Tapestry."
Choir numbers include a piece from Benjamin Britten's Ceremony of Carols called "Wolcum Yole!" which is sung in Middle English and greets the season with joy. Traditional English carols such as "Westminster Carol," better known as "Angels We Have Heard on High" and a gorgeous setting of "In the Bleak Midwinter," will be accompanied by a string quartet and Sue Snyder's pure soprano solo will also be showcased. Irish music will be featured in a lively fiddle tune called "Little Beggarman," complete with fiddle, flute and an Irish Bodran drum. 
 Along with a pre-concert performance at 2:30, the Hubbardston Irish Dance Troupe, under the direction of Emma Jandernoa,  will also perform two numbers during the concert.
The music of Wales is represented in "A Welsh Lullaby," a lovely traditional tune that is highly recognizable. A medley of "Deck the Halls," "God Rest Ye, Merry Gentlemen" and "Good Christian Men Rejoice" is set in an upbeat Transiberian Orchestra style with a Celtic flare that will be an audience favorite. 
The audience will also be invited to sing along on "The Twelve Days of Christmas." followed by a hilarious novelty number about what can go wrong in "The Twelve Days After Christmas."
The choir is directed by Valerie VanderMark and the orchestra is directed by Howard Wilson.
"We are proud to present this concert to our community for free, and I know the audience will go away uplifted and ready to celebrate the holiday season," Vander Mark said.