News
Tuesday, April 20, 2021
Everything but the oink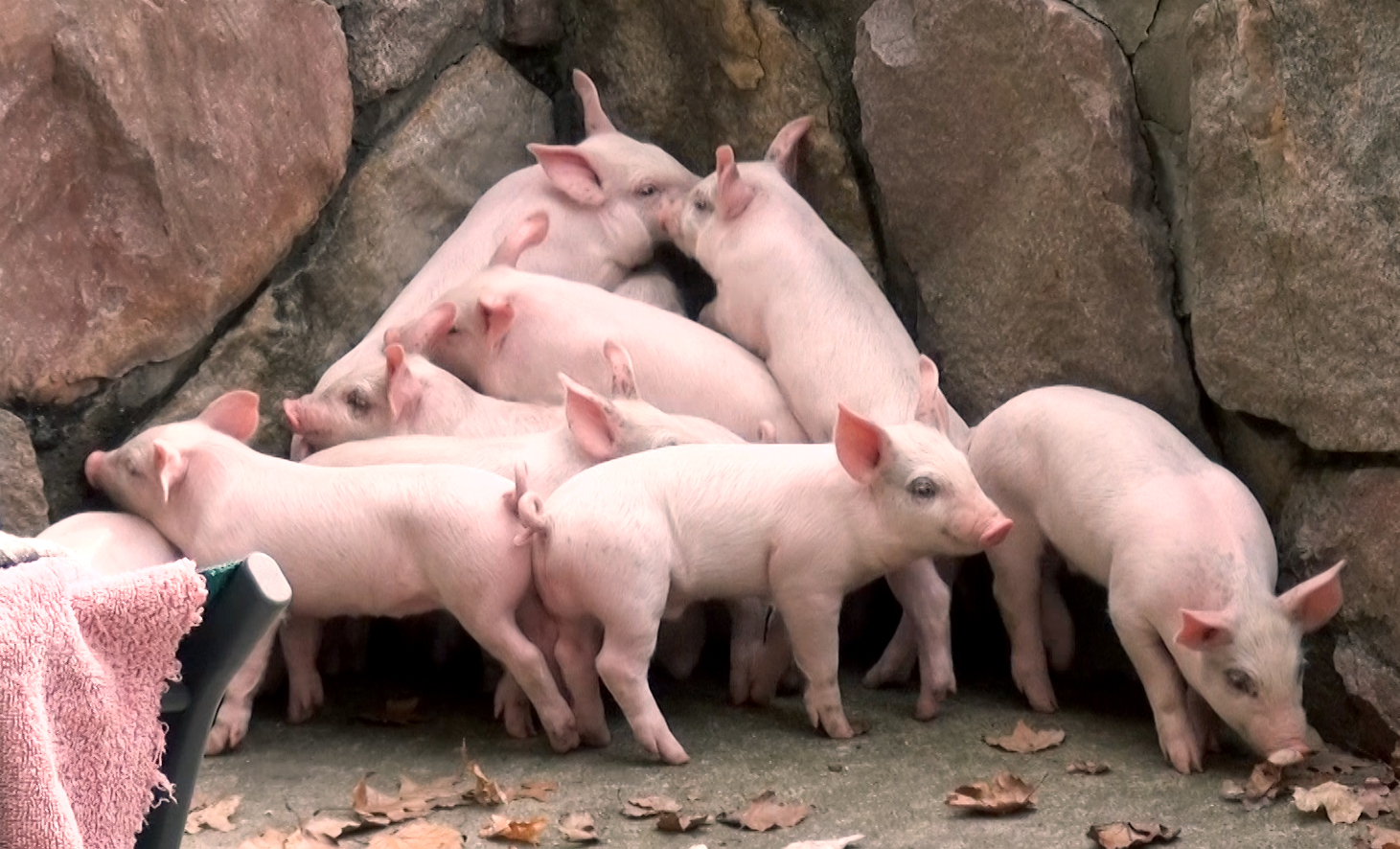 Pig donation supports hands-on learning at Montcalm Community College
Written by Adele Stuever-Battel
Students at Montcalm Community College have an unusual teacher helping them learn career-ready skills this semester — Dolores the pig and her litter of piglets.
Under the direction of Biology Instructor Dr. Michelle Gibson, students are not only learning agricultural science, but will also provide pork to fellow students in need and build a sense of community all in one project.
Many students in Gibson's Introduction to Animal Science class are part of a partnership between Montcalm Community College and the Michigan State University Institute of Agricultural Technology. They are working toward an associate degree in Agricultural Operations at MCC as well a two-year certificate from MSU. Hands-on learning — such as through the pork project — is a hallmark of the program.
"I think any time students do things hands on, they learn it way better than just listening to a lecture or reading about it in a book," Gibson said. "I mean there's no other way to explain castration without seeing it done or doing it."
Dolores the pig, a bred sow, was donated to the college by Sietsema Farms in January. Lee Carte, Sietsema Farms Swine Division Manager, was eager for students to learn how modern hog farming has evolved.
"I think that they're doing a fine job with the sow and the piglets and I hope that they learn from the experience," Carte said. "We wanted to help the students understand how the sows farrow and go through the entire process of caring for the pigs, from birthing to weaning."
After arriving to Gibson's home barn in January, Dolores was cared for by Gibson and her students until farrowing on March 18. On that day, students arrived to see that Dolores had successfully farrowed two piglets and got to witness the rest of the litter being born.
Students in Gibson's class will be involved in all aspects of piglet care. Agricultural Operations student Margaret Haight sees the benefits of this opportunity.
"I really enjoy this class," Haight said. "I would encourage anyone—whether they're in Agricultural Operations or any type of agricultural field at all—to take this class."
Haight, who grows organic vegetables in Greenville, on her Wabasis Creek Farms, especially appreciates the breadth and practicality of information learned.
"You experience puppies being born, but when it comes to farm animals it's a bit different because you know they're food," Haight said.
Along with the other students, Haight is involved in piglet care from clipping needle teeth to giving iron injections for a healthy start. Students will even learn how to notch piglets' ears for identification and how to read notched ears.
Students recently brought the piglets to MCC's Sidney campus to deliver a presentation about their learning. Communication is yet another important skill taught in the Agricultural Operations program.
Gibson and her students really are using everything but the oink. They are prepared to glean every bit of education they can, but Dolores and her piglets have a lot more to give to the MCC community.
After the piglets are weaned, Dolores will be processed locally. The Food Source at MCC, a food pantry for students on campus, will receive a donation of ground pork. The work students put into raising Dolores and her piglets will come full circle as students who benefit from the pantry's services will be able to receive pork as a high-quality source of protein.
The piglets will remain in the care of Gibson until they reach processing weight at about six months old. They won't stop contributing to a sense of community at MCC either. Gibson hopes that one of the finished hogs may be used to feed community members at the Ag Program Orientation in August.