News
Thursday, May 31, 2018
Greenville resident wins two-year MCC scholarship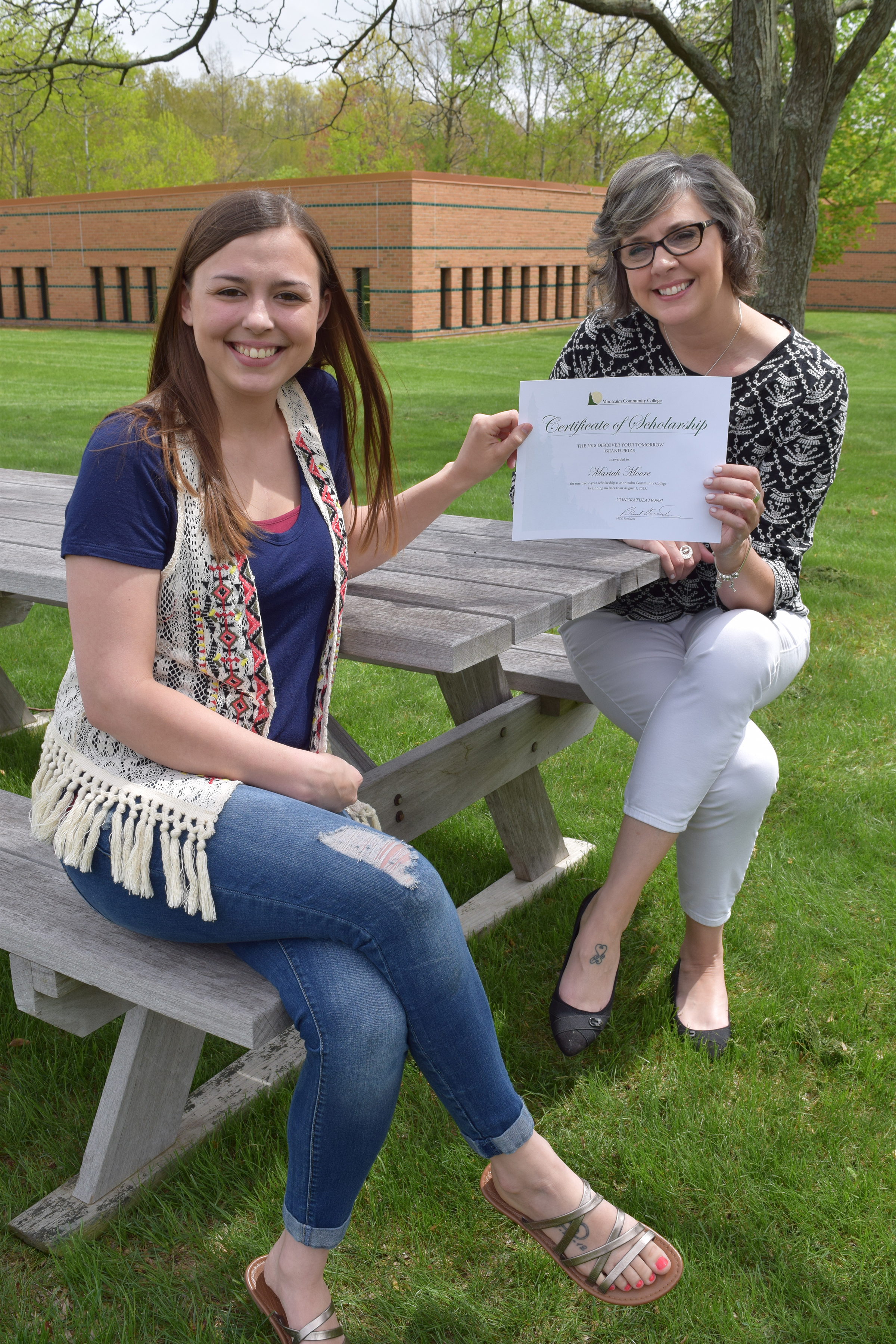 Mariah Moore doesn't have to worry about paying for classes this fall at Montcalm Community College.
The 24-year-old mother of two young children won a two-year scholarship during the college's Discover Your Tomorrow event on May 10.
"A huge weight has been lifted off of my shoulders not having to worry about paying for college for two years." Moore said.
MCC Director of Community and Alumni Relations Mel Christensen said the goal behind Discover Your Tomorrow was to showcase local education and job training opportunities through hands-on demonstrations in the areas of skilled trades and manufacturing, health careers, agricultural science, computer science and digital arts.
"We wanted to share with the community all of the ways in which MCC is ahead of the game when it comes to career readiness training and education for in-demand jobs," Christensen said. "We hope that through the hands-on exploration of these different program areas, we have sparked some interest in students who may be unsure of what type of career they are interested in pursuing. We knew the scholarship would be a great draw for people to take part in the event and that it could potentially change someone's life.
"Knowing what you want to do or what you are good at doing doesn't come easily to everyone," she added. "The event gave people insight into what work-related skills they want to develop."
That's exactly why Moore attended Discover Your Tomorrow.
"I was planning on attending MCC this fall anyway, but I am having a hard time deciding what I'd like to go to school for," she said. "I thought going to this event would help me decide since I would be able to talk with some instructors there."
The two-year scholarship grand prize will allow Moore to take up to 62 credits for free. The value of the prize is approximately $10,000.
"I entered the drawing because having two years of free schooling would be a huge blessing to my little family and me," she said.
Moore graduated from Greenville High School in 2011. She is a stay-at-home mom and is excited to begin working toward earning a degree and finding a career path she loves. 
"I have not decided what major I will choose and will be meeting with a counselor for help making that decision," she said.
Moore said she is ready to become a college student and discover her potential.
"When I announced that Mariah won the scholarship, I envisioned her standing next to her two young children and husband, wearing a big smile, and I knew that this scholarship had the potential to change her life," Christensen said. "I can't wait to see her smiling face around campus."  
Moore resides in Greenville with her husband, Eric, and their children, Weston and Elliette.