News
Friday, July 27, 2018
Heritage Festival: Where History is more than a picture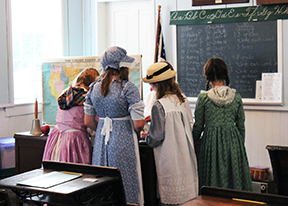 A historic schoolhouse reenactment will take place daily from 10 a.m. to 1 p.m. in the Gaffield School during the 32nd annual Heritage Festival in Heritage Village on Montcalm Community College's Sidney campus. Admission is free.
Take a step back in time during the 32nd annual Heritage Festival, Aug. 2-4, at Montcalm Heritage Village on Montcalm Community College's Sidney campus.
The opening ceremony is Aug. 2 at 10 a.m. at the gazebo, followed by the Montcalm County Commission on Aging Senior Fest from 10 a.m. to 2 p.m. in Heritage Village. Special events include lunch, drawings, door prizes, free blood pressure checks sponsored by Metron of Greenville and a scavenger hunt. Transportation is provided from the parking area.
Several activities and displays are available all three days, including historical displays in Heritage Village buildings, live music, an antique tractor display, children's activities, ironwork demonstrations in the Blacksmith Shop, a display of a railroad speeder and equipment, demonstrations by the American Mountain Men, a Civil War Encampment, craft demonstrations, an ice cream parlor and dairy equipment display, antique small engine displays, steam engine display and demonstrations, cake walks and more.
The Montcalm Area Master Gardeners will also offer garden tours for a second year.
For more nature-related activities, MCC's Nature Trails Committee offers a variety of activities, such as creating art from rocks or wooden slabs by painting and decorating them, as well as self-guided tours on the Kenneth J. Lehman Nature Trails on the college's Sidney campus daily.
The MCC Foundation hosts its pancake breakfast Aug. 4 from 7 to 10 a.m. in MCC's Activities Building. Proceeds from the breakfast support MCC scholarships. The cost is $5 per person in advance or $6 at the door. Contact MCC President's Office Executive Assistant Lisa Herald at lborton@montcalm.edu or 989-328-1210 to purchase tickets or for more information.
Vintage Base Ball returns to the festival Aug. 4 on MCC's south and east lawns. All cranks, or fans, are invited to watch as five club nines, or teams, try to score enough aces, or runs, to win the game. Teams include the Continental Base Ball Club of Kalamazoo, the Fallasburg Flats, the Ludington Mariners, the Lumber City Base Ball Club of Flint, the Monitor Base Ball Club of Chelsea and the Sidney Stars. Games start at 9 a.m. Parking and admission are free.
The festival is offered by the Montcalm Heritage Village committee, a group of community volunteers that works year-round in the historical Heritage Village on the college's Sidney campus; MCC; and the MCC Foundation. Montcalm Heritage Village was established in 1986 on MCC's campus and has grown to include 28 buildings and hundreds of artifacts from local areas depicting life in Michigan in the late 1800s and early 1900s.
The festival runs from 10 a.m. to 4 p.m. daily. All events are free unless otherwise noted.
For a complete schedule of events or for more information about Montcalm Heritage Village, visit www.montcalm.edu/heritage-festival.