News
Thursday, May 31, 2018
John Davis brings a passion for fitness to MCC's recreation department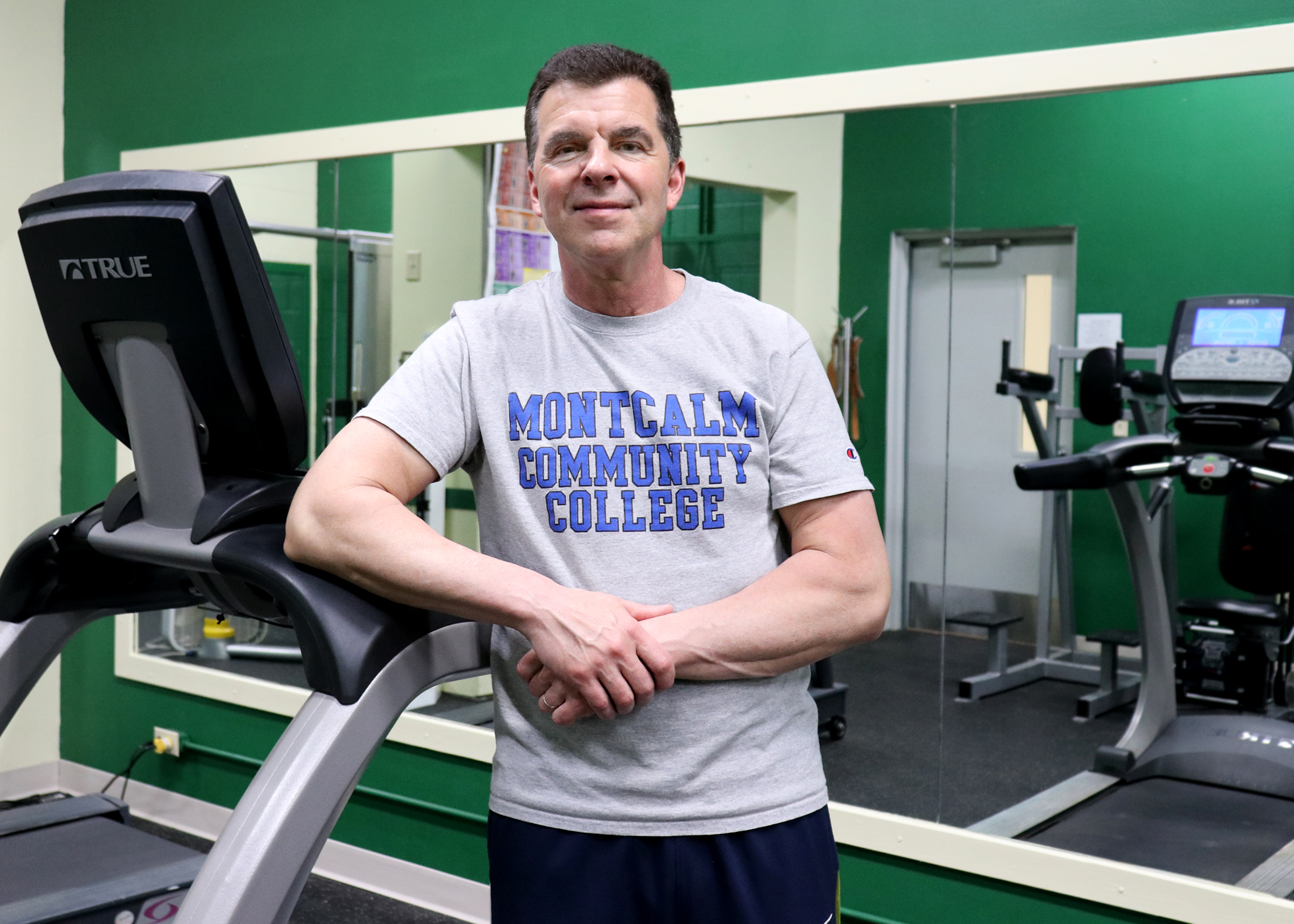 John Davis is passionate about helping people gain confidence through recreation and fitness activities.
He became Montcalm Community College's recreation coordinator in January and is developing a variety of offerings to bring new life to the college's recreational offerings for community members, students and employees. The college offers an NCAA-sized indoor pool, a recently updated fitness center and gymnasium, a climbing wall, outside tennis courts, a sand volleyball court and more.
"This year, we plan to offer many new recreation activities, including aerobics, personal training, cardio boxing, stability ball workouts, Pilates, CrossFit and yoga," Davis said.
Davis is a graduate of Central Montcalm High School. He is certified in nutrition, personal training, cardio fitness and exercise therapy from the National Academy for Health and Fitness.
"Fitness has been something I have enjoyed my whole life," he said.
At a young age, Davis wanted to build confidence and found fitness as a way to do that.
"I had the drive to challenge myself and push my limits," he said. "Reaching new goals helped me build confidence.
"Now, I continue to see the importance of a healthy lifestyle and want to share it with others," he added.
Davis spent 25 years working as a personal trainer, pool instructor, life coach, manager and therapy assistant at the Lakeview Community Wellness Center in Lakeview. Through his many roles there, he worked with rehabilitation patients, junior high and high school students, as well as college students who were job shadowing. He also created fitness plans and coordinated classes.
"I've also worked with people who had eating disorders and injuries," he said. "I helped them discover new activities to replace activities they can no longer do. For example, I once helped an injured marathoner find a passion for weight lifting. I helped her find her own confidence and happiness, and I helped her find the positive in everything, even the bad situations. Then I was rewarded by witnessing her physical and mental transformation.
"I experienced a lot of on-the-job training at Lakeview Community Wellness Center that prepared me for the next step in my career," he added.
Davis joined MCC as a custodian in November 2016.
"When I started working at MCC, I saw the potential that the recreation department had," he said. "I truly have a passion for developing the recreation department and I want to create some excitement about what the department has to offer."
Since January, Davis has assessed needs from users of the college's recreational facilities and is making some changes to better serve them.
MCC Director of Facilities Taylor Male said Davis has cutting edge ideas for MCC's recreation facilities.
"John maintains a level of energy that empowers his trainees to not only push harder physically, but to also maintain a positive attitude as they achieve their fitness and wellness goals," Male said.
Davis said he shares the importance of living a healthy lifestyle through his work.
"I have always led by example," he said. "Within that, I can share my personal and professional experiences with others who want to improve their wellness.
"I want to give the recreation department to the community," he added. "This job is just an extension of my lifestyle, of my life."
Davis resides in Stanton with his wife, Kim, and their children, Stormy and Camren.