News
Tuesday, August 18, 2020
Ken DeLong retires after 43 years in the college classroom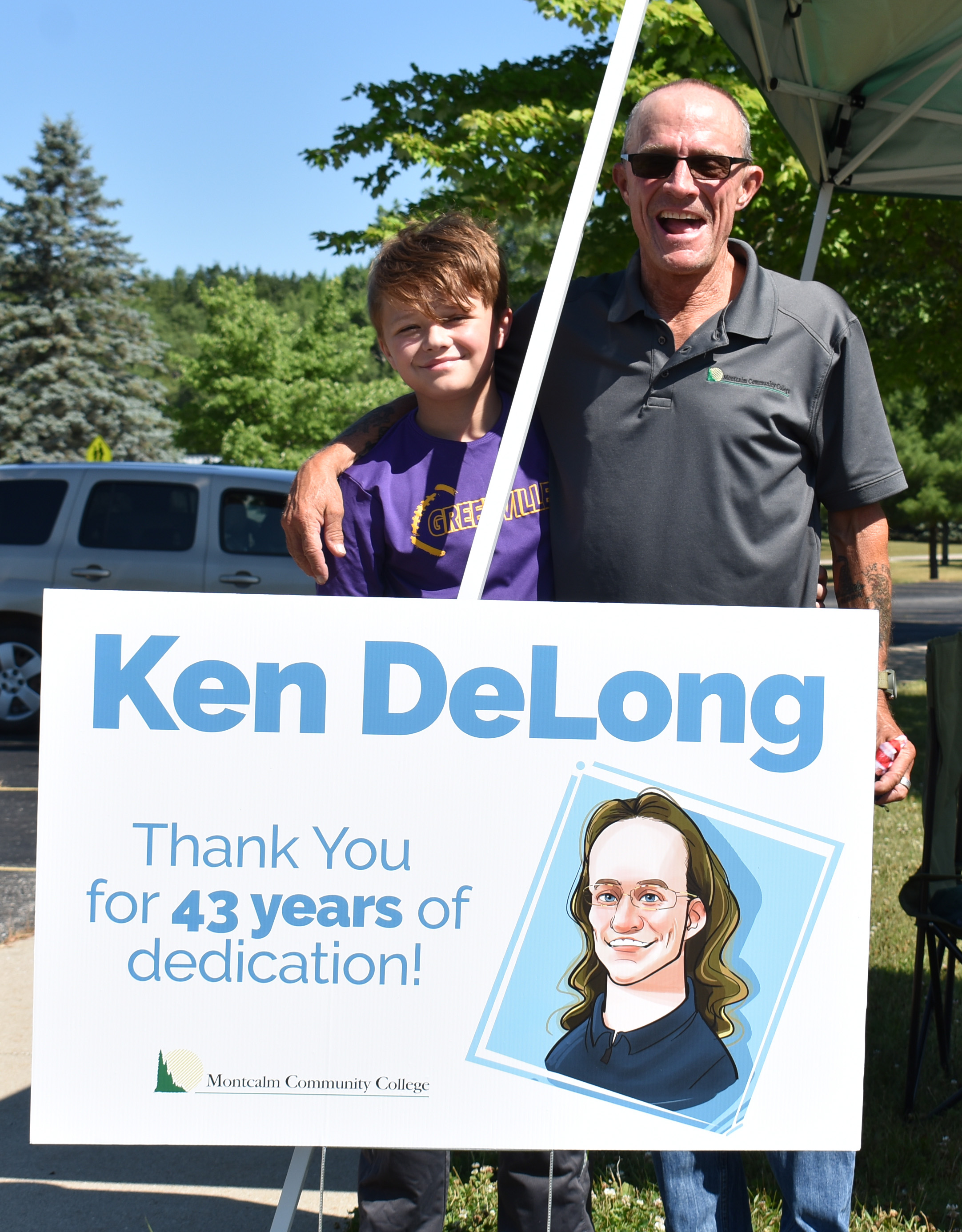 Ken DeLong shares stories and memories of his 43-year career at the college with MCC President Dr. Stacy H. Young: Retirement Reflections with Social Science Instructor Ken DeLong (VIDEO).
Longtime Social Science Instructor Ken DeLong has spent most of his adult life at Montcalm Community College.
He retired July 31 after 43 years in the classroom, and his final semester was nothing like he expected.
"I never would have imagined that things would have rolled out like this in the last few months of my career," DeLong said. "In some ways, it's a positive thing because for the last three or four months, I have been preparing for retirement.
"I had in my mind that my last hurrah would be here in the classroom," DeLong said, looking around room D315 in the Beatrice E. Doser Building on MCC's Sidney campus, which he referred to as being his "stage" since the building opened in 1999.
Instead, due to the coronavirus pandemic, DeLong spent his final days teaching online.
"Back in the middle of March when everything was going online I really had no clue how it was going to feel, how it was going to play out," he said.
"I have taught online and did all the training and advanced training, but it's different," he said. "I had in my mind that my last hurrah would be here in the classroom and I would be doing all kinds of crazy things.
"I had a good group of students this summer. Most of them were really engaged. We worked to do what we could, the technology was there, but I missed the face-to-face teaching. There's no way for me to duplicate what I do here in this arena (classroom) in front of a web camera."
DeLong came to MCC when he was just 23 years old.
"I was a young punk when I started here. My entire adult life has been here at MCC," he said. "All of my memories are mixed together between school and personal things that I do."
In the early years, DeLong said he taught a little bit of everything. With a graduate degree in Political Science, and minors in English and Spanish, he taught in the prisons as well as English and Spanish courses.
"It's not that I did those things willingly, but they probably helped me keep my job," he said with a laugh. Like many, DeLong weathered some difficult years in the beginning as the college struggled financially in the 1970s.
"We got temporary pink slips at one time," he said.
"Fast forward about 10 or 15 years, I think I was at sort of a point of making decisions – I was either going to stay here for the duration, or I was going to do something else," DeLong said. "I decided to stay and as part of that, I started accelerating my education beyond my master's degree.
"I always was taking classes, but instead of focusing and concentrating on going into a Ph.D. program, I went broad. I took classes in anthropology, sociology, war and history and things like that. So, for a number of years, I was teaching almost everything we offered within the social sciences," he said. "During those years, and the first decade of the 2000s, there's a lot of memories there because I used what I had learned. I was doing a lot of service learning with my students.
In some ways, this allowed DeLong to engage his passion for Native American studies.
"We had three or four different classes. I was taking the students on field trips, creating directed studies and taking regular trips out to the Cheyenne River Reservation," he said.
DeLong led an honors course focused on Native American history that was centered on the concept of interdisciplinary learning and service, which culminated in several field trips from 1998 through 2015 to the Cheyenne River Reservation and Rosebud Reservation, both in South Dakota. Students also participated in local service projects in cooperation with the Saginaw Chippewa Tribe, Central Michigan University and Michigan State University.
"The service was not just going out to the reservation," DeLong said. "We did a lot of things locally by getting students involved in issues in our community.
The trips were a combination field experience and service. They involved a few days of travel to historical sites and then ended with a 40-hour work week with Habitat for Humanity on one of the reservations.
"The goal was to emphasize service and also to live in a native community for a week to experience their culture first hand," he said.
"Education is about a lot of stuff, and one of the things it's about is creating memories," he said.
Centered largely around his service learning initiatives and in honor of DeLong's 40th year at the college, MCC and the MCC Foundation established the MCCF Kenric Jones DeLong Service Scholarship: Kenny's Community Cash in 2017. The scholarship criteria includes a community service requirement.
At the time, DeLong said he was "humbled" by this action. "We don't have a scholarship like that. I believe it's consistent with what the community colleges believe in and stand for. These are guiding principles that I have worked hard on with my classes."
One of his favorite classes he has taught throughout the years was Introduction to Political Science.
"It was so much fun – in my opening days of orienting students and such I would tell them you could nickname this course 'college knowledge,'" he said. "It was economics, a little bit of politics, international relations and geography.
"We learned about different areas of the world, different cultures," he said. "It was the class that I got the most feedback from. The feedback most often was, 'that was the class that prepared me best for transfer.'"
During his tenure, DeLong has found that while student demographics have changed, for the most part the students themselves have not.
"In spite of technology and the capabilities it allows us, I think most students still prefer a lively and engaging face-to-face class," he said. "I think on the surface, students are maybe more consumer oriented – what do I have to have to fulfill my program requirements – but I think you can get past that. My goal is to break through that and engage them."
DeLong said some of his fondest memories are when he is able to reach a student who may be struggling with a difficult personal challenge.
"I'm really big on the fact that this is a human being here, they're not just a student," he said.
"That's one of the things that is so difficult about teaching. You can't possibly know what students are carrying around with them on a day-to-day basis. You're lucky if you can get a glimpse and you have to try hard sometimes when it is a student who is having difficulty but you can't possibly know what the cause is."
With his classroom set up in a square, DeLong said he has long adhered to the "teaching without preaching" concept. "I am not one to go page-by-page through the textbook.
"I need an arena to perform in, but more importantly, we are social animals – we are face-to-face people," he said. "I don't want students to look at the backs of each other's heads, I want them to see each other's faces – to see their facial expressions and their body language when we're having a discussion."
During his time at MCC, DeLong has literally taught generations of families.
"I used to hear, 'well, you had my mom in class.' It's a little harder to take when someone says, 'you had my grandfather in class,'" he said with a laugh.
The 66-year-old lives on Turk Lake and is an avid outdoors-man and dog trainer.
He said he was doing some "informal math. Turk Lake is about nine miles west of the college, so it means I'm mostly driving back and forth on Sidney Road. I've determined that the number of miles I have logged on Sidney Road going back and forth to work over the 43 years, I could go to the moon and back. The other rough calculation is how many students I have had in class and that comes in around 10,000."
Looking back, DeLong has come a long way since signing his first contract at a salary of just $10,600. At the time, he was ecstatic.
"I remember how happy I was that I busted into five figures," he exclaimed. "I had been working in the migrant program with the State of Michigan. I think I topped out there at $8,900 per year."
"I often think of how my life may be different if I had gotten a job someplace else," he added.
But, he's happy with the outcome and for being part of the "community" at Montcalm Community College.
"MCC is as community oriented as anyplace I have ever known," he said. "I think MCC really wants to make a difference in the community and wants to make a difference with individual students.
"The importance that the people on staff give to relating to people and helping people is huge. It's one of the main reasons I have stayed here," he added. "That idea of family has been a constant thing during my years here.
"We want to make the area that we live in and work in a better place," he said.