News
Friday, October 5, 2018
MCC classroom project prompts creativity, critical thinking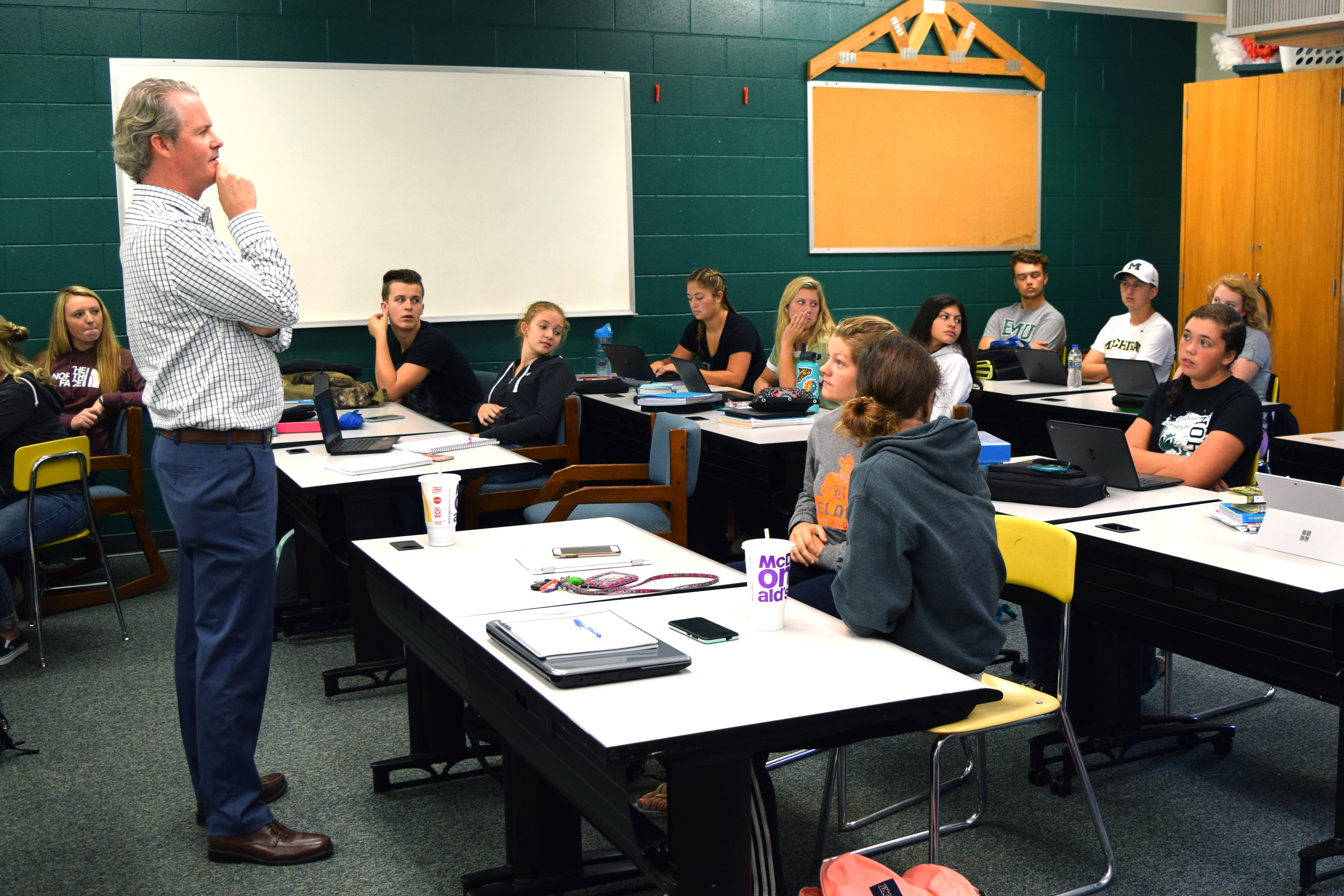 Is America in a state of progress or decline? 
A group of Montcalm Community College dual enrolled students recently had an out-of-classroom experience to gain perspectives on contemporary American social trends centering around this question. 
The Central Montcalm High School students are taking MCC's Freshman English 1 class, taught by MCC English Instructor and Dual Enrollment English Coordinator Ben Stancil. As part of their assignment, they interviewed an elder in their community to explore their perspectives on topics such as technology, politics, discipline, respect, career opportunities, childhood experiences and more. 
Stancil said the lesson began with an in-class discussion based solely on the students' beliefs.  
"We talked about race, politics and bullying, all in terms of whether America is headed on a good path or in a state of decline," Stancil said. 
"I've found that a nice starting point for research is to get them out in the field, interviewing people and seeing first-hand how their selected trends are appearing in contemporary life," he added. 
Upon completion of their interviews, the students brought their findings back to class for small group discussions followed by a full classroom discussion. 
Addisen Peterman, a 17-year-old senior from Six Lakes, interviewed a family friend who was in the Navy for 20 years. 
"I knew he has had a lot of personal experiences that he could draw from," she said. "I opened my interview by asking what were his regrets in his life? He responded by saying, 'I have none, everything I have done was for a purpose.' 
"He talked about technology in relation to almost every question I asked," Addisen said. "He said the technology they had was so different to what we have now. He never said anything negative about it, which kind of changed my perspective because I feel like technology can get overrated with our generation. We can overuse it, so that takes away from our human experiences and human interactions out into the real world. 
"I guess that kind of changed my perspective because they never had that opportunity as a kid. Now that they have it, it's a miracle and a blessing, and it's good," she added. 
Ryan Lake had a similar experience while interviewing a friend's grandfather. 
"I asked him what they did as kids," said the 17-year-old Sidney resident. "He was telling me about how they were always outside, even on hot summer days, compared to kids now who are mostly inside playing video games. I thought it was pretty cool. It made me look back and think about when I lived in town in Stanton and me and my friends would go down to the park and ride bike all the time, until we got older, and now we just don't hang out like that anymore. I've seen that cultural shift personally." 
While talking with a friend's grandmother, 17-year-old Danielle Johnson, of Stanton, learned that black and white television was the cutting-edge technology when her elder was young. 
"They would wait all day to watch one program," Johnson said, "and it was really a social event for them." 
"The lady I interviewed touched back on respect and how since we've had technology we have lost respect for authority," she said. "I didn't really notice it until we started talking and then I thought, wait, we don't really respect the police anymore, we don't respect our leader. We just kind of think we're on the same level as them. That's not how it was when they were younger, so they think that's a big change." 
Johnson said the discussion made her look at her perception of the world a little differently. 
"She had an interesting viewpoint. She said she doesn't think we're progressing or declining. She thinks every time we progress, we decline a little bit, and when we decline, we progress a little bit more in other things, so it kind of evens it out. I can see that," Johnson said. 
Seventeen-year-old Kryn Humphrey, of Stanton, also interviewed her friend's grandmother and learned about her strict upbringing attending a Catholic school. 
"She said overall we're a good country. We'll always be able to progress, but we'll also decline in some areas," she said. 
Stancil said the activity is meant to open dialog to help students take into consideration other viewpoints and explore other beliefs and opinions as they analyze a topic. 
"These interviews gave life to our in-class discussions and will propel the next leg of research," Stancil said. "The project is fascinating in that it unites sociology, media literacy and composition. The students seem to be enjoying the project and are really showing creativity and critical thinking in the process," he said. 
Stancil said the students will build upon their research throughout the semester, and the project will culminate in a theory essay in which they prove a trend exists and theorize potential causes. 
Dual enrollment at MCC allows students to take college-level courses while still in high school and receive both high school and college credit. Through dual enrollment, students can take up to 10 college classes, and their high school helps pay tuition and fees up to an approved dollar amount. 
For more information about dual enrollment, visit www.montcalm.edu/dual-enrollment or call (989) 328-1277.