News
Monday, May 13, 2019
MCC honors Carol Deuling-Ravell and Gary Hauck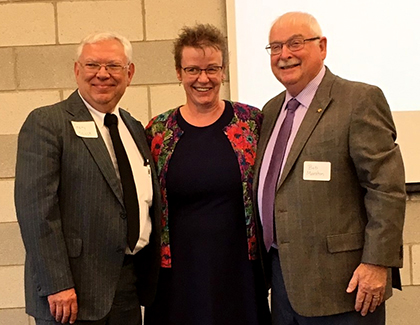 Montcalm Community College recently presented its 2019 MCC Stanley and Blanche Ash Distinguished Service Award to Carol Deuling-Ravell and Dr. Gary Hauck.
MCC Board of Trustees Vice Chairperson Bob Marston recognized Deuling-Ravell and Hauck for their achievements during a gathering of former award recipients and college dignitaries on May 8 at MCC's Stanley and Blanche Ash Technology and Learning Center on the college's Greenville campus.
Deuling-Ravell served for 20 years as a member of MCC's Board of Trustees. During that time, she supported the college in its endeavors to provide state-of-the-art technology for students, faculty and staff.
"Carol was a champion for the integration of technology to foster and support student success. She was also supportive of faculty and staff initiatives to position the college as a leader in the development and use of technology in classrooms and in its business practices," Marston said.
Deuling-Ravell, of Howard City, has extensive background as an educator. As a team teacher for the Sparta High School Career Academy and Career Intern Coordinator for the high school, she works with at-risk high school students to help them realize credits toward graduation, develops post-graduation plans, assists students in locating internship placements appropriate to their chosen career pathways, and coordinates with sponsors to facilitate worksite placement experiences. She has also worked as an adjunct college instructor and a high school educator.
"Carol's passion for lifelong learning is evident in her own pursuit of continuing education," Marston said. "She has consistently attended the Association of Community College Trustees Leadership Congress and participated in the Michigan Community College Association Trustee Institute during her tenure on the MCC Board of Trustees. Those experiences have given her a much improved insight on the inner workings of community colleges and what our students need.
"We commend Carol for being a visionary and longtime supporter of education and upholding the college's values of caring, competence and community orientation," he added.
For more than 40 years, Hauck, of Grand Rapids, shared his passion for teaching and learning at institutions of higher education across the country and abroad, and for the last 10 years of his career, he served as MCC's Dean of Arts & Sciences, until his retirement in September 2018.
"Gary has touched many lives through his efforts to bring the world alive to students, staff, community members and friends of the college," Marston said. "He has visited 79 countries and all 50 states in his quest of experiencing the humanities. He has led study abroad trips, international studies and research in six of the seven continents.
"His focus on promoting cultural understanding, internationalization and student development brought many speakers of national and international acclaim to MCC, engaging thousands of people with a world view that could be very different for them. He also served as the coordinator of the college's cultural events, during which time he founded the Montcalm Area Humanities Council and was a champion for collaborating with other organizations to bring cultural offerings to the college and surrounding areas," Marston said.
"The college and its students are fortunate that Gary is continuing to teach both credit and noncredit courses in humanities, philosophy and religion at MCC," he added.
As a key member of MCC's instructional team, Hauck hired and oriented new part-time instructors and developed an adjunct academy to provide part-time instructors the tools to get a "jump start" in their classroom careers while working to keep them abreast of important changes to college policy, procedures and expectations.
"Gary is a true servant leader, and his collaborative approach made it a pleasure to work with him," Marston said.
State Sen. Rick Outman also presented both recipients with Declarations from the State of Michigan for their achievements.
The MCC Board of Trustees established the Distinguished Service Award in 1973 to recognize people who and organizations that – through a sense of purpose, community concern and leadership – have helped the college serve its community.
Former recipients of the MCC Stanley and Blanche Ash Distinguished Service Award include: Wayne Korson and Miriam Zimmerman, 2018; Karalyn Simon, William Ham and Mike Williams, 2017; Dr. Scott Koenigsknecht, 2016; Leslie K. Morford, 2015; the Creating Futures, Strengthening Partnerships Capital Campaign Leadership Team, 2014; Martha Jean Brundage, 2013; Dick Ellafrits, 2012; Bill and Harriette Cook, 2011; Steve Foster, 2010; United Solar Ovonic, 2009; Blanche Ash, 2008; Central Area Michigan Works Consortium, 2006; State Representative Judy Emmons and State Senator Alan Cropsey, 2005; Franz Mogdis and Dr. Robert Painter, 2004; Thomas Kohn and Jean Southward, 2003; M-TEC Board of Overseers, 2002; M-TEC Fundraising Campaign Leadership Team, 2001; State Representative Larry DeVuyst, Judith Riessen and Charles Halterman, 2000; Lemont Renterghem, 1999; Beatrice Doser and EightCAP, Inc., 1998; Montcalm Alliance and State Senator Joanne Emmons, 1997; Panhandle Coalition and Coalition of Greater Greenville, 1996; U.S. Representative David Camp and David Roslund, 1995; Bob Marston, 1994; Orville Trebian and Bob Braman, 1993; Wayne Omillian and Edmore Woman's Club, 1991; L. Charles Mulholland and Montcalm Heritage Village Committee, 1990; C. Homer Miel and Women's Festival Council, 1989; The Daily News and John Stafford, and Eric L. Halvorsen, 1988; George M. Showers and Gordon L. Stauffer, 1987; Paul Warnshuis and David Mayes, 1986; State Senator Robert A. Welborn and State Representative Donald Van Singel, 1985; Donald McKenna, 1984; Sydney S. Swainston and Vernon R. Johnson, 1983; Francis L. Rivard, 1982; Harold A. Springsteen and Einer Thorlund, Jr., 1981; Margery Wilson, Stanton Development and Lester J. Sitts V.F.W. Post 5065, 1980; Michael Salisbury and Arthur Kurtze, M.D., 1979; Michael Slentz, 1978; Ahmad Younis, M.D., 1977; Larry Disher, D.V.M., 1976; Grace Greenhoe and Willard Braman, 1975; Harold O. Steele, D.D.S., and Maurice D. Swift, 1974; and Stanley P. Ash, W. Bruce Bennett, M.D., Joseph E. Cook, James L. Crosby, L. Stanley Kemp, Marian E. Kemp, Kenneth J. Lehman, and Dr. William J. Seiter, 1973.