News
Wednesday, June 3, 2020
MCC honors employee for her leadership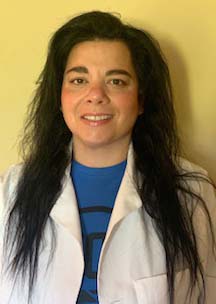 Montcalm Community College recently presented its 2020 Leadership Award to Dean of Nursing & Health Careers Danielle Anderson, of Crystal.
The award was established in 2002. It recognizes a leader based on noteworthy work with, or on behalf of, MCC; leadership and professional achievement; and service to MCC. The recipient is nominated and chosen by his or her colleagues.
Anderson joined MCC as an adjunct nursing instructor in 2005, becoming a full-time tenure-track nursing instructor in November 2007. In 2016, she joined the college's Administrative staff. In her current role, Anderson manages the college's nursing and health careers programming She led a complete curriculum redesign for the nursing program, which led to a 100 percent pass rate for MCC's student in the NCLEX exam. She also works with a variety of community partners to coordinate clinical sites for students to gain hands-on experience with local health care providers, works with scheduling credit and noncredit classes, summer camps for youths and more.
MCC President Stacy H. Young, Ph.D., recognized Anderson for her work.
"Danielle's career path is one followed by many folks in the community college world," Young said. "Her many years of work as a nurse in the health care industry ultimately led her to the classroom and eventually into administration at MCC.
"She has tackled many different challenges during her time in administration, working with others to develop solutions for the betterment of our students," Young said. "She led MCC in its effort to become the first college in Michigan to earn accreditation for its nursing program through the National League for Nursing Commission for Nursing Education Accreditation (NLN-CNEA).
This achievement supports MCC's students as they enter the job market, as some employers require this recognition as part of their hiring guidelines.
Anderson was nominated by her peers who lauded her for her style and accomplishments.
"Danielle pushes her team and students to be the best they can be," one nominator wrote. "She works beside her team, listens to concerns and makes an appropriate plan that will not only better the nursing department, but MCC as a whole."
Young agreed.
"She is a rockstar!" Young said. "During this COVID-19 pandemic, Danielle has remained an advocate for student success and safety, continually monitoring clinical placements and making tough decisions to pull students from these sites to ensure their safety, all while developing a plan to support them in completing their course and program requirements to successfully complete spring semester.
"She leads by example with integrity, and we are proud to have her on our team," Young added.