News
Monday, April 15, 2019
MCC honors employee for her leadership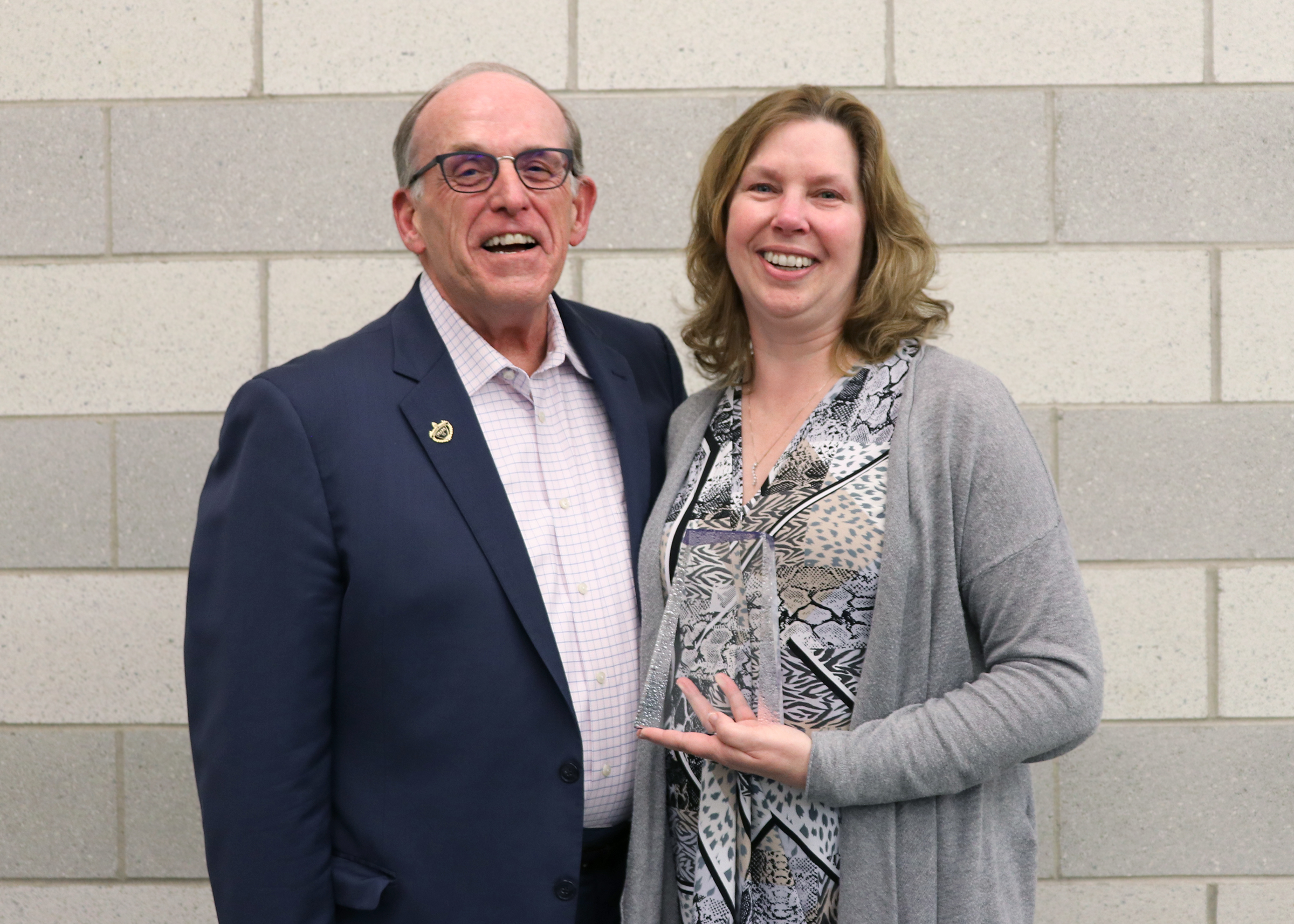 Montcalm Community College presented its 2019 Leadership Award to Dean of Occupations & Program Assessment Amy Eady, of Belding, during the college's annual Recognition Dinner on April 5 at the Stanley and Blanche Ash Technology and Learning Center on MCC's Greenville campus.
The award was established in 2002. It recognizes a leader based on noteworthy work with, or on behalf of, MCC; leadership and professional achievement; and service to MCC. The recipient is nominated and chosen by his or her colleagues.
Eady joined MCC as an instructor in in 2004, becoming full-time in 2006. In 2013, she joined the college's Administrative staff as Dean of Health Occupations. In her current role, Eady facilitates learning and programming growth by providing academic and organizational leadership and accountability for occupational programs, as well as coordinating program assessment for all occupational programs. She also leads the college's Medical Assisting program, coordinates mentorship programs, works with scheduling credit and noncredit classes and more.
MCC President Bob Ferrentino recognized Eady for her work.
"Amy's career path is one followed by many folks in the community college world," Ferrentino said. "Her work early-on in industry, almost 20 years of experience, ultimately led her into the classroom, as well as into a variety of different roles at MCC.
"She has tackled many different challenges during her time in administration, working with others to develop solutions for the betterment of our students," Ferrentino said. "She serves on many committees and does whatever is needed to help the college succeed. She has taken on leadership responsibilities for programs and processes critical to our continued success."
Eady was nominated by her peers who lauded her for her style and accomplishments.
"Her loyalty to the college and our students makes her a tremendous advocate for student success," one nominator said, while another stated, "Her leadership is an asset to MCC because of her positive attitude and 'can do' philosophy."
Ferrentino agreed.
"Amy personifies MCC's core values of caring, competence and community orientation," he said. "She is well respected not only on campus but around the community as well."