News
Friday, December 21, 2018
MCC honors employee for his dedicated service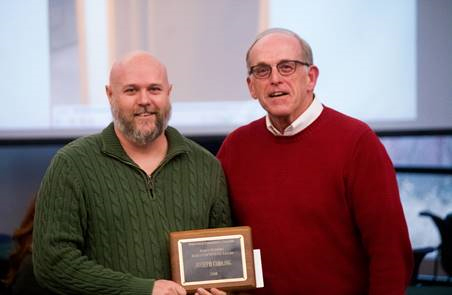 Montcalm Community College presented its Alden Perkins Dedicated Service Award to Joseph Codling during the college's annual holiday celebration Dec. 21.
Codling, of Greenville, has served as an Administrative Assistant in the college's Student Success Center since 2014. He began his career at MCC in 2013 as a lab assistant.
When announcing the award, MCC President Bob Ferrentino commended Codling for his professionalism and commitment to working to solve issues on behalf of the college's students.
"He's a team player who serves as a positive force in our Student Success Center and across campus," Ferrentino said. "He can always be depended on to get the job done with a great attitude and many times, with an outside of the box approach.
"His work is always timely and accurate, and he's dedicated to that level of quality performance," he added. "At the core of his work is his concern for our students and their success."
The award recognizes dedicated service to MCC, commitment to high standards of work performance, care and concern for the public and fellow employees, and creativity and innovation.  The MCC Board of Trustees initiated the award in 1986 as a posthumous tribute to Perkins, the college's former Bursar.