News
Wednesday, June 15, 2022
MCC honors Linda Stafford and Roger Coles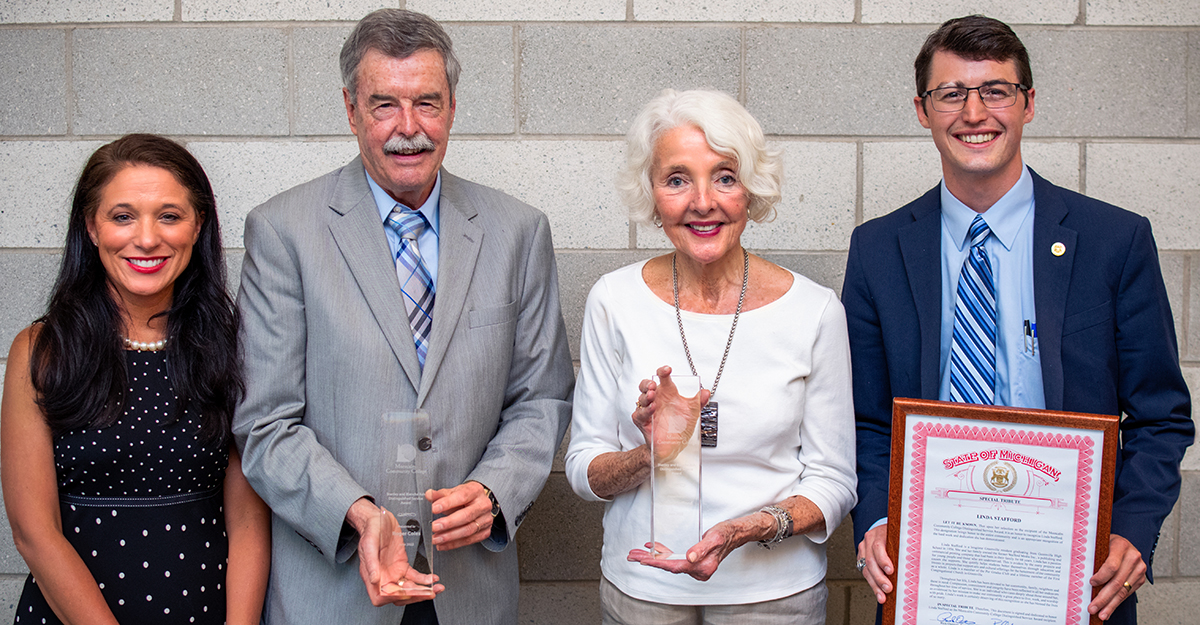 Montcalm Community College recently presented its 2022 MCC Stanley and Blanche Ash Distinguished Service Award to Linda Stafford and Roger Coles, both of Greenville.
MCC President Stacy H. Young, Ph.D., and Rep. Pat Outman recognized them for their achievements during a gathering of former award recipients and college dignitaries June 14 at the Stanley and Blanche Ash Technology and Learning Center on the college's Greenville campus.
Stafford is a longtime Greenville resident who has spent her life supporting her community. As third-generation owners of the former Stafford Media Inc., a publishing and commercial printing company that had been in their family for 68 years until its sale in 2019, Linda and her family are part of the fabric of Greenville.
Linda has a passion for young people and those who are underserved. This is evident by the many projects and causes she supports. Linda is an "anonymous angel" who quietly helps students better themselves through education, and who invests in projects and supports arts and cultural offerings for the betterment of the community as a whole.
Dr. Young talked about Stafford's quiet support of her community.
"I want to tell you a story about Linda," Dr. Young said. "About two years ago, Linda and I were chatting about our students at MCC. She heard a need that I didn't even realize we had at the time. Later, she invited me to her house. She told me she was giving the college $25,000 to help students who had immediate needs."
"Through this pass-through fund, Linda has helped a single mom buy her books, supported a nursing student who did not have enough money to take her nursing certification test and has helped many more students," Dr. Young said. "Linda has now helped 58 students with her first $25,000. She recently gave MCC an additional $25,000 to continue helping our students. Having the flexibility to use these funds to help students with immediate needs has been an incredible gift and has given us the opportunity to help so many people."
Rep. Outman presented a Legislative Citation to Stafford, in recognition of her service.  
"Linda is everyone's friend, and she cares deeply for people. She volunteers her time to a variety of causes, from participating in several service organizations to getting her hands dirty cleaning up her city," the Citation read. "When she sees a need in her community, Linda is there to offer her support. She is a generous contributor to projects such as the Flat River Community Library, the Montcalm County Fair, Spectrum Health United Hospital, the Flat River Museum, Montcalm Community College, the Education Foundation of Greenville, and many others."
In recognition of all of her contributions and selfless volunteerism in the community, Stafford was honored as the 2008 recipient of the Fred and Lena Meijer Spirit of Caring Award. In addition, she was honored as the Woman of the Year in 1987 by what is now the Women's Action Network in Greenville, and in 1995 she received the Greenville Public Schools Outstanding Alumni Award, from which she was a member of the class of 1956. Stafford is a member of the Per Gradus Club and a lifetime member of the First Congregational Church in Greenville.
Coles has deep roots in education and in the community. It's the perfect combination for his role as MCC's Community Ambassador.
In recognizing Coles, Dr. Young said, "I have a confession. When I first heard about a guy that kind of worked for the college, I didn't really understand what your job was. After meeting with Roger and subsequently seeing him everywhere, it did not take me long to realize that Roger was someone who I could count on for excellent advice, someone who understands the community and frequently provides me little nuggets of community understanding that makes my job a bit easier."
Dr. Young thanked Coles for his role in co-leading the college's recent strategic planning process, as well as his commitment to the college's current major gifts campaign.
"What I love about Roger is his approach," Dr. Young said. "He has a way of saying things that puts everyone around him at ease and brings out the best in all of us.
"I am fairly certain Roger knows no strangers and is well-loved by everyone who meets him," she added. "Roger's dedication to improving everything around him means that the community is a much better place because of him."
Prior to joining MCC in July 2017, Roger served for 45 years at Central Michigan University where he was an educator; department chair for 19 years of the second largest Parks, Recreation & Leisure Services Program in the United States; and served seven years as Interim Graduate Dean.
Rep. Outman also presented a Legislative Citation to Coles.
"Roger has spent his entire career in service, having served as President of the Society of Park & Recreation Educators, American Association for Leisure & Recreation, Michigan Parks & Recreation Association, and the only two-time Chair of the Council on Accreditation. He also served as Chair of a 20-person Board of Directors for the  World Leisure Organization, representing six continents," the Citation read. "Proud to be a Canadian, Roger has traveled extensively, presenting 118 major speeches in 22 foreign countries and throughout the United States. In addition, he has given six commencement addresses throughout the United States including Hawaii and visited another 10 international countries."
In addition, Coles is an accomplished author who has written two books and three booklets with topics covering Grantsmanship and Fundraising Fundamentals as well as Career Information used by many university curriculums. He has also published 68 articles on a variety of topics. He conducts workshops, trainings and is a consultant. He has a passion for volunteerism and community engagement, which is evident through the dozens of awards and honors bestowed upon him during his career.
The MCC Board of Trustees established the Distinguished Service Award in 1973 to recognize people who and organizations that – through a sense of purpose, community concern and leadership – have helped the college serve its community.
Former recipients of the MCC Stanley and Blanche Ash Distinguished Service Award include: Karen Carbonelli, 2021; Carol Deuling-Ravell and Dr. Gary Hauck, 2019; Wayne Korson and Miriam Zimmerman, 2018; Karalyn Simon, William Ham and Mike Williams, 2017; Dr. Scott Koenigsknecht, 2016; Leslie K. Morford, 2015; the Creating Futures, Strengthening Partnerships Capital Campaign Leadership Team, 2014; Martha Jean Brundage, 2013; Dick Ellafrits, 2012; Bill and Harriette Cook, 2011; Steve Foster, 2010; United Solar Ovonic, 2009; Blanche Ash, 2008; Central Area Michigan Works Consortium, 2006; State Representative Judy Emmons and State Senator Alan Cropsey, 2005; Franz Mogdis and Dr. Robert Painter, 2004; Thomas Kohn and Jean Southward, 2003; M-TEC Board of Overseers, 2002; M-TEC Fundraising Campaign Leadership Team, 2001; State Representative Larry DeVuyst, Judith Riessen and Charles Halterman, 2000; Lemont Renterghem, 1999; Beatrice Doser and EightCAP, Inc., 1998; Montcalm Alliance and State Senator Joanne Emmons, 1997; Panhandle Coalition and Coalition of Greater Greenville, 1996; U.S. Representative David Camp and David Roslund, 1995; Bob Marston, 1994; Orville Trebian and Bob Braman, 1993; Wayne Omillian and Edmore Woman's Club, 1991; L. Charles Mulholland and Montcalm Heritage Village Committee, 1990; C. Homer Miel and Women's Festival Council, 1989; The Daily News and John Stafford, and Eric L. Halvorsen, 1988; George M. Showers and Gordon L. Stauffer, 1987; Paul Warnshuis and David Mayes, 1986; State Senator Robert A. Welborn and State Representative Donald Van Singel, 1985; Donald McKenna, 1984; Sydney S. Swainston and Vernon R. Johnson, 1983; Francis L. Rivard, 1982; Harold A. Springsteen and Einer Thorlund, Jr., 1981; Margery Wilson, Stanton Development and Lester J. Sitts V.F.W. Post 5065, 1980; Michael Salisbury and Arthur Kurtze, M.D., 1979; Michael Slentz, 1978; Ahmad Younis, M.D., 1977; Larry Disher, D.V.M., 1976; Grace Greenhoe and Willard Braman, 1975; Harold O. Steele, D.D.S., and Maurice D. Swift, 1974; and Stanley P. Ash, W. Bruce Bennett, M.D., Joseph E. Cook, James L. Crosby, L. Stanley Kemp, Marian E. Kemp, Kenneth J. Lehman, and Dr. William J. Seiter, 1973.
Media contact:
Shelly Springborn
Director of Communications and Public Relations
shellys@montcalm.edu
989-560-0833