News
Tuesday, June 16, 2020
MCC offers a variety of free outside recreation options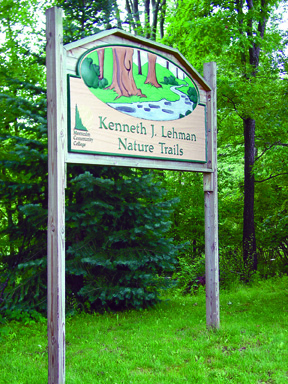 Looking to connect with the great outdoors?
Then take a look at Montcalm Community College's Sidney campus.
The Kenneth J. Lehman Nature Trails are open to the public from dawn until dusk, 365 days a year. More than four miles of trails are marked with numbered trail posts, and maps are available at most major trail heads. There is no charge to visit these beautiful trails, which wind through forests, grasslands and wetlands.
A trail spur provides walking and bicycle access from the Fred Meijer Heartland Trail in Sidney to MCC's Sidney campus, to connect outdoor enthusiasts to the Kenneth J. Lehman Nature Trails, too.
In addition, an 18-hole disc golf course is open and free to use. Due to COVID-19, patrons must bring their own discs at this time. Maps and score sheets are available at www.montcalm.edu/recreation.
Local tennis enthusiasts may sharpen their tennis skills on three recently resurfaced tennis courts available for use just south of the Activities Building. Due to COVID-19, visitors must bring their own equipment. There is no cost to use the tennis courts.
For more information about MCC's outdoor recreation offerings, visit www.montcalm.edu/recreation.