News
Wednesday, November 28, 2018
MCC President Bob Ferrentino announces his retirement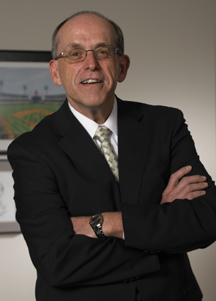 Montcalm Community College President Bob Ferrentino announced his retirement during the college's Board of Trustees meeting Nov. 13.
Ferrentino will retire effective Dec. 31, 2019.
"This past ten years have been a whirlwind of positive activities for both me and for the college and I believe we are well positioned for the future," said Ferrentino. "I am very pleased and proud of the advancements we've been able to make at MCC in the areas of workforce development, student success, institutional assessment and community outreach, just to name a few."
MCC Board of Trustees Chairperson Karen Carbonelli said she was sad to learn about Ferrentino's pending retirement, yet at the same time she is happy for him.
"We all agreed that we were not going to accept his resignation, then we got a grip on it and knew that wasn't going to work," Carbonelli said. "We have just been so lucky to have him and we are sad to have him leave."
Carbonelli complemented Ferrentino for his vision and leadership.
"He has built a strong team here. Everybody has focused so much on student success and learning and it has really worked to move the college ahead. We are well positioned for the future," she said. "We really appreciate all that Bob has done for the college."
The board plans to seek a firm to assist the college in its search for a new president.
"We will hire a search firm. It will be a similar process to what we have been through before. We will need to build our requirements and decide what characteristics we are looking for. Then we will get input from people at the college and in the community," Carbonelli said.
Ferrentino became MCC's fifth president in July 2009 and has 35 years of community college experience.
He previously served Muskegon Community College for 13 years, where he was Vice President for Academic Affairs from 2004 to 2009 and Dean of Occupational Programs from 1996 to 2003. Ferrentino also has worked as an adjunct instructor, program director and instructor and director of marketing services at Lansing Community College, has practiced law and was employed at Ford Motor Company.
Ferrentino earned a bachelor's degree in Marketing and a master's degree in Business Administration from Northern Illinois University, and a J.D. from the Thomas M. Cooley Law School.
He has also completed advanced management training through the Academic Leadership Program at Cornell University and The League for Innovation in Community
Colleges' Executive Leadership Institute training for aspiring presidents. Ferrentino has participated in several community leadership development training programs, and he was a teacher in the Japan Adventure program in Otsu, Japan. He also is a graduate of Leadership Montcalm.
Ferrentino serves on the Michigan Education Trust Board of Directors, the Michigan College Access Network Board of Directors, the West Michigan Works! Workforce Development Board, the Danish Festival Board of Directors, the Greenville Area Chamber of Commerce Board of Directors and the Michigan Community College Association Board of Directors.
He is past chairman of the Montcalm County Habitat for Humanity Board of Directors and past president of the Greenville Rotary Club. He is a member of the Coalition of Greater Greenville (COGG) and the MCC Foundation Board of Directors. He has served as a coach with numerous youth sports organizations. In addition, he is a past president of the Michigan Occupational Deans Administrative Council and of the Montague Whitehall Rotary Club, a former chairman of the Volunteer Muskegon Board of Directors, and a former member of the Michigan Liberal Arts Deans Association, the Michigan Community College Chief Academic Officers Association, the National Council for Workforce Education and the American Association of Community Colleges (AACC) Commission on Communications and Marketing.
"Montcalm is a strong and vibrant community, and MCC is a thriving enterprise," Ferrentino said. "Our accomplishments would not have happened without the consistent support from our Board of Trustees, and the commitment of our MCC colleagues.
"I've been blessed to have worked with such an excellent group of professionals, dedicated to their craft and to our students," he added. "Together, we have made great strides on behalf of our students and community, and MCC is poised for an even brighter future."