News
Friday, December 20, 2019
MCC remembers Les Morford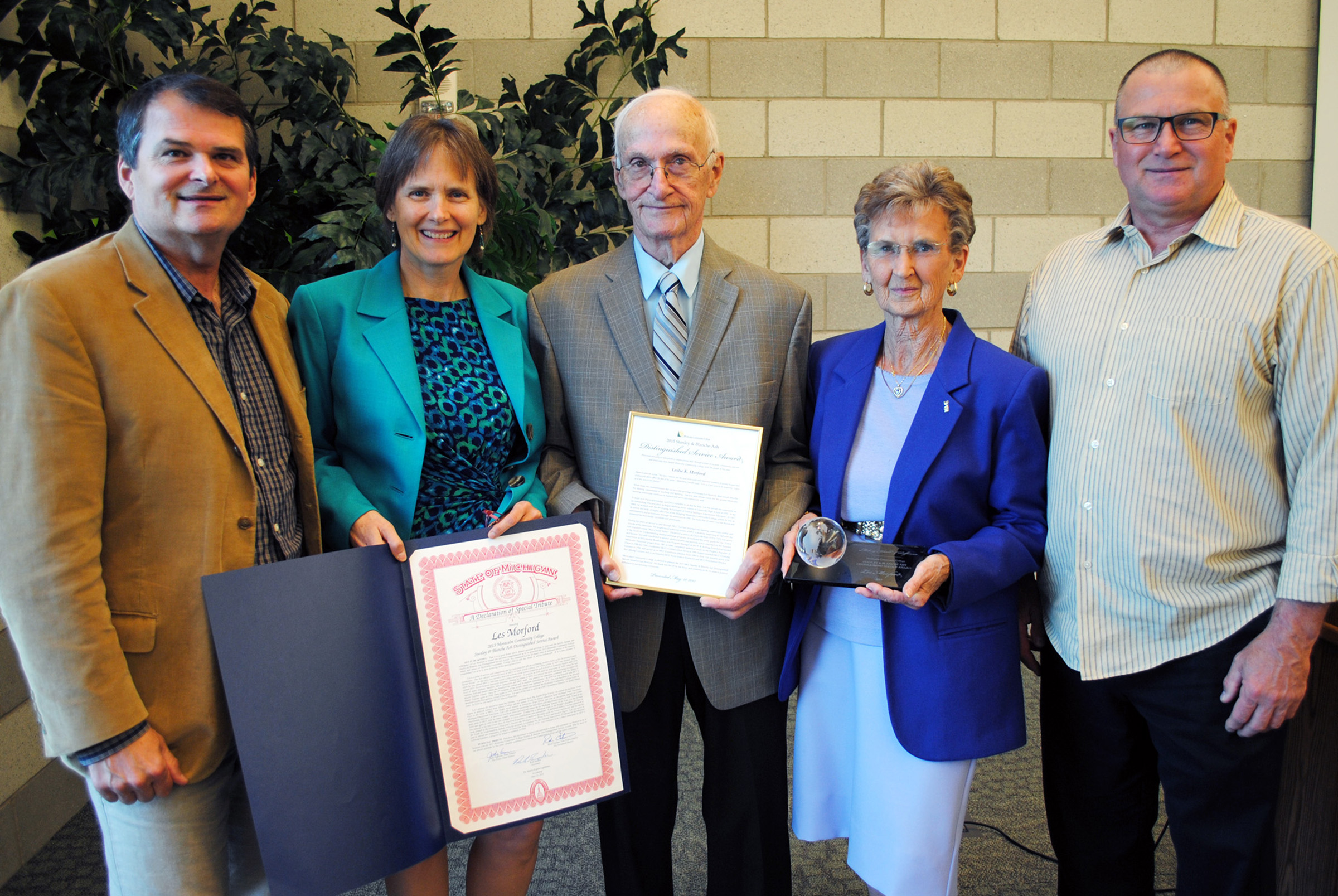 Montcalm Community College's first instructor, Leslie K. Morford, passed away on Dec. 17. He was 88.
Morford began his teaching career in 1955 at Greenville High School where he taught social science. In the 1960s, he worked at Central Michigan Educational Television. In 1967, he started working at MCC, where he served as an administrator and instructor for 23 years, retiring in 1990.
"I have never met anybody who didn't say that Les was just a wonderful man," said MCC President Bob Ferrentino. "Les was always so friendly, so welcoming and so gracious. He was always fun. He was just a wonderful person."
Throughout his career and in retirement, Morford shared his passion for education as an instructor, mentor, community steward and friend.
Each year during commencement, MCC presents its Leslie K. Morford Faculty Recognition Award to one full-time and one part-time faculty member in recognition of their noteworthy work with and on behalf of students, scholarly or professional achievement and service to MCC.
"I can see why the Morford Award was named after him," Ferrentino said. "He mentored new teachers and worked with them on understanding students more. What bigger honor is there than to have an excellence in teaching award named after you."
Morford taught social science to thousands of students at MCC, beginning in 1967 with the core required course 'Man's Social World.' He served as mayor of Greenville from 1975 to 1979, was active in the Youth for Understanding student-exchange program, co-authored the study guide for the 'Power and Society' text and contributed to several additional texts and journals, was a consultant for the National Association of Educational Broadcasters, was Program Manager of the W. K. Kellogg Foundation-funded Montcalm Tomorrow project from 1987 to 1990, completed sabbatical study in the People's Republic of China in 1988 and 1990, coordinated MCC's Global Lecture Series in 1990, helped establish MCC's Lifelong Learners in 1998, and served as an MCC Foundation Director from 1990 to 2014. He was recognized in 2015 as the recipient of MCC's Distinguished Service Award for his "lifelong commitment to teaching and learning." The award was established by the MCC Board of Trustees in 1973 to recognize people who and organizations that, through a sense of purpose, community concern and leadership, have helped the college serve its community.
"The college has lost a tremendous friend and supporter who left a legacy of learning and teaching here," Ferrentino said. "The community has lost someone who has been a champion of education.
"He really made a difference in our community," he added.
Visitation is Monday, Dec. 23 from 4 to 7 p.m., at Hurst Funeral Home, 1801 W. Washington St., Greenville. Another celebration of life is being planned after the holidays.