MCC Celebrates Black History Month
Black History Month is a celebration of achievements by African Americans and a time for recognizing the central role of blacks in U.S. history.  MCC celebrates Black History Month by increasing awareness about black history with timeline featuring key historical events and highlighting people who made significant contributions to black history from 1619 through the present.
The timeline will be displayed Feb. 1-29 in the Beatrice E. Doser Building on MCC's Sidney campus and in the Lobby of the Stanley & Blanche Ashe Technology & Learning Center on the college's Greenville campus.
February 7-13 Spotlight
Ballerina Misty Copeland (1982 - ) joined the studio company of American Ballet Theatre in 2000, becoming a soloist several years later and starring in an array of productions such as The Nutcracker and Firebird. In late June 2015, Copeland became the first African- American performer to be appointed as an ABT principal dancer in the company's decades long history.
NPR's 'Here and Now' Jan. 11, 2022 segment featured Misty Copeland and a moderated conversation she had with Black dancers that were in the industry years before she began her career.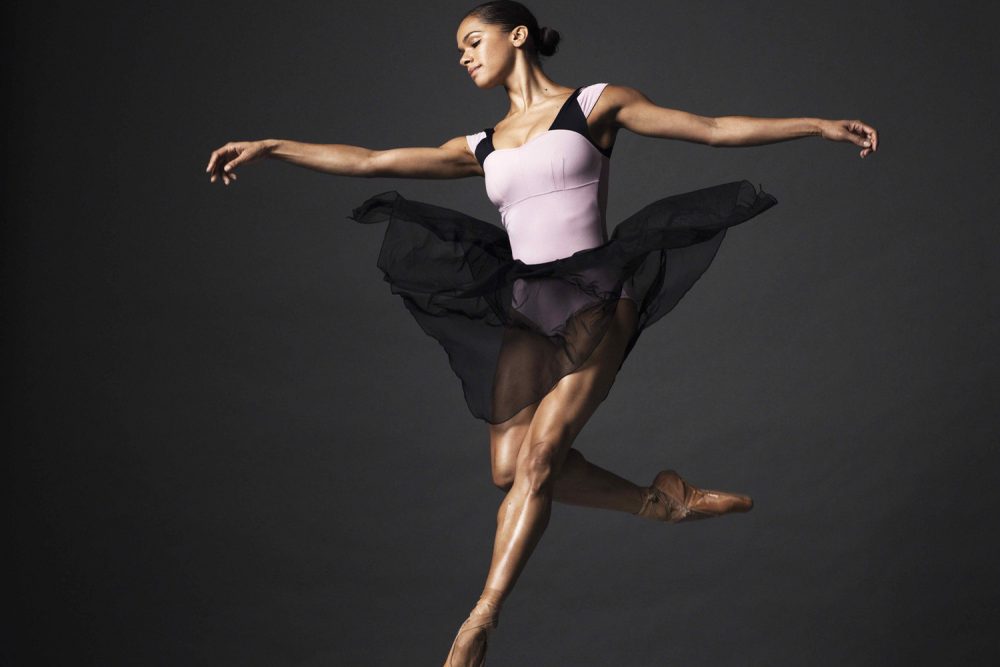 Feb. 1-6 Spotlight
Duke Ellington (1899 - 1974) A major figure in the history of jazz music, career spanned more than 50 years, during which time he composed thousands of songs for the stage, screen and contemporary songbook. Created one of the most distinctive ensemble sounds in Western music and continued to play what he called "American Music" until shortly before his death in 1974.
Join the Smithsonian Jazz Masterworks Quintet through the National Museum of American History in a video release: Duke Ellington's "Cotton Tail": A Performance by the Smithsonian Jazz Masterworks Quint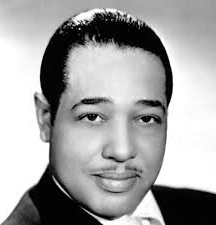 Influential People in Black History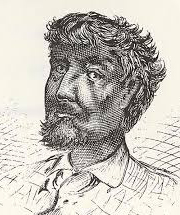 1779 - Jean-Baptist-Point Du Sable, (1745 — 1818), black pioneer trader, fluent in French, English, and Spanish he founded the settlement that later became the city of Chicago.
1845 /1846 - Frederick Douglass (1818 – 1895), autobiography published and launch of his abolitionist newspaper. Douglass was a human rights leader with the anti-slavery movement and the first African American citizen to hold a high government ran, advising presidents and lecturing on causes including women's rights.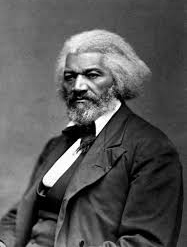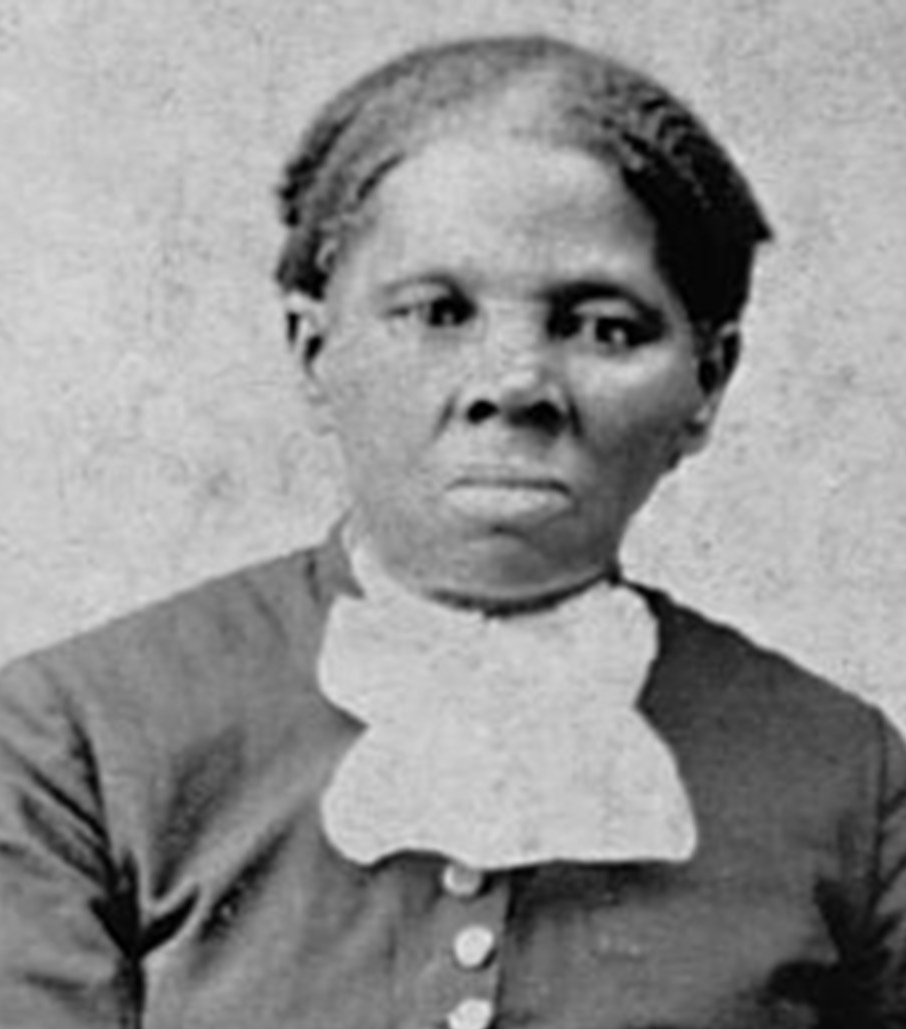 1849 - Harriet Tubman (c. 1820 - 1913) escapes from slavery and risks her life to lead hundreds of family members and other slaves from the plantation system to freedom on this elaborate secret network of safe houses called the Underground Railroad. A leading abolitionist before the American Civil War, Tubman also helped the Union Army during the war, working as a spy among other roles. After the Civil War ended, Tubman dedicated her life to helping impoverished former slaves and the elderly. In honor of her life, in 2016, the U.S. Treasury Department announced that Tubman would replace Andrew Jackson on the center of a new $20 bill.
1891 – Daniel Hale Williams (1856 – 1931) pursued a pioneering career in medicine. An African American doctor,opened Provident Hospital (1891), the first medical facility to have an interracial staff. He was also one of the first physicians to successfully complete pericardial surgery on a patient (1893). Williams later became chief surgeon of the Freedmen's Hospital.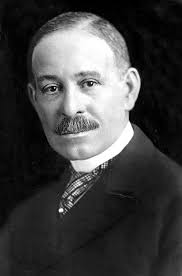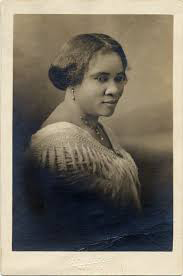 1908 – Madam C. J. Walker (1867 - 1919) After suffering from a scalp ailment that caused hair loss, she created specialized hair care products for African Americans. In 1908, opened a factory and a beauty school. By 1910, the Madam C.J. Walker Manufacturing Company had become wildly successful, and she is credited as being one of the first American women to become a self-made millionaire.
1930's -  Duke Ellington (1899 - 1974) A major figure in the history of jazz music, career spanned more than 50 years, during which time he composed thousands of songs for the stage, screen and contemporary songbook. Created one of the most distinctive ensemble sounds in Western music and continued to play what he called "American Music" until shortly before his death in 1974.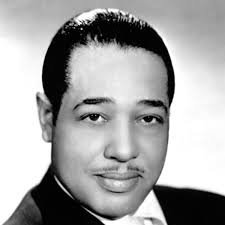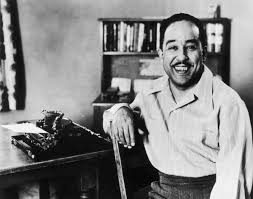 1951 - Langston Hughes (1902-1967) particularly known for his insightful, colorful portrayals of black life in America from the 1920's - the 1960's. He wrote novels, short stories and plays, as well as poetry, and is also known for his engagement with the world of jazz and the influence it had on his writing, as in his book-length poem Montage of a Dream Deferred (1951). His life and work were enormously important in shaping the artistic contributions of the Harlem Renaissance of the 1920s. Hughes wanted to tell the stories of his people in ways that reflected their actual culture, including both their suffering and their love of music, laughter, and language itself.
1958 - Mary Jackson (1921 - 2005) mathematician and aerospace engineer, started off as a computer at West Area Computing division, before taking advanced engineering courses and becoming NASA's first black female engineer in 1958. Serving as the Affirmative Action Program Manager and as the Federal Women's Program Manager in the Office of Equal Opportunity Programs, Jackson spearheaded the hiring and promotion of women in NASA's science, engineering and mathematics division of the American space agency. In 2016, she was portrayed by actress Janelle Monáe in the Oscar-nominated film, "Hidden Figures," which told the story of how Jackson and her fellow African-American mathematicians Dorothy Vaughan and Katherine Johnson contributed to the launch of astronaut John Glenn into orbit, providing a much-needed boost to America's position in the Space Race in the early '60s.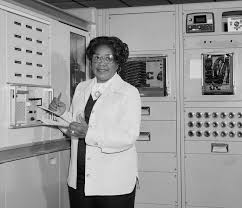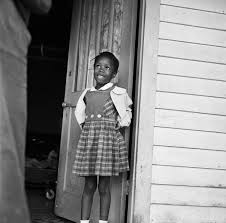 1960 - Ruby Bridges (1954 - ) was six when she became the first African American child to integrate a white Southern elementary school. On November 14, 1960, her first day, she was escorted to school by four federal marshals. Bridges spent the entire day in the principal's office as irate parents marched into the school to remove their children. On Bridges's second day, Barbara Henry, a young teacher from Boston, began to teach her. The two worked together in an otherwise vacant classroom for an entire year. Every day as the marshals escorted Bridges to school, they urged her to keep her eyes forward so that—though she could hear the insults and threats of the angry crowd— she would not have to see the racist remarks scrawled across signs or the livid faces of the protesters. Bridges's bravery inspired the Norman Rockwell painting "The Problem We All Live With" (1964).
1967 – Thurgood Marshall (1908-1993) was the first AfricanAmerican Associate Justice of the Supreme Court of the United States, from 1967 to 1991. The civil rights advocate was also the legal counsel for the National Association for the Advancement of Colored People (NAACP) and fought against Jim Crow laws, which enforced racial isolation in the Southern parts of the U.S. Before being appointed to the Supreme Court, in 1961, he was appointed to the U.S. Court of Appeals by President John F. Kennedy and four years later in 1965, he was appointed as the solicitor general by President Lyndon B. Johnson, becoming the first African-American to hold the office.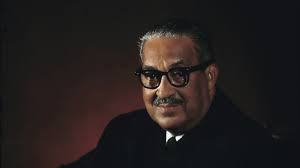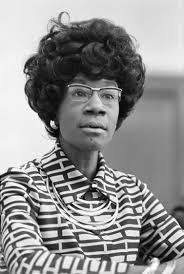 1968 – Shirley Chisholm (1924 - 2005) elected as first African American congresswoman, representing New York State in the U.S. House of Representatives for seven terms. (1968). She also became the first major-party, black candidate to make a bid for the U.S. presidency (1972).
1969 – Maya Angelou (1928 – 2014) author, actress, screenwriter, dancer, poet and civil rights activist best known for her 1969 memoir, I Know Why the Caged Bird Sings, which made literary history as the first nonfiction bestseller by an African American woman. Angelou received several honors throughout her career.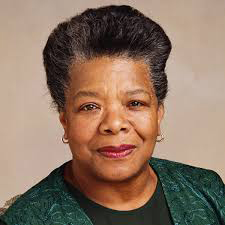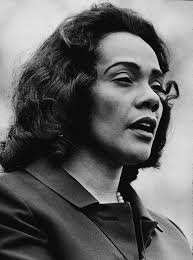 2006 - Coretta Scott King (1927-2006) civil rights leader, who was the wife of Martin Luther King, Jr., was at the forefront of the African American civil rights movement in the 1960s. Following her husband's assassination in 1968, King took the fight for racial equality forward and founded the King Center. Later helping to make her husband's birthday a national holiday. Upon her death in 2006, she became the first African American to lie in state in the Georgia State Capitol.
2019 - Bryan A. Stevenson (1959 - ) an American lawyer, social justice activist, founder/executive director of the Equal Justice Initiative, and a clinical professor at New York University School of Law. Based in Montgomery, Alabama, Stevenson has challenged bias against the poor and minorities in the criminal justice system. The Harvard graduate was depicted in the 2019 legal drama Just Mercy which is based on his memoir Just Mercy: A Story of Justice and Redemption.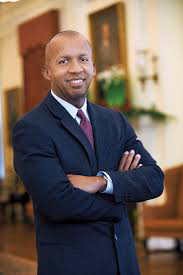 Before the transatlantic slave tradeThe people of West Africa (modern day Benin, Burkina Faso, Cameroon, Cabo Verde, Chad, Côte d'Ivoire, Equatorial Guinea, The Gambia, Ghana, Guinea, Guinea-Bissau, Liberia, Mali, Mauritania, Niger, Nigeria, Senegal, Sierra Leone, and Togo)had a rich and varied history and culture long before slavers arrived. They had a wide variety of political arrangements including kingdoms, city-states and other organizations, each with their own languages and culture.
The empire of Songhai and the kingdoms of Mali, Benin, and Kongo were large and powerful with monarchs heading complex political structures governing hundreds of thousands of subjects. In other areas, political systems were smaller and weaker, relying on agreement between people at village level. As in 16th century war-torn Europe, the balance of power between political states and groups was constantly changing.
Art, learning, and technology flourished. Africans were especially skilled in subjects like medicine, mathematics and astronomy. As well as domestic goods, they made fine luxury items in bronze, ivory, gold and terracotta for both local use and trade.
Transatlantic Slave TradeThe transatlantic slave trade began in the 15th century (1401 – 1500), after the Portuguese started exploring the coast of West Africa. At first the number of enslaved Africans taken was small. In about 1650, however, with the development of plantations on the newly colonized Caribbean islands and American mainland, the trade grew.
The majority of people taken in the transatlantic trade were from or near the west coast of Africa. The growing demand for slaves meant that the African suppliers increased their activities. Chiefs and traders met the demand through warfare or by raids on small towns and villages. 
The slave trade had devastating effects in Africa. Economic incentives for warlords and tribes to engage in the slave trade promoted an atmosphere of lawlessness and violence. Depopulation and a continuing fear of captivity made economic and agricultural development almost impossible throughout much of western Africa. A large percentage of the people taken captive were women in their childbearing years and young men who normally would have been starting families.
Following capture, the Africans were marched to the coast, a journey that could be as many as 300 miles. An estimated 10 to 15 percent of the captives died on their way to the coast.
The Atlantic passage (or Middle Passage) was notorious for its brutality and for the overcrowded, unsanitary conditions on slave ships, in which hundreds of Africans were packed tightly into tiers below decks for a voyage of about 5,000 miles.