News
Monday, March 6, 2023
Explore 'UFOs over Michigan' during March 14 program at MCC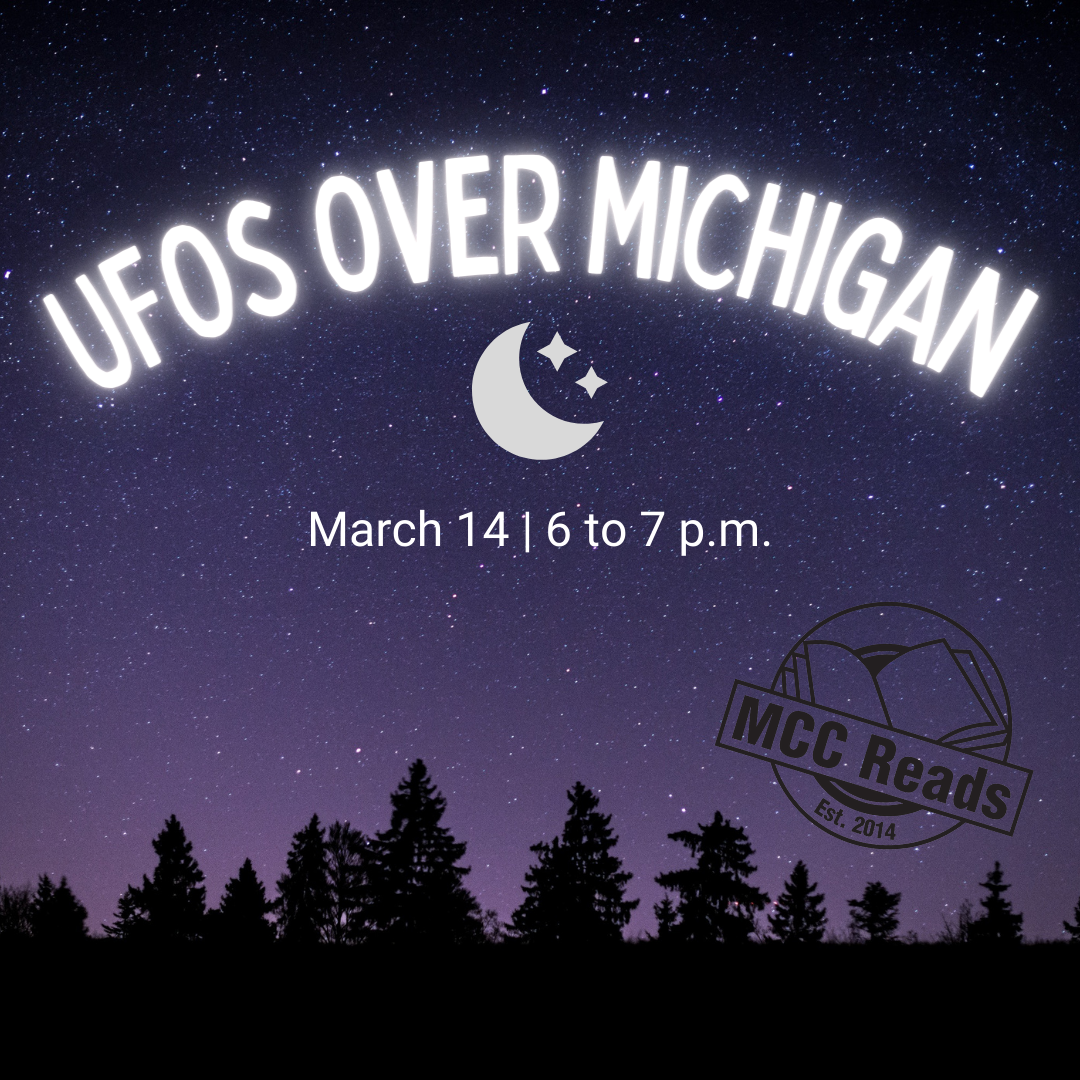 Written by Shanika P. Carter
Are you intrigued by UFO phenomenon? Do you wonder about what's going on with UFOs in Michigan?
Everyone is invited to learn more during "UFOs Over Michigan" presented by Bill Konkolesky as part of the MCC Reads program on Tuesday, March 14, from 6 to 7 p.m. in rooms D303-305 in the Beatrice E. Doser Building on the college's Sidney campus. Admission is free and refreshments will be provided.
As State Director for the Michigan Chapter of the Mutual UFO Network (MUFON), the world's largest civilian research organization, Konkolesky will provide a context for those who believe in UFO sightings and those who are skeptical.
Michigan has some of the largest UFO cases on file, including hundreds of eyewitnesses reported at the 1966 Southeast Michigan and 1994 Grand Rapids sightings.
MCC Library Director Katie Arwood, who is coordinating the event, said the program complements the MCC Reads selection "The Anthropocene Reviewed" by John Green.
"I am 100 percent confident that Bill's 'UFOs Over Michigan' will be an eye-opening presentation, full of facts and wonder," Arwood said, adding that she expects an "event that will wow the attendees and help them gain new perspectives about UFO phenomena."
According to Konkolesky, Michigan currently gets more than 200 UFO sighting reports per year on average.
"When a UFO witness reports a sighting to MUFON, an investigator follows up with them," he said, adding, "If you see a UFO, report it to MUFON. If you want to investigate UFOs, join MUFON."
Konkolesky has also served as a consultant to Netflix's "Unsolved Mysteries," the History Channel's "Hangar 1" and "UFO Hunters," National Geographic Channel's "The Truth Behind," as well as the Science Channel's "Uncovering Aliens" and "Close Encounters."
For more information about this and other MCC Reads events, please visit montcalm.edu/mcc-reads or email librarystaff@montcalm.edu.