News
Monday, November 6, 2023
Irish visitors promote study abroad program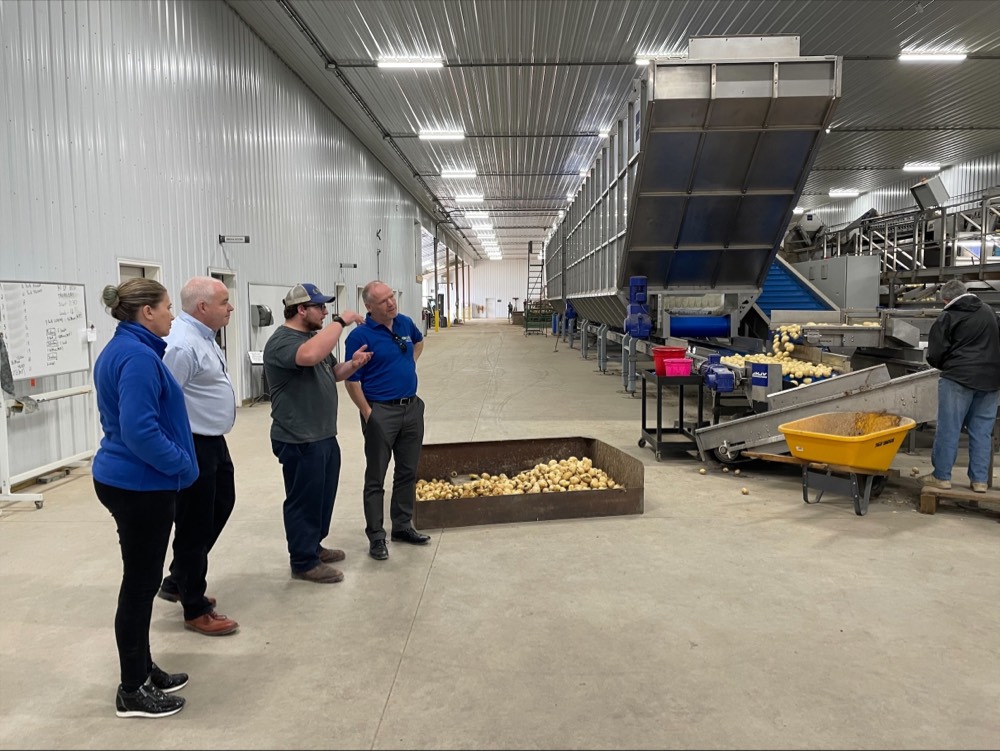 Montcalm Community College's Agriculture Club had some special visitors on Oct. 4. Three representatives of the College of Agriculture, Food and Rural Enterprise (CAFRE) in Northern Ireland came to the college's Sidney campus to discuss their study abroad program.
They started their day with a visit to Main Farms in Lakeview, Trufant, and Greenville, where they saw potato harvest, storage, and shipping. Their next stop was MCC's Sidney campus where they toured the greenhouse and had lunch with members of the Ag Club. After a tour of campus, they ended their day with a visit to Vanderploeg Friesian Farms and Vanderploeg Holsteins in Ithaca, a large-scale dairy and world-class horse farm.
"We have been visiting Michigan for 25 plus years," Alan Johnston, an adviser with CAFRE, said.
CAFRE representatives always come this time of year to be a part of Michigan State University's study abroad fair, but this is the first time they have visited MCC.
"It was because of Brian (Gardner) that we came to visit MCC," Johnston said. "He was over in Ireland last April visiting our campuses."
Johnston, along with Alison Morris and Fintan McCann, talked about CAFRE's programs and their three campuses. They have 1,800 students in their programs. All three campuses are in rural settings, but only a couple miles from a bigger city. The campuses are Greenmount, where students study animal science and horticulture; Loughry, where students learn the business and technology side of food production; and Enniskillen, where students study everything equine.
"Our programs are theory-based, but also practical," Johnston said. "They learn by doing and getting their hands dirty."
The study abroad partnership with CAFRE has included 180 students from Michigan. Two MCC students in the Institute of Agricultural Technology program, which is a joint program with MSU, Jeff Marek and Emily German, will be traveling to CAFRE in January as study abroad students. The program runs for four months and they will be studying at the Greenmount campus. The modules, or classes, the students will take have to be related to what they're studying here and will be used as part of their degree program. They try to balance the ratio of students that come here and that go to Ireland.
Johnston said the average size of a farm in Northern Ireland is 80 to 100 acres and there are 50,000 farms in the area. Many of the farm owners contract out the work on their farms because there isn't enough equipment to go around.
CAFRE is funded and run by the Department of Agriculture. It may be a smaller program, but it has a lot of technology. In the food technology area, there is a brewery, bakery, chocolate making and ice cream making.
Gardner, MSU-MCC ag program coordinator and Ag Club adviser, said CAFRE is an awesome opportunity for MCC's ag tech students to study abroad. He said it was nice to start off the day at Main Farms because his student, Marek, works at the farm and got to give them the tour.
"To see it first-hand was mind boggling to them," Gardner said about the Irish visitors' reaction to the large-scale Michigan agricultural operations.