News
Tuesday, September 15, 2020
M1 Credit Union donation benefits MCC Food Source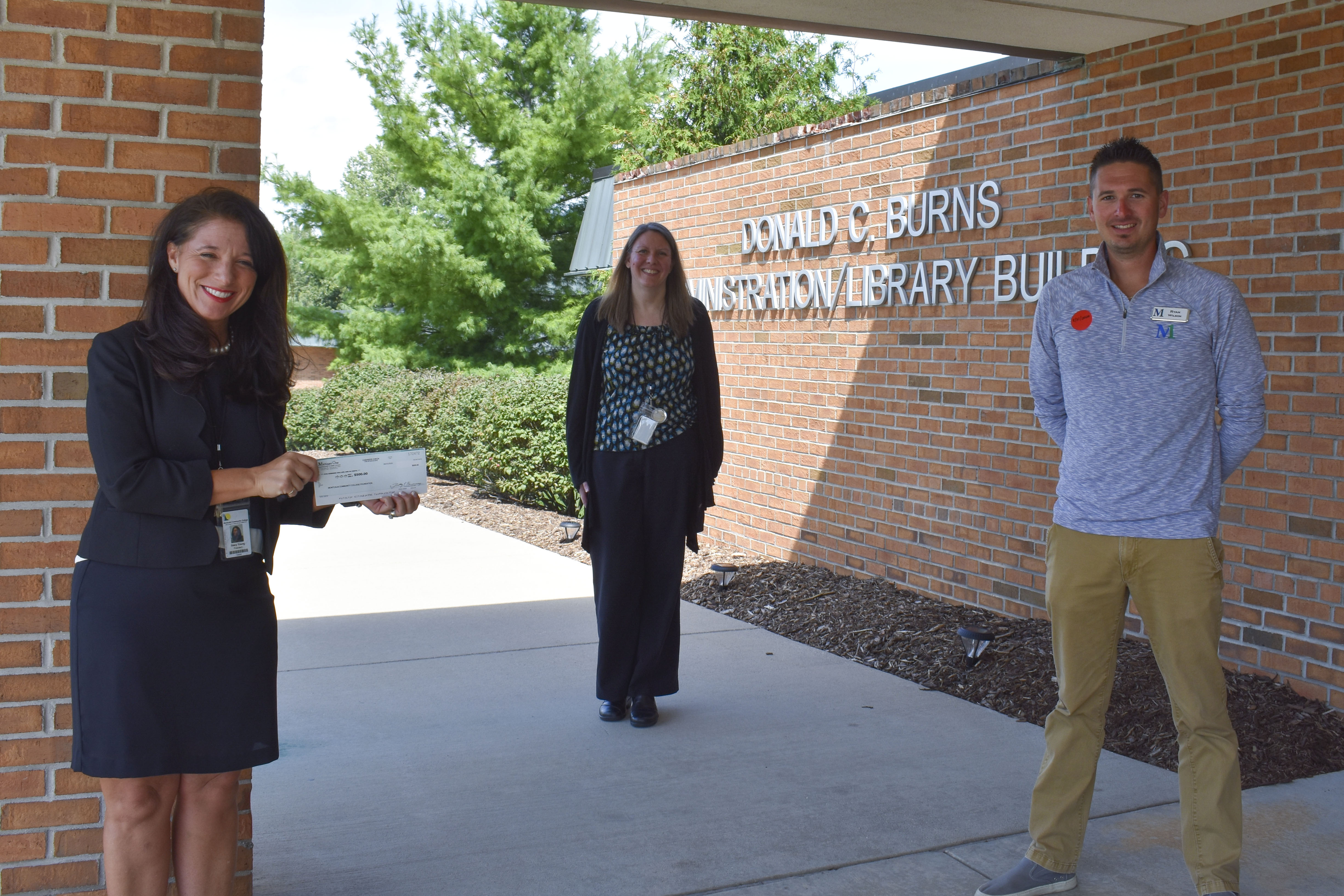 Montcalm Community College recently was awarded a donation by Michigan One Community Credit Union's (M1) Community Partnership program.
The gift will benefit The Food Source at MCC, which provides current MCC students with nutritious food items while classes are in session.
M1 Relationship Development Manager Ryan Wilson said the credit union recognizes the hardships many people in local communities are going through when it comes to putting food on their tables, which is why M1 is always willing to support local food pantries.
"M1 is happy to support Montcalm Community College and the great work they do enriching the community and providing a local, cost-effective, option for higher education in Montcalm county. The MCC Food Source is a great benefit to students and we are glad to support this valuable resource," Wilson said.
MCC President Dr. Stacy H. Young said the support from M1 supports the college's mission of creating a learning community.
"We know that many of our students are struggling to balance class, work and family commitments, and having support through our MCC Food Source is one way in which we can help reduce some of the everyday challenges many of them face," Dr. Young said.
"We are grateful for all support for our students from the community, especially during this difficult time," she said. "Food insecurity is a significant problem for many college students. Donations like this allow us to support many families, which allows them to continue with their education without the worry of being hungry.
"Fulfilling immediate needs like this reduce roadblocks for our students and increase student retention," she added.
Lisa Lund, who serves as MCC's Executive Director for Institutional Advancement and the MCC Foundation agreed.
"Support from generous community partners is key to the success of our students," Lund said. "By removing barriers to learning, we help our students succeed."
While M1's Community Bonus program is regularly scheduled for December, M1 didn't want to wait to help this year.
"There are significant needs these organizations have right now, and we wanted to step up to the plate and help immediately," said M1 CEO Tim Hemenway. "Even in difficult times, M1 is committed to giving back to the community. We want our communities to know that M1's commitment to them can be counted on and is a priority. While other financial institutions are closing branches, merging, and cutting costs, M1 is doubling down on our commitment to be the premier community leader. We want everyone to know we aren't going anywhere and will always be here to help."