News
Monday, February 1, 2021
MCC announces fall 2020 honors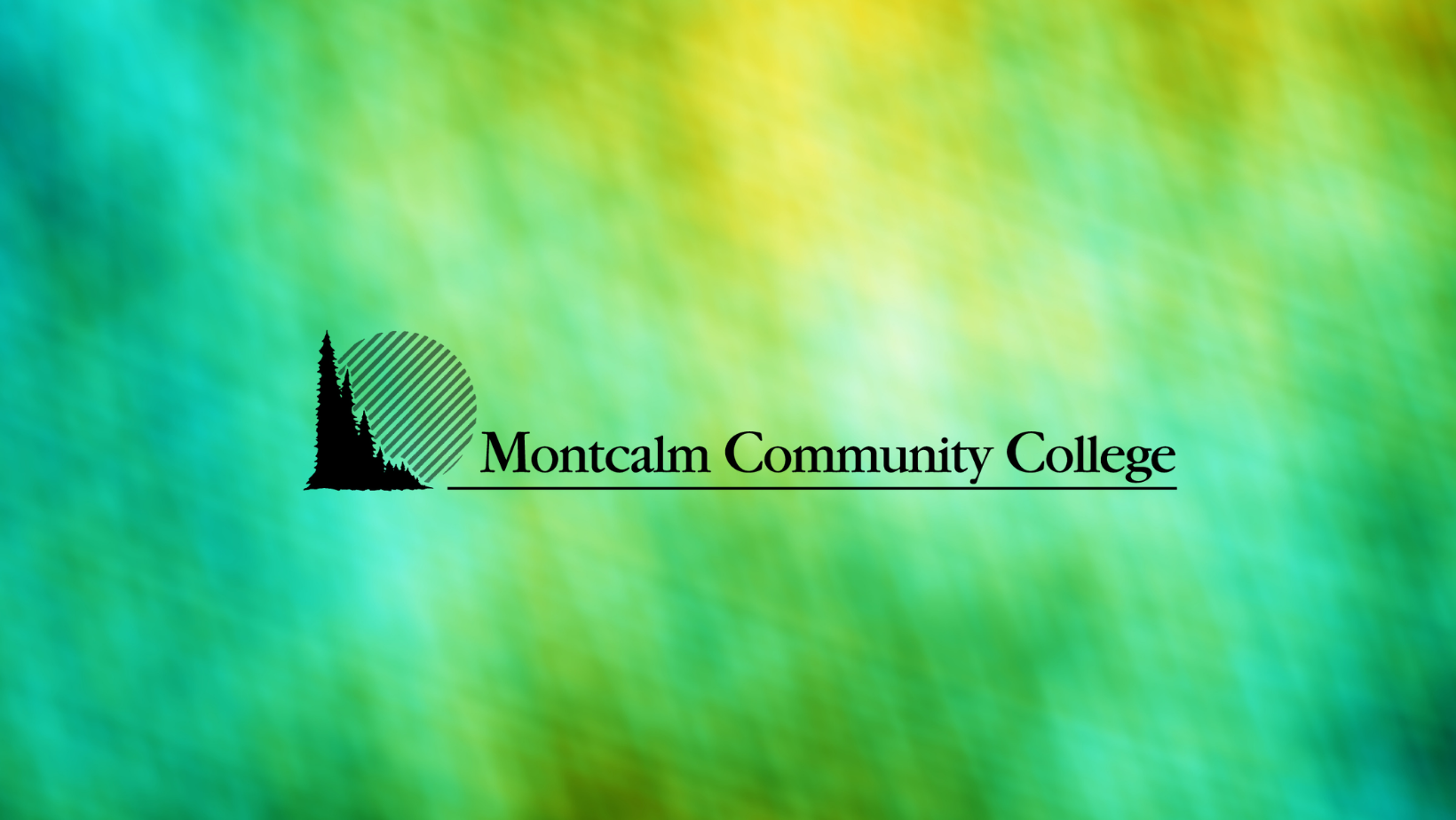 The Montcalm Community College fall 2020 semester honors lists include 432 students.
Of these, 239 students obtained a 3.7 to 4.0 GPA earning them a place on the President's Honors List or the Part-time President's Honors List and 193 students earned a place on the Honors List or Part-time Honors List with GPAs of 3.3 to 3.69. Full-time students must have earned at least 12 credits during the semester and part-time students must have earned at least six credits during the semester to be eligible for honors.
A list of the honors students and their city or town of residence follows.
President's Honors List (3.7 to 4.0 GPA):
Alma
Amber Archuleta.
Belding
Katherine Bunting, Christopher Croel and Annabel Maag.
Blanchard
Alan Keller.
Carson City
Aubrey Curtis and Deanna Gallagher.
Crystal
Marcy Baker, Arden Daigre, Rachel Ferris and Tyler Slee.
Edmore
Jeanette Pizarro-Ahumada.
Greenville
Alyssa Abbott, Dakota Adams, Brettney Allmon, Hanna Batson, Micah Bouman, Dominic Briggs, Joel Gurrustieta, Nichole Huff, Jumierra Huizinga, Madeline Lake, Kyleigh Mills, Chloe Petersen, Logan Phillips, Raven St Clair, Brittany Strange and Kurtis Vinton.
Howard City
John Bogardus, Sadie Derusha and Tommie Phinney.
Ionia
Jenna Adams and Daniel Deeren.
Lakeview
Gabriel Kroeze.
Morley
Francesca Perugini.
Perrinton
Cami Baker.
Pierson
Marjorie Starr.
Portland
Emma Johnson and Jenasen Moffatt.
Rockford
Rebekah Hamilton.
Sand Lake
Miguel Lagunas and Angelina Lopez.
Saranac
Asley Albert and Zachariah Yonker.
Sheridan
Autumn Brecht, Kayla Cheek, Shonda Harrington, Hank Kreeger, Anna Lake and Jessica Tanner.
Six Lakes
Morgan Christensen.
Stanton
Lilienne Moore.
Sumner
Emily O'Boyle and Rachel Showers.
Vestaburg
Kaylee Bucholtz, Matthew Kidwell and Amanda Rondy.
Part-time President's Honors List (3.7 to 4.0 GPA):
Ashley
Ethan Malek.
Belding
Katherine Anderson, Christina Armstrong, Matthew Bannen, Amy Blanshan, Trevor Davenport, Marissa Garza, Brianna Gee, Falicia Kitchen, Raven Lessard, Elyse Robins, Candice Sager, Zachary Waite and Love Wisniewski.
Blanchard
Taylor Peabody.
Carson City
Lyvia Halfman, Isabelle Kapustka, Tabitha Randolph and Caleb Weber.
Cedar Springs
Christopher Carr, Kelsey Harper and Dayna Scholl.
Chesaning
Luke Soupal.
Coral
Ethan Burns.
Crystal
Alexis Morris.
Edmore
Kyle Deal, Lauren Jordan, Amanda Koster and Whitney McCracken.
Evart
Nicholas Bouck and Sam Brigham.
Fenwick
Michelle Garland, Sinclair Klingensmith, Stephanie LaPrise, Archibald McGill, Hunter Morrall, Lukas Schafer, Katrina Schmidt and Jonathan Wysong.
Fowler
Paige Hetherington.
Goshen, Ind.
Megan Martin.
Gowen
Dana Brom, Kimberly Dang, Miranda Drow, Jack Hansing, Jack Korson, Andreas Parpas and Kristine Temerowski.
Greenville
Austin Andrew, Ashton Brimmer, Chloe Bromley, Destiny Buckmaster, James Burger, Alexis Candido, Jon Clingerman, Katelyn Corey, Tara Crawford, Rhiannon Cummings, Stacie Dye, Autumn Eldridge, William Ely, Patricia Gamez, Madison Homich, Hope Hutson, Tatum Johnson, Josephine Lake, Deagan Moore, Kassandra Moore, Alivia Nelson, Andrew Poelman, Therese Powers, Corban Robinson, Henry Rockburn, Mercedes Sawdy, Emma Skogseth, Alicia Stahl, Haylee Thompson, Anay Trejo, Chrysti Velting and Anna Wierda.
Howard City
Megan Bean, Krysta Bennett, Alicia Bowen, Lauren Corwin, McKenzie Crandall, Devon Dertien, Sophie Derusha, Jacob Force, Meghan McGiverin, Jaiden Meyer, Jacob Nave, Olivia Polinski, Kaden Trotter and Jared Wozniak.
Hubbardston
Justin Ross and Mariah Wesner.
Ionia
Trevor Arens, Madeline Braman, Joel Cairns, Adam Frost, Hailey Howard, Amelia Johnson, Scott Koenig, Analise Krawczuk, Eric Marker, John Meyer, Morgan Porta, Michelle Schumacher, Donna Starks. Alexandria Stephens, Kasondra Triggs, Brian Wilson and Michelle Wright.
Ithaca
Brooke Baker and Corey Smith.
Lake Odessa
Emily Justice.
Lakeview
Natasha Bristol, Jonathan Diefenbach, George Kroeze and Derek Roberts.
Lowell
James Hunter.
Lyons
Sherrie Mason.
Mecosta
Heather Fales.
Orleans
Brooklyn Challender.
Perrinton
RayeAnn Eberhard.
Pierson
Lauren Winger.
Portland
Isaac Clark, Taylor Jenks, Elizabeth Russell and Brooke Seal.
Riverdale
Carrie Fuller.
Rockford
Amanda Holderby and Mia McNinch.
St. Johns
Rachel Kathrens.
Sand Lake
Hailey Decker, Andrew Houghton, Charlene King, Zachary Patin and Liam Prins.
Saranac
Kaitlyn DePotty, Shannon Kastel and Emily Mutschler.
Sheridan
Madison Babbitt, Katlyn Bott, Jenna Goodell, Audra Hardy, Mitchell Herald, Karlee Hilliker, Brooke Hopkins, Brett Kissane, Brynn McKay, Kaitlyn McKeown, Rachael Murray and Trenton Shaffer.
Sidney
Courtney Clements, Grace Flanigan and Secrett Hunt.
Six Lakes
Samantha Hopkins.
Stanton
Hailee Braam, Kenneth Clayton, Kyah Fisher, Gabrielle Larson, Sadie Loveless, Hope Macha, Amanda Marvin, Ashley Noah, Joel Peterson, Brooklyn Phenix, Noah Sanchez, Emily Throop, Bailey Vissman, Savannah Vissman, Madison Wagner and Julia West.
Trufant
Samantha Harrington
Vestaburg
Jenna Dove, Madison Graham, Whitney Hoover, MacKenzie Neelis, Ryan Peterson and Michaelann Turner.
Wyoming
Annmarie Beck.
Honors List (3.3 to 3.69 GPA):
Belding
 Onyx Dines.
Blanchard
Elizabeth Underhill.
Carson City
Kaitlyn Johnson and Anne Fitzpatrick.
Cedar Springs
Nathon Kok, Kelly Scheuerman and Matthew Walma.
Crystal
Bree Brasington and Monica Burnett.
Edmore
Mackenzie Dalrymple and Madison Weedmark.
Fenwick
Luke DeBoer and Kaelan Haring.
Gowen
Shay Jensen and Maggie Puffpaff.
Grand Rapids
Alexis Liebler.
Greenville
Elisabeth Austin, Brandy Burns, Sarah Butler, Megan Cooper, Taryn Creasap, Hannah DeVries, Alexys Hallock, Stefanie Harig, Hannah Petersen, Abigail Quinn, Samantha Robinson, Alexandra Swanger, Steven Tripp and Charlie VanderMel.
Howard City
Cole Brinks
Ionia
Austin Murray, Jason Musser, Gavin Platte and Brianna Wysong.
Lakeview
Emily Kroeze, Karli Commans and Trenton Harvey.
Morely
David Perry and Samantha Stilson.
Muir
Savannah Russo.
Orleans
Tabbatha Martin.
Pierson
Gracy Ebenhoh, Brittany Hopping and Emily Portell.
Riverdale
William Korthase.
Rockford
Reygan Holt and Jeremy Wolf.
Six Lakes
Tiffany Pajares.
Stanton
Andrew Johnson, Sarang Kim, Austin Laper, Haley Baker, Alyssa Gillson, Noah Grady, Madison Holland and Chloe Paulson.
Sumner
Abbagail Clark.
Vestaburg
Brandi Smith.
White Cloud
Andrea Trimm.
Part-time Honors List (3.3 to 3.69 GPA):
Belding
Crystal Clark, Mackenzie Geister, Elizabeth McQuillan, Kayla Michael and Antonio Muniz.
Blanchard
Candace Lang and Nolan Wilkinson.
Carson City
Isabelle Erekson and Taylor Gallagher.
Cedar Springs
Kaitlin Dykstra, Teagan Heether and Trevor Johnston.
Coral
Siearra Feutz and Seth Thompson.
Crystal
Giovanny Alpizar, Ashley Laurencelle, Gabriel Platte, Jasmine Plum and Walker Richardson.
Edmore
Parker Burggren, Haley Collins, Daniel Dunn, Jesse Rasmussen and Mackenna Rios.
Elsie
Sarah Lutz.
Elwell
Hayley Cary.
Fenwick
Alexis Bueche, Samantha Hardy Swartzmiller, Megan Murphy, Kamryn Nicholson and Connor Royse.
Goshen, Ind.
Allison Horner.
Gowen
Carrie Haynes, Amy Kern, Jeremy Payne, Tamara Schmeltzer and Tessa Sherman.
Greenville
Aaron Amidon, Tori Brayton, Andrew Bunce, Carter Chapman, Brianna Conley, Tyler Cripps, Shauna Dennie, Erika DeVries, Madison Durdle, Griffen Gates, Alexandria Gilbertson, Kami Hayes, Emma Huizenga, Kaitlynn Kent, Branden Luscher, Ailey Neal, Tristan Niewoonder, Brittany Reed, Faith Roberts, Shawn Roberts, Sarah Rudman, Brooke Smith, Leslie Stahlin, LaShawnda Sweet, Heidi Videan and Hanna Yob.
Howard City
Kiana Hackbardt, Caden Hoezee, Jayden Marovich, Kendra Matzen, Mackenzie Nagelhout, Logan Russell, Abigail Schuster and Megan Telder.
Hubbardston
Tabatha Miller.
Ionia
Taylor Anderson, Robert Ashbaugh, Sara Bevington, Tejia Castle, Jolisa Dennis, Taylor Erickson, Brooke Kemp, Emily Letts, Mary McQuarrie, Joshua Tapia and Dylan Tate.
Ithaca
Chloe Cumberworth and Jared Hoard.
Lakeview
Akalia Feazel, Madelyn Hopkins, Emily Jack and Danielle Palmer.
Lyons
Melissa VanDerske.
Middleton
Naomi Haverstick and Allison Walden.
Morley
Olivia Bongard.
Muir
Matthew Monroe.
Orleans
Elizabeth Stinson.
Perrinton
Jillian Blair, Grace Holland, Travis Hungerford and Nolan Thelen.
Pierson
Kennedy Semposki.
Portland
Nicole Mager.
Riverdale
Kylie Mortensen and Rivers Stewart.
Rockford
Jessica Johnson, Cassandra Kleck and Trent Mason.
St. Johns
Kaiden Johnston.
St. Louis
Dylan Macha.
Sand Lake
Paige Feliciano-Colon.
Saranac
Matthew Brinningstaull.
Sheridan
Brielle Collins, Kayla Falor, Kaitlyn Hansen, Kody Miller, Niah Peterman and Vivian Ridgeway.
Sidney
Wenona Brown and Courtney Guelzo.
Six Lakes
Logan Clack, Zoe Helmer, Avery Johnson and Michaela Strohl.
Stanton
Collin Galbraith, Caleb Holland, Micah Johnson, Megan Lewis, Kirsten MacDonald, Katelyn Otto and Dillon Weston.
Trufant
Katelyn Edwards.
Vestaburg
Kelsey Beach and Alexys Cannady.
White Cloud
Morgan Bernick.