News
Wednesday, January 11, 2023
MCC announces fall 2022 honors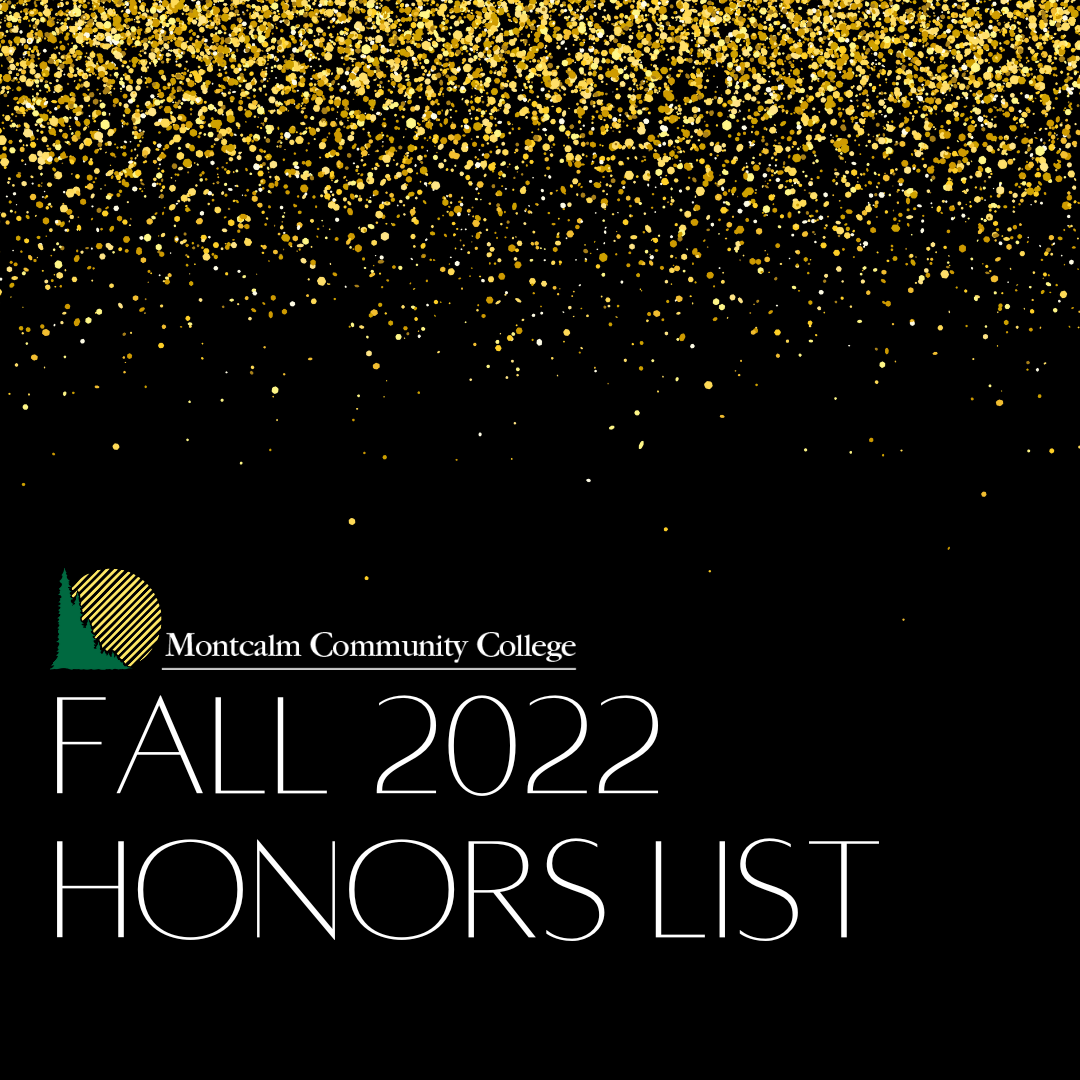 The Montcalm Community College fall 2022 semester honors lists include 463 students. 
Of these, 274 students obtained a 3.7 to 4.0 GPA earning them a place on the President's Honors List or the Part-time President's Honors List and 189 students earned a place on the Honors List or Part-time Honors List with GPAs of 3.3 to 3.69. Full-time students must have earned at least 12 credits during the semester and part-time students must have earned at least six credits during the semester to be eligible for honors. 
A list of the honors students and their city or town of residence follows. 
President's Honors List (3.7 to 4.0 GPA): 
Belding 
Katelynn Backing, Kelsey Bartholomew, Mackenzie Byrne, Madison Emelander, Kyle Gillespie and Miriam Hare. 
Blanchard 
Elizabeth Underhill. 
Carson City 
Carli McAlvey, Ashley Smith and Kennedi Stout. 
Cedar Springs 
Zachary Boorsma, Charlie Ellick and Rachael Kren. 
Edmore 
Wyatt Cook, Hana Deal and Gabriella Krzymicki. 
Fenwick 
Ana Jennings and Brooklyn Plaisier. 
Gowen 
Anna Berry. 
Greenville 
Caleb Austin, Mici Bos, Sawyer Bowers, Autumn Eldridge, Kayla Flanders, Charlotte Greene, Alia Ingersoll, Jacob Jensen, Shane Krouse, Dylan Linton, Henry Merren, Owen Merren, Brenden Niemiec, Julia Potter, Amber Ridgeway, Claire Scott and Nicholas Soucie. 
Howard City 
Heather Hutson and Christine Willett. 
Ionia 
Madalyn Bush, Brian Chartrand, Ashleigh Pischi and Gwenyth Platte. 
Lakeview 
Ashley Delamater. 
Lowell 
Adam Yuhas. 
Maple Rapids 
Walker Eyer. 
Morley 
Cody Moyer and Francesca Perugini. 
Muir 
Gabriella Hemminger. 
Newaygo 
Amy Olds. 
Orleans 
Brooklyn Challender. 
Pewamo 
Clyde Hawbaker. 
Riverdale 
Laura Schneider. 
Saranac 
Darian Reagan. 
Sheridan 
Megan Bean, Jennifer Henke, Mitchell Herald, Jamie Wernette and Amber Wubbeling. 
Sidney 
Grace Choponis and Makenna Weber. 
Six Lakes 
Raelyn McElhinny. 
Stanton 
Hailee Braam, Marilyn Darling, Madison Holland, Trevor Jones, Emily Throop and Rainier Woodman.  
Trufant 
Amber Waldron and Parker Wheaton. 
Vestaburg 
Barbara Brauher, Joey Hutchins and Dylan Jones-Wrisley. 
Part-time President's Honors List (3.7 to 4.0 GPA): 
Alma 
Jacob Nix.  
Belding 
Cristen Avery, Brandie Brewer, Crystal Croel, Mikaela Crumback, Harley Earl, Alissa Emelander, Allison LaFleur, Beth Pawloski, Isabelle Purcey and Ryan Treynor. 
Big Rapids 
Celestine Hiltunen, Claire Johnston and Dakota Thompson. 
Blanchard 
Grayson Austin, Gabrielle Gilman, Tylyn Lange and Sadie Quackenbush. 
Breckenridge 
Taylor Rodriguez. 
Carson City 
Arija Adkins, Heather Adkins, Dillon Ahrens, Patricia Fernandez-Kirvan, Aubrey Hessbrook, Raven Leazier, Deegan Shebester-Bodell, Ryan Thurston, Kaleb Walker and William Wyatt. 
Cedar Springs 
Christopher Carr, Emma Cassiday, Sonya Lovell and Judy Rademacher.  
Charlotte 
Terry Stauffer. 
Coral 
Meagan DeHate and Ryann Leyko. 
Crystal 
Zaryn Beechler, Taite Daily, Torri Evans and Georgina Pickens. 
Edmore 
Lauren Alexander, Ryan Binge, Laura Boerma, Dakota Dykhuis, Taylor Harkness, Kelsey Helton, Brenna Hunt, Faith Johnston, Maggie Lobert, Trista Perkins and Addisen Peterman. 
Fenwick 
Haylee Bruinooge, James Fancett, Scott Flanagan, Zachary Scheid, Ava Shaw, Mariah Sorensen and Robert White. 
Fowler 
Paige Hetherington. 
Gowen 
Shannon Abbey, Connor Ingersoll, Jakob Phillips, Scott Riley and SkyeAnne Sherwood. 
Grand Rapids 
Tanner Boonstra and Kassie Miller. 
Greenville 
Chelsey Adams, Jacob Anderson, Johnathan Beerman, Cody Buchanan, Faith Campbell, Valerie Coon, Jack Cooper, Stacie Dye, Annette Fare, Emalee Forist, Noah Gager, Nicole Hallam, Brady Hollenbeck, Andrea Kash, Corey Ledin-Bristol, Heather Lehman, Raven Lessard, Jesse Mason, James McBride, Kassandra Moore, Benjamin Peacock, Ava Phelps, Kiyah Plumb, Mya Powers, Selina Powers, Corban Robinson, Ruby Rockburn, Sarah Sooy, Cameron Visser, Heidi Wagner, Trevin Waldron, Melissa Ward, Danielle Wellman, Kathrine Wilson and Manuel Zaccheus. 
Howard City 
Nicole Brown, Katie Busch, Allison Butler, Alexis Gleason, Olivia Harris, Ian Kerslake, Kayla Lusk, Michelle Maurer, Mya Oros, Angela Ringler, Isabel Schuster, Sebastian Stoelb, Michael Stout and Jesse White. 
Ionia 
Londyn Brown, Jolisa Dennis, Evan Derusha, Dathan Hall, Jordan Jarman, Conner Kanouse, Shannon Kelly, Megan Lennemann, Frank Look, Madeline McGee, Mary McQuarrie, Mercedes Sena, Kasondra Triggs, Andrew Wallace, Mikaiah White and Mallory Wood. 
Kent City 
Reta Burdette. 
Lake Odessa 
Joyce Harding and Isabell Zylstra. 
Lakeview 
Wesley Bishop, Emily Bristol, Christopher Burmeister, Kimberly Carstens, Shyanne Martin, Andrew Petersen, Victoria Pomeroy, Valerie Rohloff and David Swartzfager. 
Lowell 
Hannah Diamond, Emily German, Kayla Sterzick, Mitchell Tower and Joshua Underwood. 
Lyons 
Tess Griffith.  
McBrides 
Bailey Fitzpatrick. 
Middleton 
Avery Walden. 
Morley 
Presley Bergeron, Jaclyn Ketchum, Miranda McNeil, Ashley Myers, Brian Olsen and Caleb Veldkamp. 
Mulliken 
Josh Fitchett and Andrew Poelman. 
Newaygo 
Ethan Olds. 
Orleans 
Rebekah Peet. 
Perrinton 
Tatym Plath and Elizabeth Sheahan. 
Pierson 
Kimberly Gates, Paige Olson, Nicklaus Renner, Mary Scarberry and Allison Vander Slik. 
Portland 
Isaac Clark, Brett Steinhaus and Alexa Weber. 
Reed City 
Jasmine Plum. 
Rockford 
Dava Fraser, Rebbecca Merrill and Amanda Perkins. 
Sand Lake 
Valerie Flynn, Kali Hoag, Isabella Lobbezoo, Michealle Petrik, Stephanie Remington and Heather Secor. 
Saranac 
Hannah Knepper and Delaney Reagan. 
Sheridan 
Riley Browne, Sean Cottle, Shelly Fisk, Morgan Haney, Stacy Knowlton, Gavin Lillie, Trenton Shaffer and Tiana Whitacre. 
Sidney 
Courtney Guelzo.  
Six Lakes 
Stephanie Herzog, Kathryn Porter and Skyler Teaker. 
Sparta 
Courtney Rickert. 
Stanton 
Brettney Allmon, Sarah Boyd, Megan Brokaw, Abbigale Burnett, Julie DeJohn, Tristan Dolley, Genevieve Evans, Nathan Horton, Amanda Marvin, Trever Miller, Cayden Roberts and Sarah Swartz. 
Trufant 
Anthony Brown, Scott Christensen, Samantha Harrington and Gabrielle Spohn.  
Vestaburg 
Cloey Hatton, Whitney Hoover, Trent Mortensen, Rose Rogers, Lacey Smolka and Diane Wager. 
Wyoming 
Johnathon DeBruyn. 
Honors List (3.3 to 3.69 GPA): 
Belding 
Maria Tomich. 
Carson City 
Kayla Holford and Jazlyn Johnson.  
Fenwick 
Kennedy Betancourt and Lukas Schafer. 
Gowen 
Trynity Green, Layna Gunderson, Mackenna Gunderson and Kassidy Lake. 
Greenville 
Jessica Butler, Taryn Creasap, Addison Howard, Alexis Miller, Ailey Neal and Isabelle Van Haren. 
Howard City 
Annette Bunker-Fellows, Courtney Fliearman, Joseph Huizing and Daniel Shadley. 
Hubbardston 
Joshua Billings and Nathan Vining. 
Ionia 
Kullan Granger, Hannah Nummer, April Perry and Emily Priest-Clarmont. 
Lowell 
Kira Bailey-Waldron. 
Saranac 
Abby Bushre and Stuart Satterlee. 
Sheridan 
Sophia Allenbaugh, Shawn Hardy, Kristin Lacy, Ivey Ridgeway and Vivian Ridgeway. 
Sidney 
Alyvia Minnick. 
Stanton 
Alyssa Walwark. 
Part-time Honors List (3.3 to 3.69 GPA):  
Ada 
Daniel DeRoo. 
Ashley 
Kristin Mills.  
Belding 
Kathryn Albert, Mackenzie Geister, Daniel Grabinski, Falcia Kitchen, Kyle Noble and Kiersten Simpson.  
Carson City 
Elizabeth Miller and Mason Smith. 
Cedar Springs 
Eleanor Colvin, Kaitlin Dykstra, Katie Greene, Dylan Knauf and Austin Nelson.  
Coral 
Ashlee Porter 
Crystal 
Marcy Baker, Kailey Holland and Andrew Tissue. 
Edmore 
Kaitlin Underwood. 
Fenwick 
Nathan Clute. 
Gowen 
Mellissa Clark, Kristi Giddis, Isabelle Headley and Bruce Reynolds. 
Grand Rapids 
Baleigh French and Kia Gardner. 
Grant 
Mya Foster. 
Greenville 
Kendell Alcalar, Drew Averill, Annika Barnes, Kathleen Basinger, Crystal Bowler-Esseltine, Andrew Bunce, Dorothy Church, Lauren Cusack, Joshua Denton, Riley Holdbrooks, Devyn Hubbard, Sierra Jones, Kiersten Jordan, Hailey MacMillen, Jennifer Martin, Alaina Meyle, Kyleigh Mills, Haley Nauta, Larissa Roy, Jenny Rykse, Chad Stanford, Johnathan Taft, Hannah VanderMey, Matthew Warner and Marleigh Worden. 
Howard City 
Alyssa Borden, Jessica Connor, Jillian Detweiler, Robert Gerwig, Coy Hall, Syndi Hurst, Christian Kazemier, Kendra Matzen, May Shepard, Leah Sieffert, Emily Simmons, Elaina Snyder, Abigail Swackhammer, Brooke Thorington, Rylie Williams and Cambra Zemla. 
Hubbardston 
Oisin O'Grady. 
Ionia 
Ashley Badder, Phoenix Bond, Amber Carlson, Amanda Dykstra, Rajalyaj Esquivel, Miles Gregory, Robert Grinstern, Andrew LeForge, Paige Lynch, Adam McKendry, Lilly Reams, Cory Seiler, Joshua Trierweiler, Taylor Weber, Elaina Williams and Chloe Witter. 
Ithaca 
Aliesha Salogar. 
Lakeview 
Betsy Castle, Trenton Cole, Noah Petersen, Gavin Walters and Carly Willis. 
Lowell 
Julie Brandt and Jordan Sterzick. 
Lyons 
Trajan Mourer. 
Midland 
Merynn Clayton. 
Mishawaka 
Phaedra Adams. 
Morley 
Kylie Cornell. 
Mulliken 
Reagan Guilford.  
Perrinton 
Dezmond Blair and Alayna Smolinski. 
Pierson 
Ethan Culver, Allison Johnson, Dakotah Kelly, Andrew Lenon and Gavin Rykse. 
Portland 
Aubree Faulkner and Aliyah Rodriguez. 
Rockford 
Emily Czarnopys, Reygan Holt, Rhyan Sanchez and Amanda Wilson. 
Saginaw 
Steven Hermann. 
Sand Lake 
Staci Laughlin. 
Saranac 
Madeleine Hill, Emily Mulnix, Jessica Ricket and Jadeyn Trahan. 
Sheridan 
David Bradley, Cooper Daller, Alexandrea Hascher, Colten Lambart, Heath Magnuson, Ivon Stevens and Renee Stoneham. 
Sidney 
Blake Guilford and Caitlin Skrodenis. 
Six Lakes 
Matthew Brigham and Miranda Crittenden. 
Stanton 
Tinessa Armock, Chelsey Birman, Andrea Frost, Alyssa Gillson, Amanda Johnson, Michelle Macha, Chalice Nicholas, Divine Palmer, Grace Rebman, Samantha Swan and La-Shea Wright. 
Stanwood 
Kyleigh Fields, Sydnie LaPreze and Shanna Plum. 
Sumner 
James Kelly and Ashley Mikula. 
Trufant 
Kevin Brecker, Elaina Drews, Katelyn Edwards, Morgan Sanders and Kendra Whipkey. 
Vestaburg 
Ashlea Fuhrman, Kelsee King, Hayden Palmer and Shiree Wheeler.