News
Tuesday, May 16, 2023
Middle school students visit MCC to further biology studies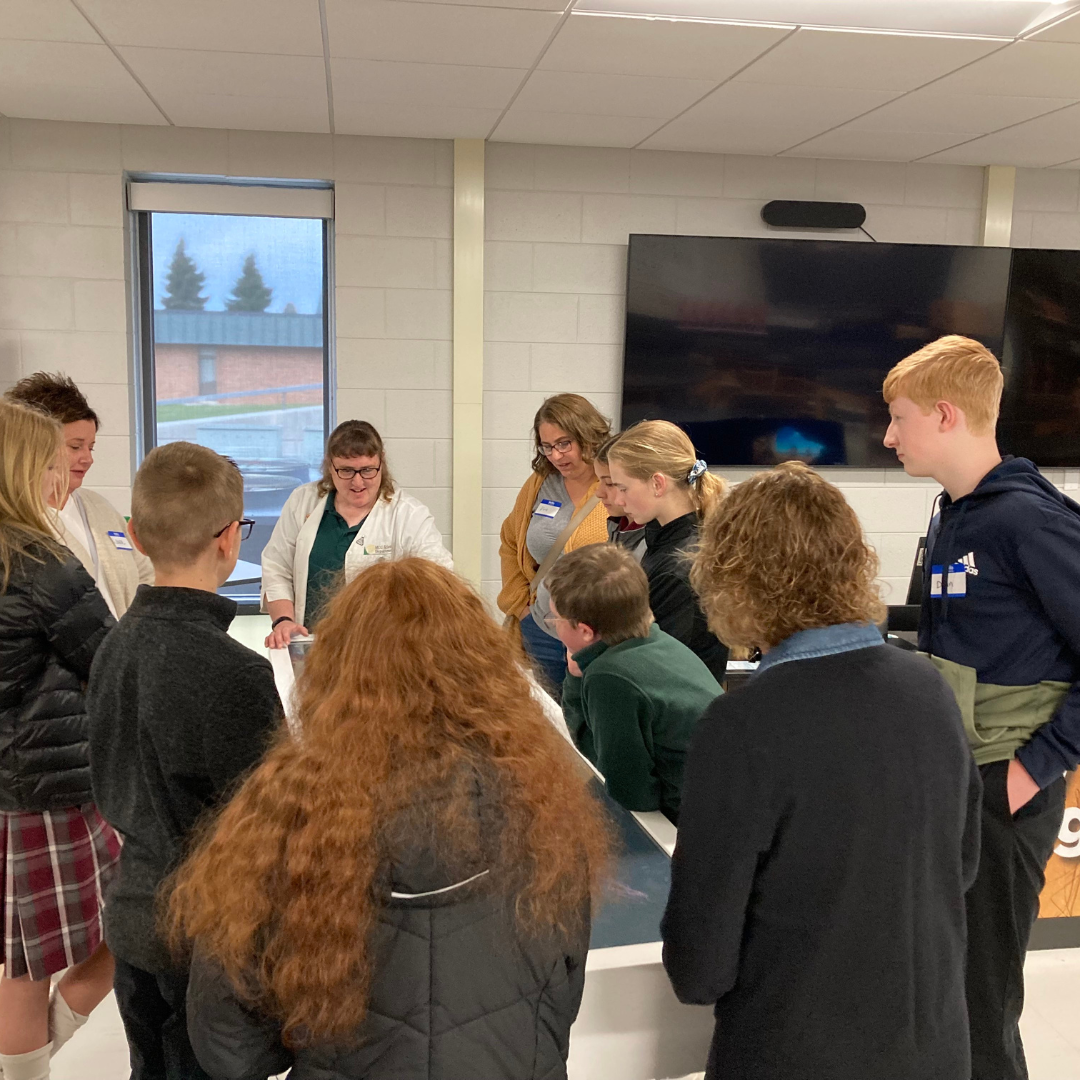 Seventh and eighth grade students from St. Charles Borromeo Catholic School in Greenville recently visited Montcalm Community College to further their studies in human biology. 
Biology Instructor Dr. Michelle Gibson spent about two and a half hours with the students and showed them MCC's virtual cadaver in the newly renovated Kenneth J. Smith Building on the college's Sidney campus. 
"Dr. Gibson reviewed the circulatory system with them, using the virtual cadaver," said Mary Hamman, a science teacher from St. Charles Borromeo. "She also demonstrated the virtual cadaver to the students, showing the different cadavers and describing or explaining various biological parts or information to the students. She also showed them the pregnant woman cadaver and the students were able to see the baby. This reinforced the information that the students learned earlier this year, when we had an ultrasound performed in our classroom." 
Dr. Gibson said anything that gets students excited about science is great. 
"I enjoyed showing off our virtual cadaver - there are so many cool things about the table and the students really got into and were able to use the table themselves after just a few minutes," she said. 
Dissection was another activity the students took part in while on MCC's Sidney campus. 
"Dr. Gibson also let the students dissect pigs and a frog," Hamman said. "They absolutely loved this, too. We had just studied the digestive and circulatory systems so they were able to see and review those systems." 
Hamman had contacted MCC Career Advisor Amy Zdanowski, asking if anyone at MCC would be interested in dissecting with her students. Zdanowski connected her with Dr. Gibson. 
"We would just like to thank Mrs. Zdanowski for connecting us and Dr. Gibson for letting us visit and share her knowledge with us," Hamman said. "We really appreciated it.  We would love to come again and maybe explore a few other programs." 
For more information about MCC's offerings, visit montcalm.edu, email studentservices@montcalm.edu or call 989-328-1277. 
Media contact:
Shelly Springborn
Director of Communications and Public Relations
shellys@montcalm.edu
989-560-0833