Application for Financial Aid

MCC attempts to assist students with their expenses by constructing a package of grants, loans, scholarships and work opportunities. The amount awarded through each program depends greatly upon an analysis of the applicant's financial situation. For this reason, students wishing to participate are required to complete a Free Application for Federal Student Aid (FAFSA).
Entering freshmen are encouraged to complete an admission application as early as possible in their senior year of high school. For maximum award consideration, the FAFSA should be submitted for first-time freshmen by March 1. The application will be available October 1 each year.
Documentation Required (Prior to Payment of Financial Aid)

Students are not eligible to receive financial aid until the following documents are on file in the Admissions or Financial Aid Office.
Application for Admission
Proof of high school graduation or equivalent
Student Aid Report and necessary documentation to complete verification
Financial Aid authorization form
Financial Aid award letter
Loan Default Policy

Students found in default of Title IV loans or owing a Title IV refund to any college will not be eligible to receive financial aid. Academic transcripts will not be released to students who are found in default on Title IV federal loans or who owe any Title IV refund to MCC.
Enrollment Status

To participate in financial aid programs, students must enroll for a minimum of six semester hours in an eligible degree program. An exception to this requirement is the Pell Grant.
Method and Frequency of Financial Aid Payments

You are urged to complete the "Free Application for Federal Student Aid" (FAFSA) well in advance of the semester for which you plan to register.
Your award(s) may be based on the number of credit hours you are enrolled, so the amount credited to your account may be adjusted to reflect actual enrollment status.
If your financial aid has been awarded prior to the payment deadline (check online at MyMontcalm for the actual payment deadline each semester), your aid will be electronically credited toward your tuition charges. If your financial aid award does not cover full tuition and fees, you must be prepared to pay the difference. If your financial aid award has not been approved by the payment deadline, you must pay your own tuition.
Federal Direct Stafford Loans that have been certified by MCC and approved by the Department of Education will be considered as pending aid. If your loan was not certified or approved by the Department of Education prior to the payment due date, be prepared to pay your own tuition.

Participation is verified from your instructors for aid to be paid to your account. If you are in a class with a late start date, you must be participating in at least six credits prior to loans being disbursed to your account. Grant funds will not be disbursed until after the late start class has begun and all other class participation has been verified.
Grant, scholarship and loan refunds will be issued by check when there is a credit balance on your account. One semester loans will be paid in two separate disbursements. For more information on actual disbursement dates, visit the Finances tab after logging into MyMontcalm.
PLEASE NOTE: The actual disbursement of grant, scholarship and loan money will be transferred to student accounts no earlier than one week after the drop/add period ends.
Federal Title IV Recipient Refund Policy

Federal aid recipients who withdraw or stop attending ALL classes before completing 60 percent of the semester may be required to repay a prorated portion of the federal aid received. Also, if a student is enrolled in a class that does not run the entire semester and withdraws or stops attending, a return of funds may be required.
MCC Title IV Refund Distribution Policy

MCC refunds Title IV funds first to the Federal Direct Stafford Loan Program, then to the Supplemental Educational Opportunity Grant and then to the Pell Grant program.
Student Cost of Attendance and Award Packaging
The following budget was used in determining your financial award. Remember the budget minus the family and/or student contribution equals the financial need. Students enrolled in the Associate Degree of Nursing will be charged $154 per credit hour, which increases the total tuition amount to $3,696 for the 2023-2024 academic year.
Based on the availability of funds, Montcalm Community College attempts to first cover all direct educational costs and then considers other educational costs, such as child care, if funds are available.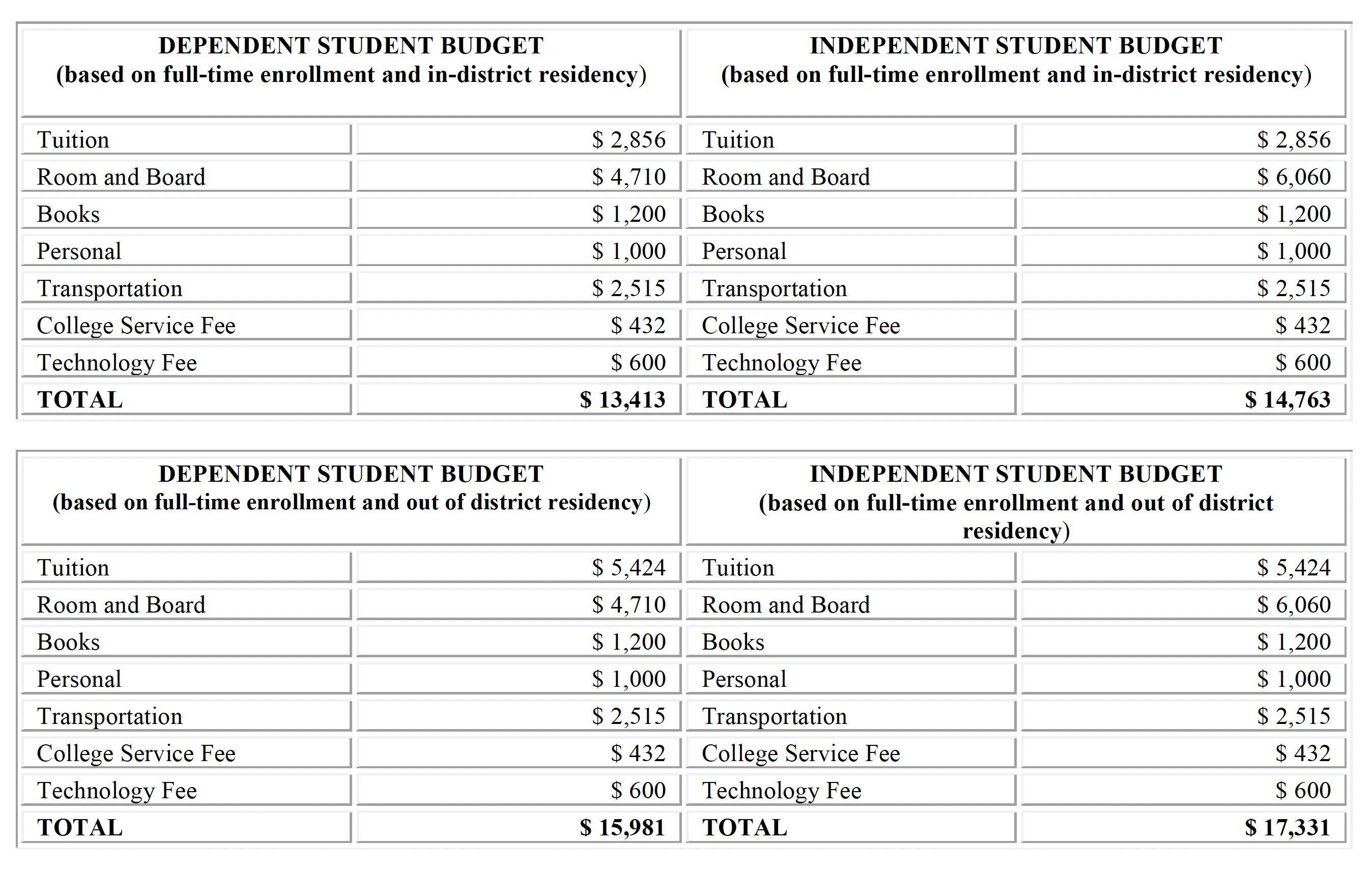 Change of Address or Financial Circumstance

Financial aid recipients must inform the Financial Aid Office of changes in address or financial circumstances.
Citizenship and Residency Requirements

Federal financial aid is restricted to U.S. citizens and qualified aliens.
Repeat Class Policy

Title IV aid can pay for only one repeat of a previously passed course (including transfers). For purposes of determining whether a student can be paid Title IV funds to repeat a previously passed course, ED considers a "D" grade to be a passing grade regardless of the school's academic policies. For example, a program may require a student to receive a "B" or better to pass a course. However, for Title IV purposes, once a single course is passed with a "D" grade or better, it can only be included in enrollment status and paid with Title IV aid one more time. This does not mean the school must change its academic policy; it just limits the number of times a student can repeat a course and pay for it with Title IV funds. 
Required Class Policy

Student receiving Title IV funding (Pell grant, SEOG, Direct Stafford Loans) and enrolled in a certificate or associate program are required to take classes only for the declared program. If you take classes not required for the program, your aid may be reduced or cancelled. Title IV funding cannot be used for audited or "tested out" of classes.
Types of Financial Aid Available
Scholarships are money usually based on academic performance or demonstrated need.

Grants are non-repayable money usually based on demonstrated need.
Loans are money that must be repaid after students leave college or enroll less than half-time.
Employment is part-time work on and off campus. The total hours a student works are determined by financial need. Students are paid every two weeks.