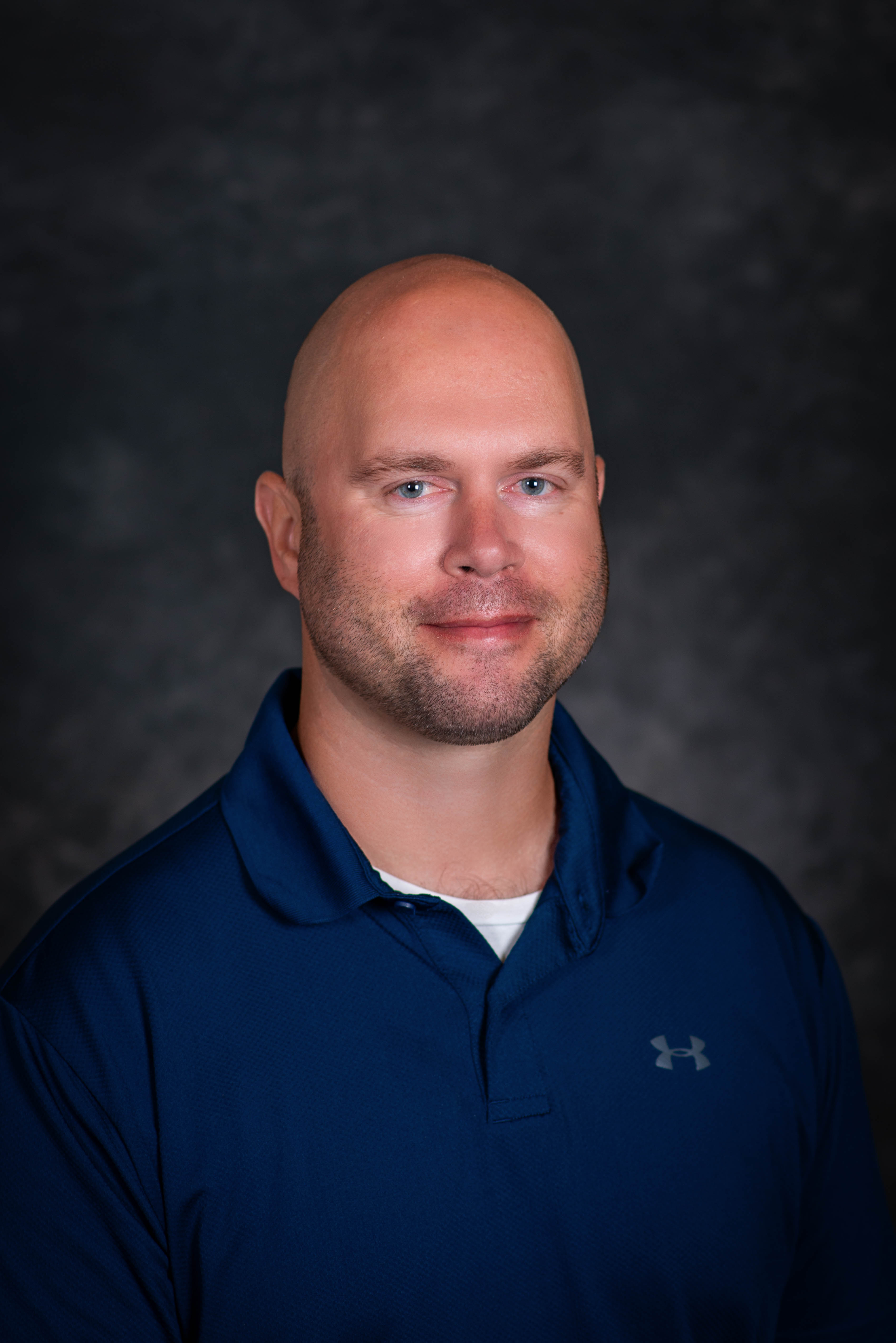 Andrew Nielsen is an advanced manufacturing and welding technologies instructor at Montcalm Community College.
"I am a huge believer in see one, do one, and teach one," Nielsen said. "I like to teach the theory of what we are going to accomplish in the lab, head to the lab, show the students how to accomplish the task and then let them try it, let them fail, but fail forward. I believe you learn more from failure than success."
He graduated from Belding High School in 2003. After graduation, he attended Olivet College where he played football and baseball and earned his Bachelor of Arts in Management in 2008. After that, he spent five years in the North Dakota oil fields. He decided he wanted to return home and study metal fabrication.
Through an apprenticeship with Greenville Tool and Die, he started his journeyman certification courses at MCC in 2017. Nielsen earned an Apprenticeship Training Certificate in welding from MCC in 2020, with high honors, and now teaches welding, machining and automation classes on MCC's Greenville campus. He is also an AWS Certified Welding Inspector.
"I really enjoy the 'a ha' moments that you see in students as they are practicing through the modules, and suddenly, something clicks, and they are creating desired results," Nielsen said.
Aside from his work at MCC and the North Dakota oil fields, he also worked in grounds maintenance at Candlestone Inn & Golf in Belding and at the Double R Ranch in Smyrna doing horse trail guides, campground maintenance, canoe running and golf course maintenance.
He and his wife, Bridget, have been married for almost seven years and reside in Rockford. They have two sons, Lincoln and Roman. He likes to travel around Michigan and the United States, mostly hiking trails through mountain ranges. He can't wait until his children are old enough to ride motorcycles and ATVs around Michigan's awesome trails.
Jason Becker and Jody Collier are two people he admires. Both gentlemen have worked hard in their trade and are now valuable resources of information on YouTube and podcasts. They are both lifelong learners and give back to the welding community by freely sharing their knowledge.
If he hadn't gone into teaching, Nielsen said he was close to becoming a heavy machine operator. He said it would be awesome to drive bulldozers, front end loaders and cranes.
Nielsen feels that his work ethic and integrity are the best skills he brings to his job.
"I show up, do what I say I'm going to do, (or at least give it my best shot) and try to learn something from the task," he said.
Visiting Alaska and driving a monster truck are two things on his bucket list, and he said doing both at the same time would be ideal.
His personal motto is "Stuff happens. Deal with it and try to find the best way to overcome it."
Here are some other fun facts about Nielsen:
· He holds a couple of top five individual rushing records at Olivet College.
· He is left-handed.
· Minus 56 degrees Fahrenheit is the coldest weather he has been in.
· He used to lead horse trail guides at Double R Ranch.
· The most hours he has worked in a week is 140.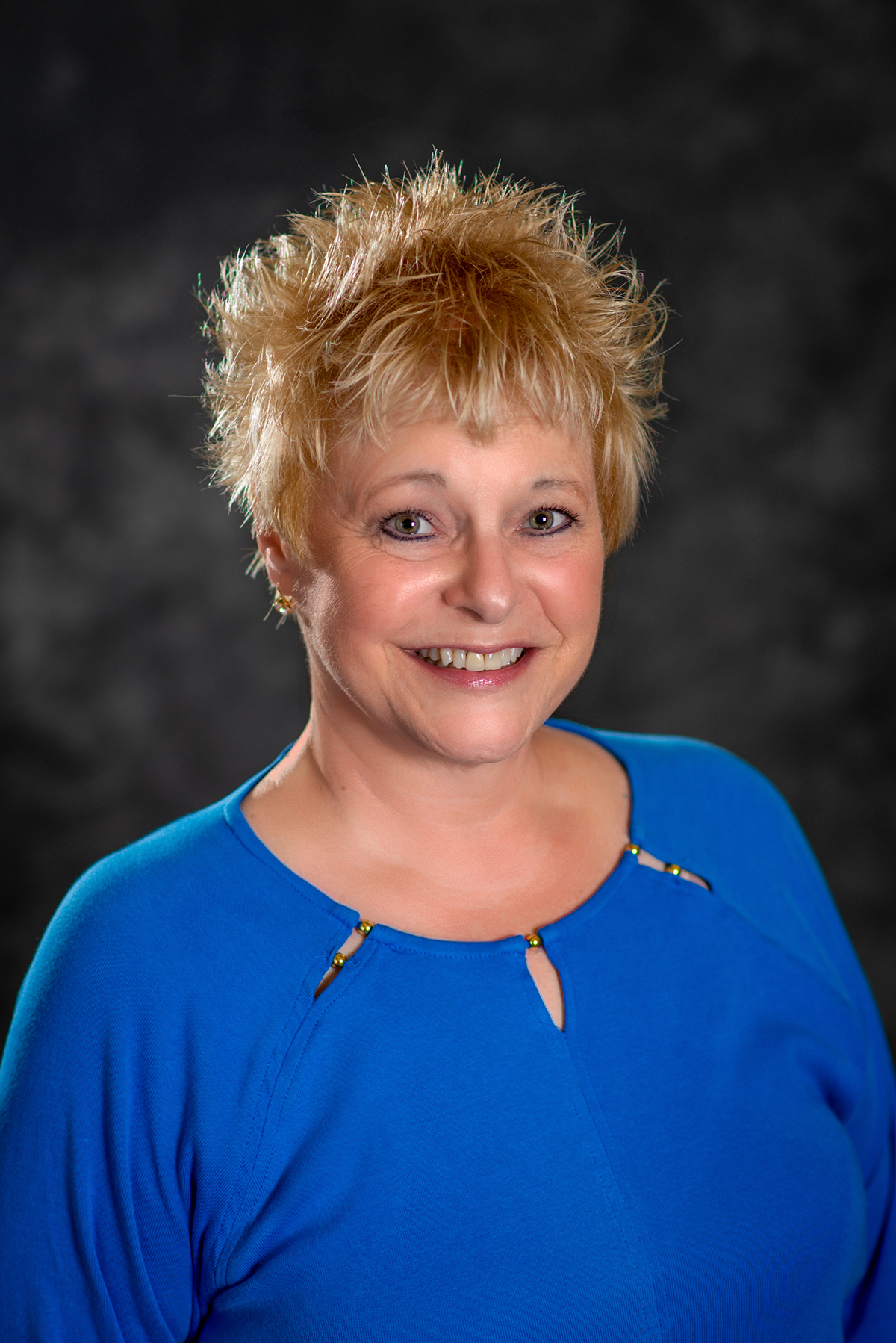 Debbie Dawson-Gunther, P.E., M.S. MCC Automation & Industrial Technology Instructor maintains high standards for her students.
Debbie Dawson-Gunther, P.E., M.S., enjoys "watching the light bulb go on" when her students understand a new concept.
Dawson-Gunther joined Montcalm Community College's full-time faculty as its Automation & Industrial Technology Instructor in January 2019, after teaching as a part-time instructor at the college. Since then, she has revised automation curriculum while teaching automation classes and works in the skilled trades open lab on MCC's Greenville campus. She also continues to revise technical programs to provide students with opportunities to earn industry credentials including Smart Automation Certification Alliance (SACA), American Welding Society (AWS), and National Institute for Metalworking Skills (NIMS).
"An educator is responsible for creating an environment that is conducive to learning – a place where students are able to turn ideas, theories and concepts into practical skills," Dawson-Gunther said. "In the technical arena, this environment must also provide students with foundational knowledge and the desire for lifelong learning in order to meet the changing needs in industry."
With nearly 30 years of industry and teaching experience, Dawson-Gunther said she has had the unique opportunity to contribute to the shaping of society and the future.
"As a professional engineer, I place an emphasis on my own professional development allowing me to enhance curriculum and provide service with the most relevant industry knowledge possible," she said. "As an educator, I have developed and delivered relevant programs to meet both student and industry needs.
"I maintain high standards for my students," she said. "It is important that I help them learn how to learn, how to effectively solve problems and how to judge the long-range impact of their solutions and recommendations on society.
"I challenge them in ways that will benefit them and provide a sense of accomplishment," she added.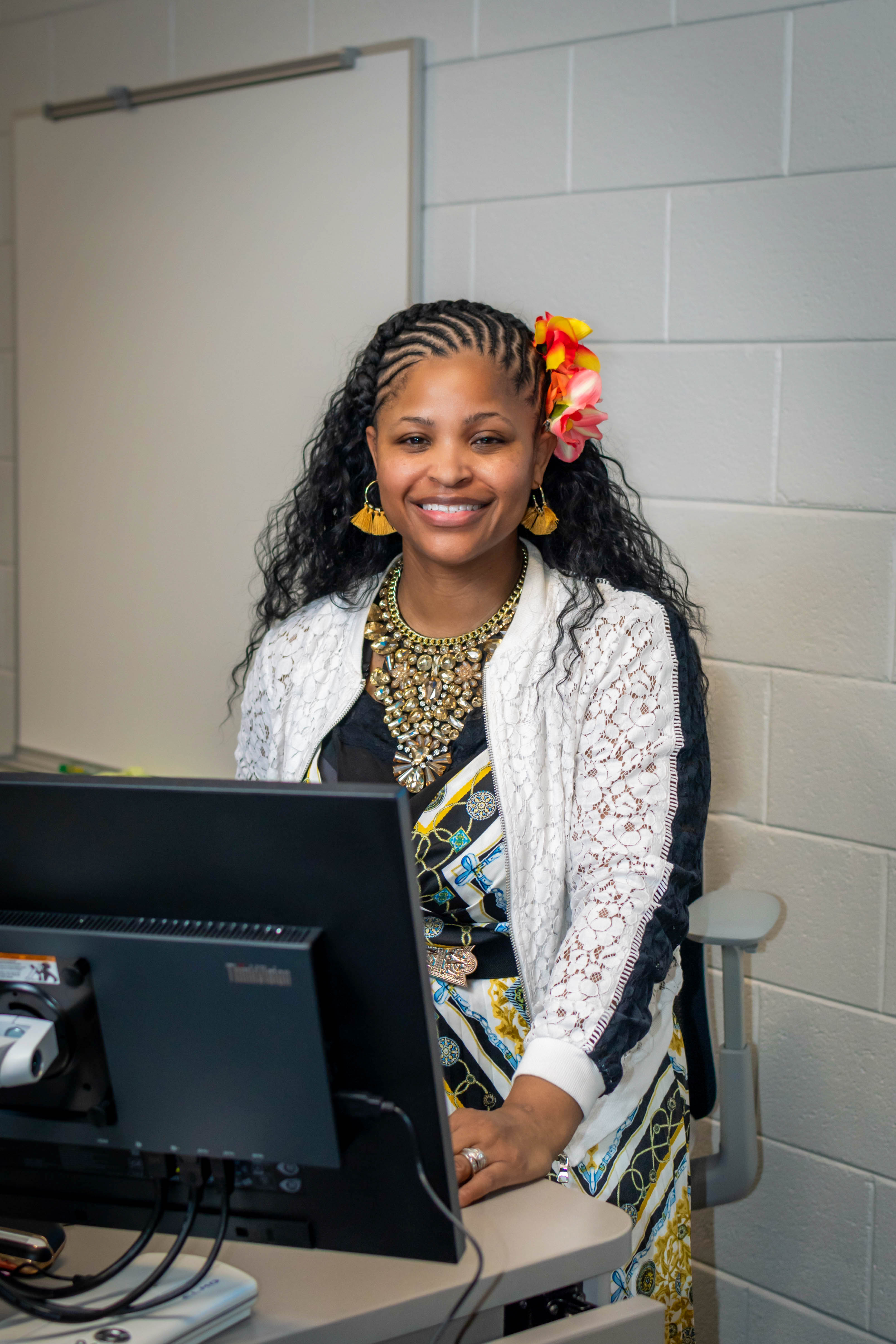 Syreeta Drake M.S.N., is a full-time nursing & health careers instructors at Montcalm Community College. 
"Culminating the art of care and compassion thru the synergy of mind, body, and spirit" is Syreeta Drake's nursing philosophy. Becoming newly tenured in January as a full-time nursing instructor at Montcalm Community College, Drake added that, "Skills can be taught, but caring and compassion, not so much." 
This is why Drake's focus as an instructor is making sure her students can put into practice and apply what they learn, giving them a certain foundational knowledge to succeed. 
Beginning as an adjunct instructor in 2019, and then becoming a part of the full-time Nursing Faculty later that year, Drake said that she "took the scenic route" when referencing her own educational journey. 
Drake said she always wanted to teach, but it was after caring for her late mother through a traumatic experience and witnessing other nurses in action that she decided to pursue an education in nursing.  
She enrolled in and completed the LPN program at Grand Rapids Community College (GRCC), and after six years working as an LPN, she returned to school to complete her Associate of Nursing degree. While continuing to work, she went on to complete an online Bachelor of Nursing degree at Western Governors University, as well as a Master of Science in Nursing Education. 
It was at this point that Drake realized the significance and impact that nurses have in teaching, which became her focus.  
"Particularly in something like nursing, you can give people the benefit of all your wisdom, if they're willing to listen and they're not too hung up on who the information is coming from," she said. "You can really impact lives." 
Drake said she appreciates the culture at MCC where she has close relationships with her students and is able to support their learning needs. 
The married mother of a son and daughter, Drake feels it is rewarding to see the "light bulbs" come on in her students after they have been challenged and she has helped them to translate knowledge into critical thinking and safe application that creates a competent and compassionate nurse. 
Currently pursuing a post-Master's certificate program in psychiatric nursing, Drake encourages those considering nursing to remember that they already have two precious resources to succeed – time and energy. 
Drake encourages students not to get discouraged by wait lists for nursing programs, and advises those interested in the field to always be in nurse mode, assessing situations and environments they are in and getting in the mindset and thought process of being a nurse. 
An active member of several nursing organizations, including the Grand Rapids Black Nurses Association and the American Psychiatric Nurses Association, Drake is also an esthetician and a published author, working on her second book. 
Wearing many hats, Drake continues to show compassion to those she reaches and instill a sense of compassion in those that she teaches.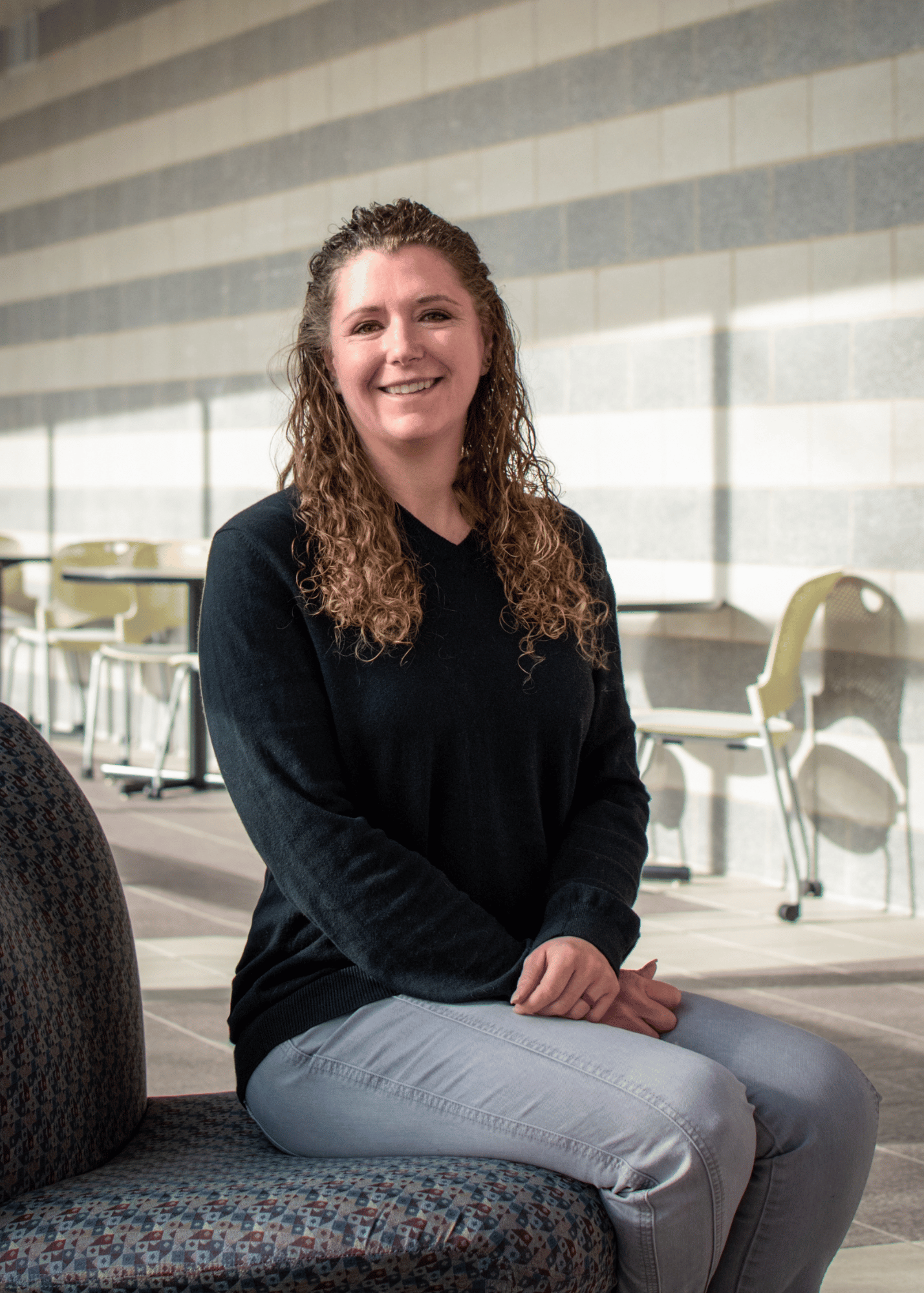 As a mathematics instructor at Montcalm Community College, Brianne Lodholtz, M.A., focuses on helping her students build a strong foundation for success. 
"Montcalm Community College is a wonderful community-centered college," Lodholtz said. "I love the small size and the personal attention that I can give to my students. Many struggle with math and I am able to work with them at a beginning level to set a good foundation for them to move on." 
She brings compassion and the ability to mathematically reach students at whatever level they are at so they can succeed.  
Lodholtz has a Bachelor of Science degree in Mathematics and a Master of Arts degree, both from Grand Valley State University. She has also completed additional coursework at Central Michigan University and Clemson University. 
She is married with two children – a daughter who is 12, and a son who is 7. She also has two chugs (chihuahua pug mixes) named Tank and Diesel. 
Her family is greatly invested in archery. She shoots a recurve bow. She also enjoys traveling with her family and hanging out with friends. Her family once traveled to Yellowstone and saw a lot of wildlife, including bears and moose. Traveling to Europe with her family is on her bucket list. 
Her personal motto is: "Treat others the way you want to be treated." 
Here are some other fun facts about Brianne: 
She has a cycle endorsement. 

She has won eating contests.

She sometimes cries when she laughs.

Her favorite movie is "Tommy Boy."

If she wasn't a math teacher, she would want to be a geneticist.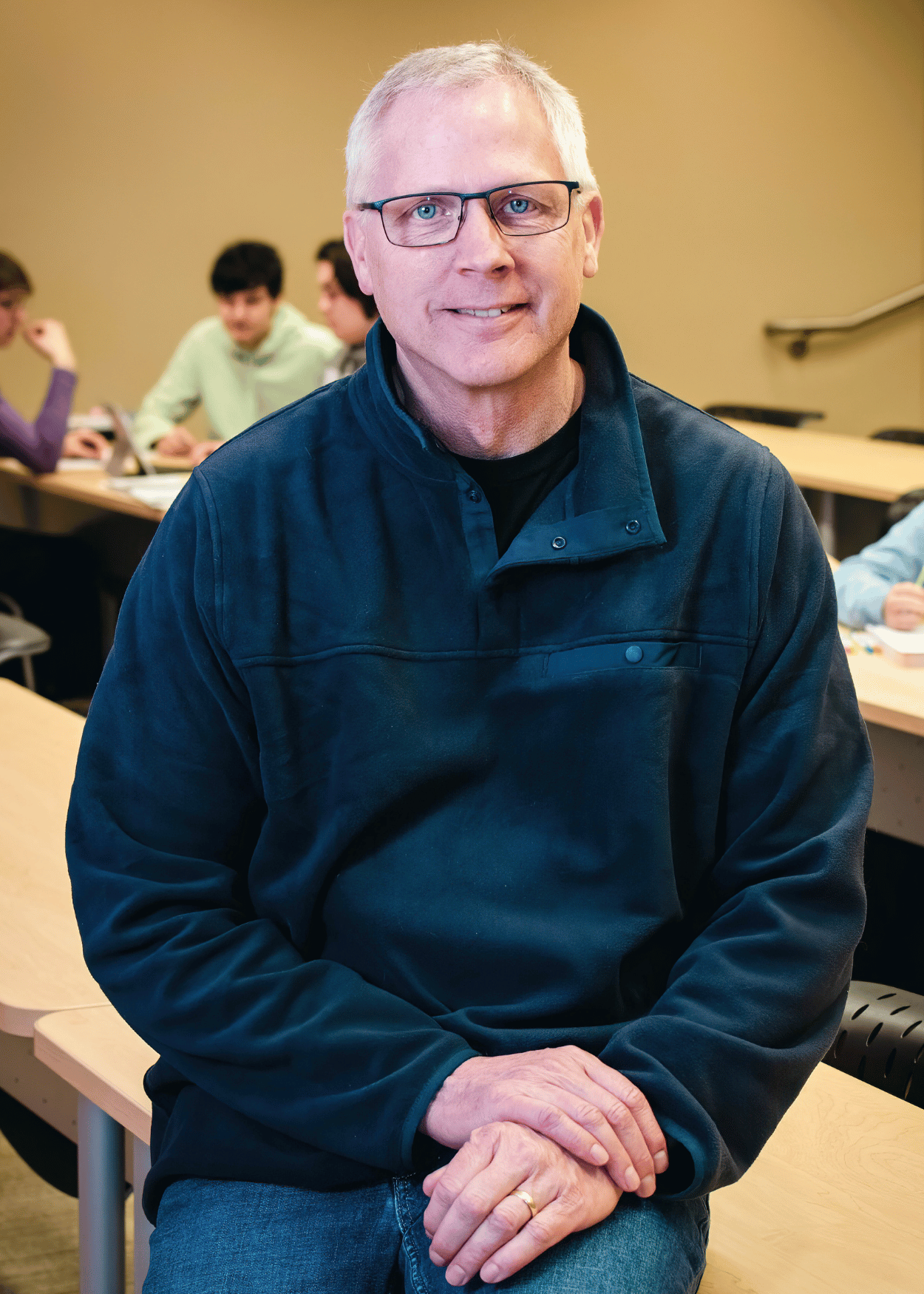 Dean Gage, M.Ed., is an Early College instructor at Montcalm Community College who teaches economics, government and political science.  
"What is most fulfilling for me is to see students learning new things and watching them develop a thirst for lifelong learning," he said. "I also enjoy helping students and watching them become better citizens." 
Gage was born and raised in Saranac and graduated from high school there. He has a Bachelor of Science degree in Public Administration, Social Studies and Business Education with secondary certification from Grand Valley State University. He also has a Master's in Education from Ferris State University. 
Gage and his wife, Julie, have been married for 27 years. They have three grown children - Alicia, Jacob and Sydney; and three grandchildren - Huxley, Kade and Kinsley. They also have a dog named Sunny. 
Gage and his family enjoy camping at their seasonal lot at Coldwater Lake near Mt. Pleasant. They call their camper a rolling cottage. Gage also enjoys golfing, fishing, hiking, reading, cruising around in his boat and playing basketball. 
The person he admires most is MCC Emeritus Dean of Arts and Humanities Dr. Gary Hauck, who still teaches a variety of credit and noncredit courses at MCC. 
"He has been an incredible inspiration to me and has encouraged me to be the best person and teacher I can be," Gage said. "He has done so much in terms of motivating me in my continual quest to grow and learn." 
Gage believes his patience and his adaptability are the best skills he brings to his job.  
"I also allow my students to have their own voice," he said. "My students are not going to think like me most of the time and I need to allow them to build upon their own values and beliefs rather than influence them to take my point of view." 
Someday he would like to visit the Holy Land. He would like to explore the roots of his faith and the locations where events in Scripture took place. 
Here are some other fun facts about Dean: 
He has coached basketball for 24 years and currently coaches boys' varsity basketball for Saranac. 

His first teaching job was teaching construction. 

He touched the shoulder of Magic Johnson as he was walking through the State Capitol. 

He sang in the choir that performed in the 1982 Lowell Showboat with quest star Pearl Bailey.

He plays the drums.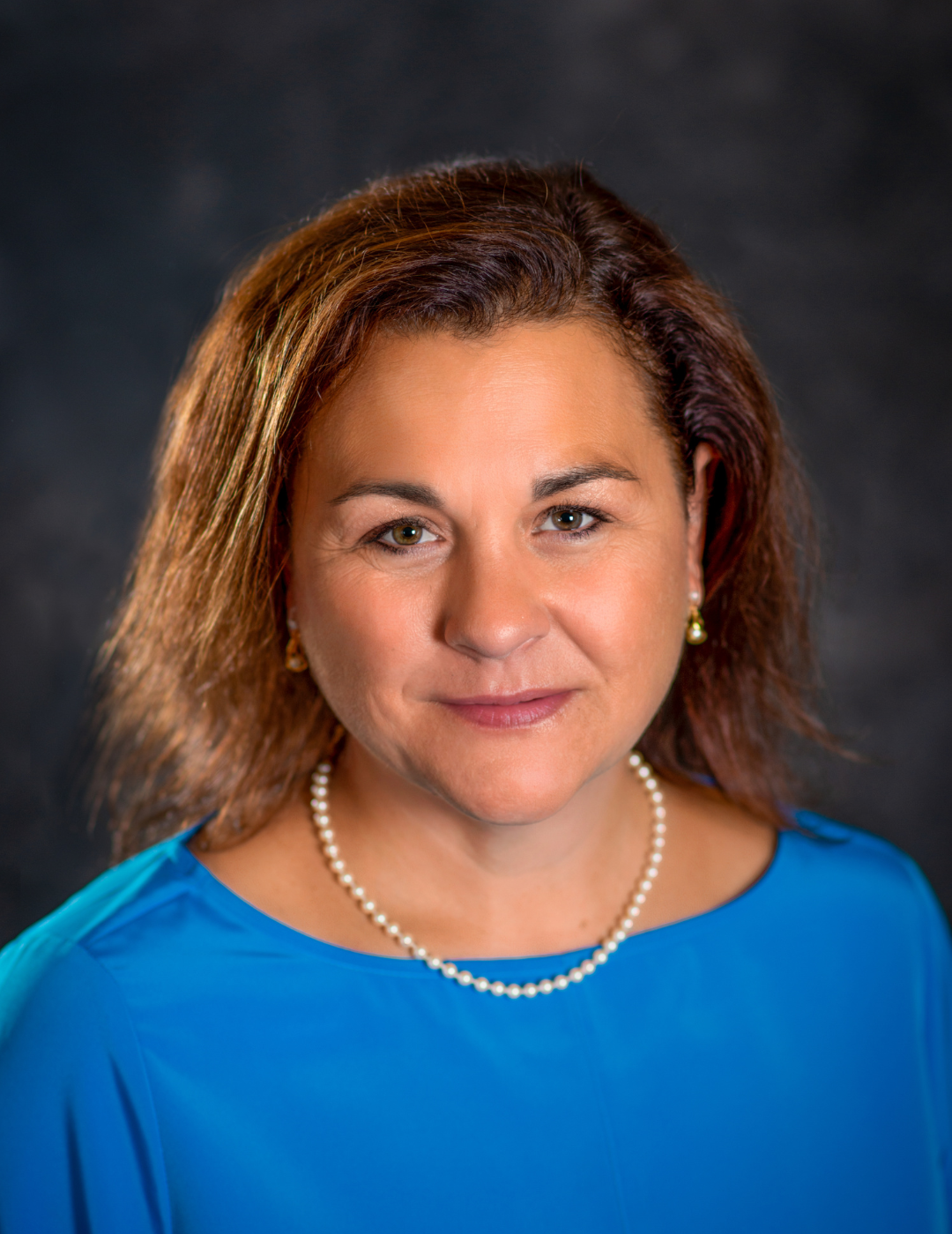 Kristen Diehl, M.Ed., is Montcalm Community College's Computer Information Systems Lab Coordinator and also teaches within our business and computer departments, starting with MCC in 2006.  She serves as the Computer Science Department Chair and the Co-Chair of the Assessment committee. She holds a Bachelor of Science in Small Business Management from Ferris State University, a Master's in Education from Aquinas College and has MBA coursework completed with Walsh Collage.  "I bring over 10 years of work experience in the automotive industry with me to my position at MCC," Diehl said. "This experience, coupled with my educational background, allows me to present material in engaging and effective ways." Diehl married her husband, Vern, in 2011. Their blended family of five children (one boy and four girls) range in age from 13-26.  They also had their first grandchild, a girl, born in 2020. In her free times she loves spending time with her family - traveling, playing games, attending sporting events. When asked what are her pet peeves she said, "When first annual is used instead of inaugural. When people don't follow proper performance etiquette at formal events (music and theatre performances, etc.)." Kristen's motto is, "If you care about an outcome, get involved with the decision-making process. This applies to everything in your life: Your health, family, career, local groups, etc.  Get involved!" Travel is something Kristen loves to do. At 16 years old, she participated in an exchange program through Michigan's 4-H program. Her family hosted a young lady from Jamaica, while Kristen got to go to Jamaica for a month. This was an eye-opening experience for her. "As a 'born and raised' resident of Montcalm County, this was the first time I was in a situation where the color of my skin made me the minority and it really opened my eyes to the world," she said. "This experience helped shaped my thoughts, actions, and belief system."  Diehl said that if she could choose any career it would be a great travel, food, and/or hotel critic. She did seriously consider majoring in sports management because she thought that managing the careers of professional athletes would be very exciting. One thing on her bucket list is to visit all the MLB parks for a baseball game.  
Here are some other fun facts about Kristen: 
Her favorite food is seafood. 

Had a cornea transplant when she was 19 years old. 

Was an exchange student to Jamaica when she was 16 years old. 

Used to raise and show rabbits with her daughters nationwide. 

She considers herself a tech nerd.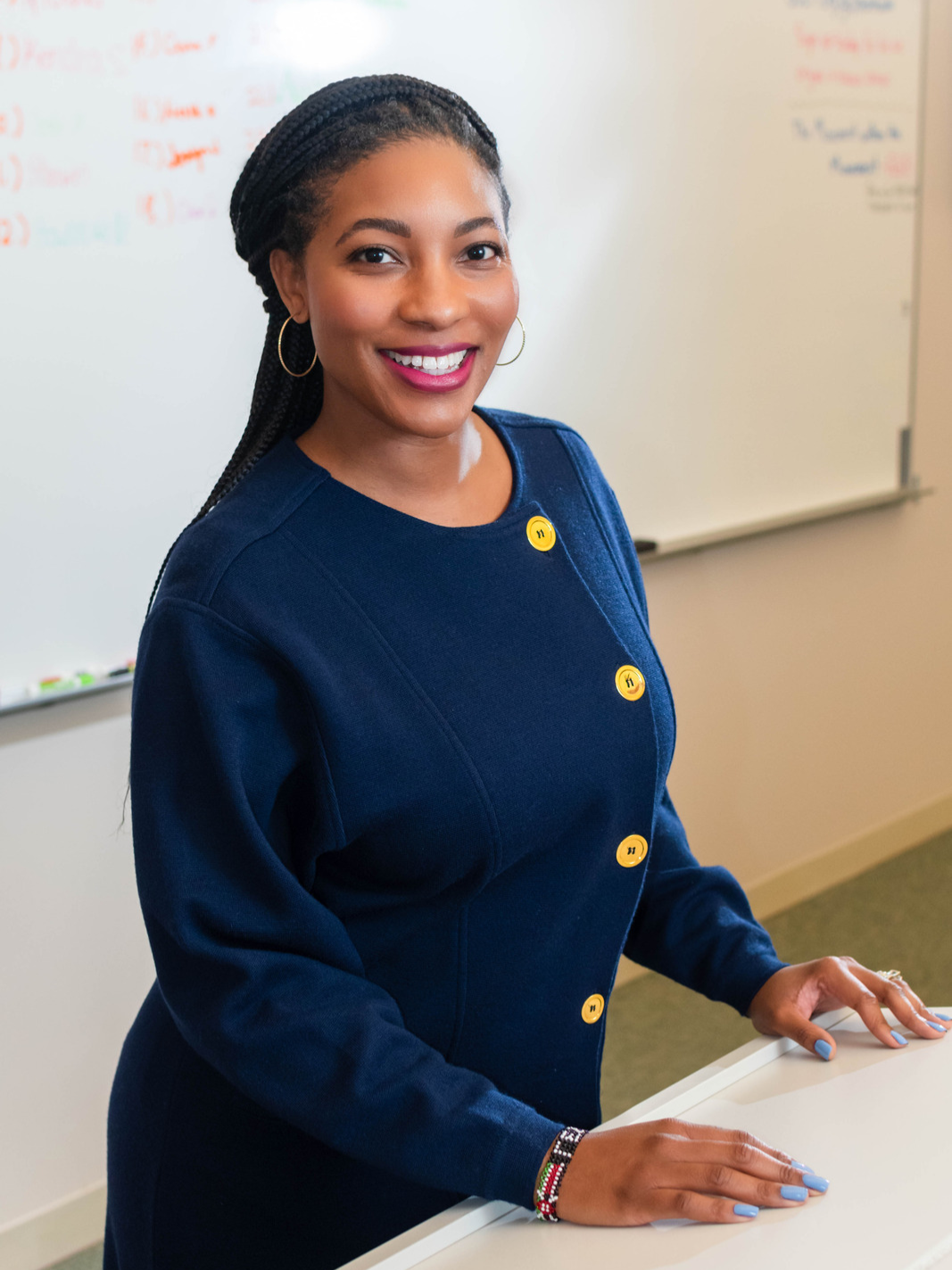 Leslie Neal, M.S., teaches Speech and Interpersonal Communication courses at Montcalm Community College. She joined the college full time in 2017 and serves as the Communications Department chair. 
She graduated from Grand Valley State University with a Bachelor of Science in Communication Studies in 2006. She earned her Master of Science in Communication Studies in 2009 and started her teaching career as a part-time communications instructor at Grand Rapids Community College. 
Neal said the structural base for her classroom follows the Chinese proverb, "Tell me and I forget. Show me and I remember. Involve me and I understand." 
"Once I gained the understanding that effective communication develops confidence and increases comfort levels with expressing ideas and knowledge clearly, I decided that teaching in higher education would be the best way for me to share my awareness with others," she said. 
She chose the career of a college educator because she believes that it is an avenue that allows her, as an individual, to impact society as a whole. 
She and her spouse are raising two children in the Grand Rapids area. They like to travel wherever the wind takes them. She has traveled out of the country more than 25 times and her favorite place she has visited is Kenya. 
Here are some other fun facts about Leslie: 
Her family has a guinea pig, two newts, and an eight-year-old goldfish from Meijer. 

She is the middle child, but only girl in her family. 

She changed her major from Journalism while in undergrad because she didn't like all the rules that were required for writing. 

She is left-handed. 

She was born on July 4. 
David Pyle, B.S., is a science instructor in the Early College at Montcalm Community College program where he focuses on chemistry and physics during the first semester, and anatomy and physiology in the second semester. 
"Science should be fun," Pyle said. "I enjoy doing science labs where bubbles are made, things move or change color, or something gets set on fire or explodes in a controlled manner. Science should go bang, whoosh, or splat." 
Pyle was a firefighter/fire lieutenant for the City of Grand Rapids for a long time and retired after experiencing an on-duty injury at a structure fire. Pyle said if he hadn't been injured, he would still be a firefighter.
He earned his Associate of Science and Arts degree and a Liberal Studies Certificate, both with honors, from MCC in 2016 and then transferred to Ferris State University, where he earned his bachelor's degree in secondary education. 
Pyle, of Howard City, is married with two daughters. His oldest daughter is serving in the U.S. Navy. They have five horses, two steers, two dogs, a cat, and a bunch of fish. He enjoys being outside farming, fishing, hunting, and woodworking. 
His personal motto is: "There are two kinds of people in the world: witnesses and accomplices. Make sure you know who you are standing next to." 
Here are some other fun facts about Pyle: 
He enjoys splitting and stacking wood.

He has an inordinately large collection of oddball and weird Hawaiian-type shirts.

His favorite movie is Monty Python and the Holy Grail.
He collects odd books, such as "Coffin making and Undertaking: A Guide to Death in the 19th"

He has the ability to speak sarcasm so fluently that sometimes people don't know if he's being sarcastic, or in his words, "just dumb."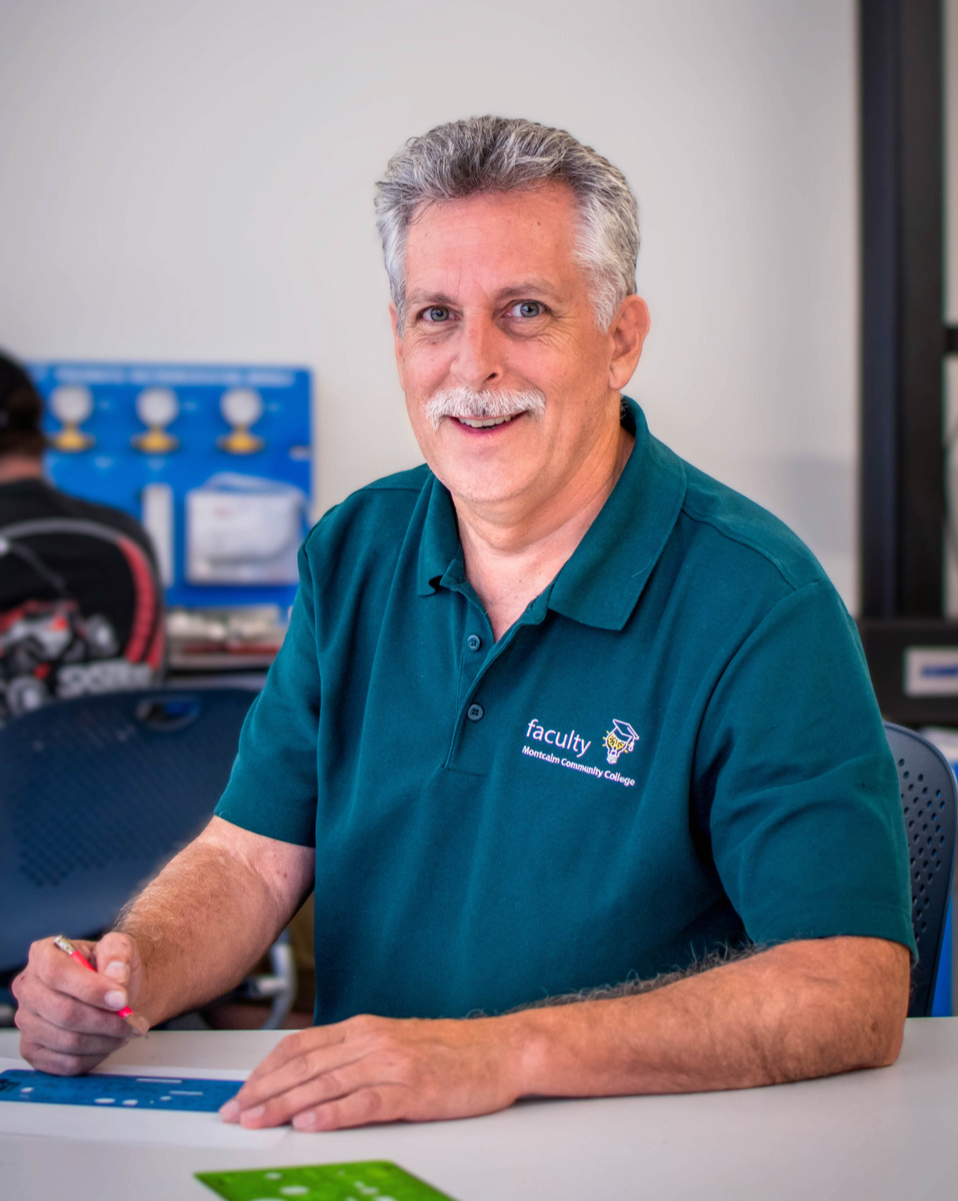 Jeffrey Pedelty, M.S., joined MCC in January 2020 as a lab instructor and in August 2022 began his role as the college's full-time Advanced Industrial Technology Instructor.
Pedelty, who teaches fluid power, PC servicing, precision measurement and the industrial process at MCC, now holds bachelor-level degrees in industrial electronics technology, operations management with an emphasis in manufacturing and supply chain logistics, electrical electronics engineering technology, and a master's degree in technical education, all from Ferris State University.  
After working in a variety of industry roles, from making apple juice to car parts, Pedelty has also worked in high-end audio and television repair. In addition, he worked in communications/crypto security while serving in the Army and became a communications section chief while in the Michigan National Guard. This extensive technological background has made Pedelty a hands-on, experienced candidate for teaching technology to others at the high school level, university, and now, community college level.
Pedelty believes in experiential learning and has found that most of his students learn best through hands-on situations. 
In addition to sharing his knowledge in the classroom, Pedelty is active in the community, providing technical support as a sound engineer, doing promotional photography, and conducting video interviews to improve the social media presence for the organization Tuba Bach, which offers free concerts featuring world-class musicians and international talent to audiences that cannot afford to otherwise attend these performances.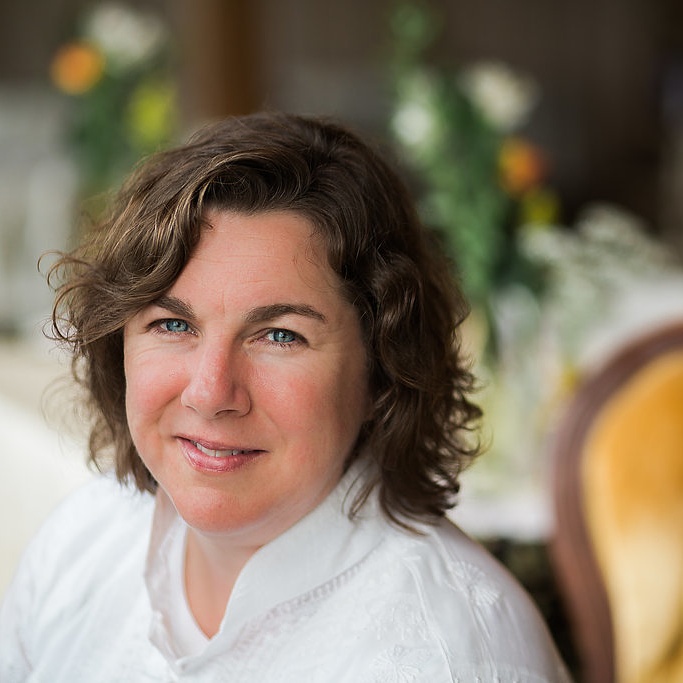 Jessica Snyder, M.S., teaches Psychology and Early Childhood Development courses. She has been teaching at Montcalm Community College since 1998, and she is co-chair of the college's Co-Curricular Committee and is a member of the Assessment and Curriculum Committees. 
She earned a master's degree in Educational Psychology and a bachelor's degree in Psychology, both from the University of Wisconsin-Madison. 
For the past 22 years, Jessica has found her job to be amazingly fulfilling and rewarding. She enjoys her interactions with students who are having their world views and life options opened up for them by their choice to attend MCC. She is proud to be contributing to the life journeys of so many students as they make positive changes that will impact their lives and the lives of others. She brings open mindedness, the ability to explain complicated topics, and a passion to make Psychology genuinely useful for people to her job. 
Jessica and her wife have been together for 20 years and got married in the summer of 2017. They have three children, all of whom are adults. She has two cats, Monkey and Moonstone, and three dogs, Arriah, Khaleesi and Eyla. 
Her personal motto is we are responsible for leaving our corner of the world as good or better than we found it. This is something she learned from her mother. 
In her free time, Jessica enjoys watching movies and travelling around the world. Her favorite trip was a three-week journey in 2021 when she visited multiple national parks, including Bandelier National Monument, Yellowstone National Park, and Badlands National Park. One destination on her bucket list is to go on a safari in Africa.  
Here are some other fun facts about Jessica: 
She spent 20 years training, raising, and showing Arabian horses, starting in her childhood. 

She has vast knowledge of Beatles facts due to an obsessive period during her teen years. 

She was a competitive swimmer as a child. 

She is a big fan of science fiction and fantasy stories.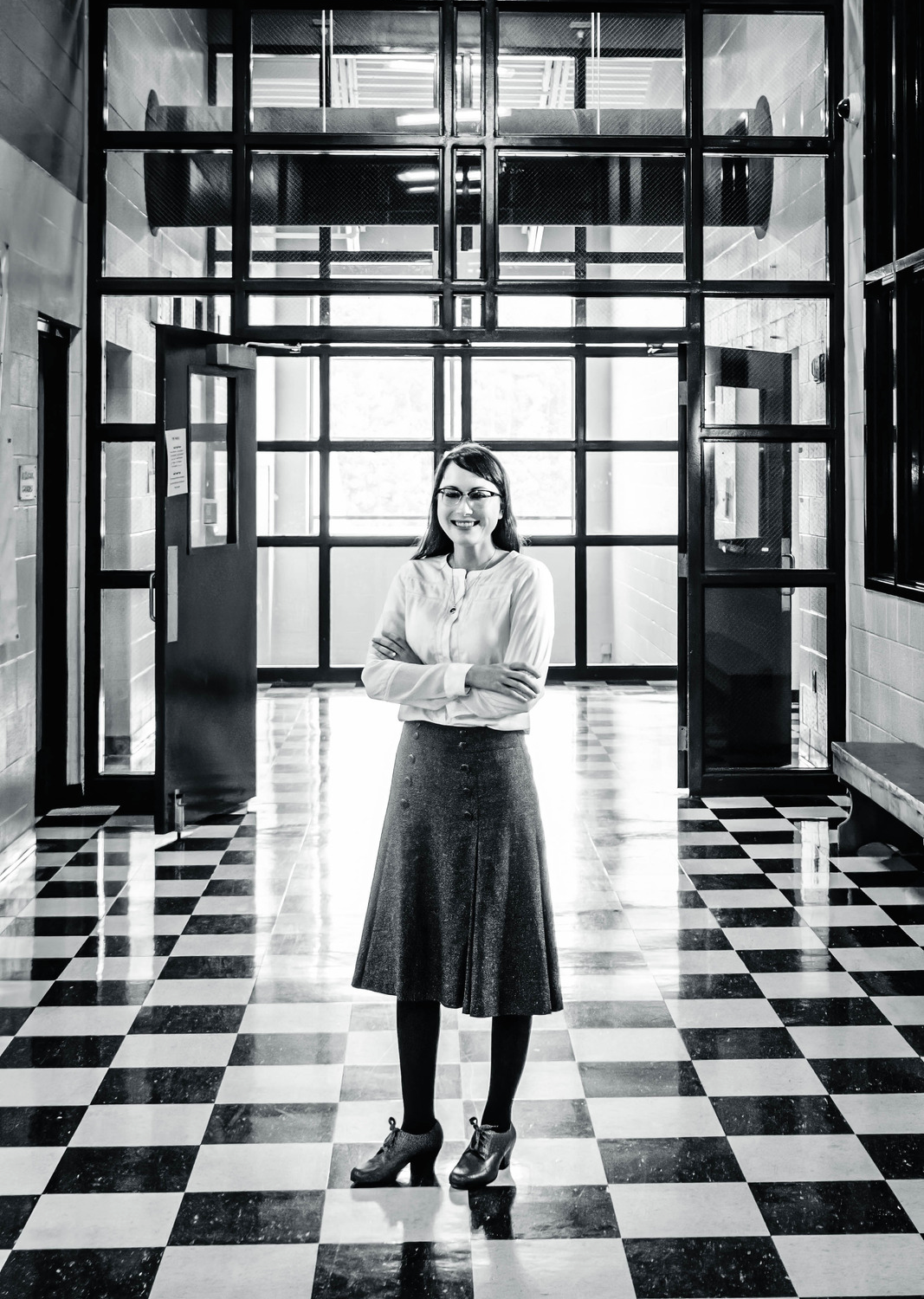 Andrea Martin, M.A., who grew up in Pierson and graduated from Tri-County High School in 2007, began her connection with MCC as a dual-enrolled student. Upon earning her associate degree from MCC, Martin transferred to Central Michigan University (CMU) where she obtained a bachelor's degree in cultural anthropology with a minor in museum studies and history, as well as a master's degree in cultural resource management with a focus on museum studies, and she cross-trained in archeology public history. 
During her time at CMU, Martin worked at the university's museum, specializing in collections management. This entailed carrying, handling, and researching artifacts and museum collections. She also interned at the campus's Clarke Historical Library and the Strawbery Banke Museum in Portsmouth, NH. It was there where Martin had the task of processing the extensive historical wallpaper collection of 500 pieces from the 1700s to about the 1950s, which she describes as a fascinating experience. 
It was her plan to move to New England to find a job at a history museum, but she decided to stay in the area to be closer to family. Realizing there was not much in the area in relation to working with museums, Martin started working for MCC and fell in love with teaching. 
Primarily focusing on courses related to the American Political System and U.S. History, Martin also serves as part of the college's Co-Curricular Committee and is assisting with bringing back a stronger presence of history to the campus.  
Martin is also serving as an advisor in starting a history and culture club to introduce students to all the different jobs that exist in these fields. She said she hears from many students about their love for history, but many believe that teaching would be their only option.  
Just as determined as she is to bring history and culture to the campus for the students, her teaching philosophy in the classroom is just as hands-on. "My classrooms are places of active learning. I want my students to be just as responsible as creating the knowledge in the class as I am," says Martin. "I feel the more engaging the lesson is, the better my students are going to be able to connect to it." 
Jamie Hansen-Hopkins, M.A., is a Language Arts Instructor at Montcalm Community College.She feels privileged to welcome you into this community that she has long considered her own. A few years ago, she was a student here, too. (OK, maybe just a little more than a few years ago, she admits.) Jamie has been a lifelong resident of Montcalm County—a point of pride for her. After graduating from Montcalm Community College, Jamie attended Central Michigan University. She then became a teacher at Central Montcalm Public Schools for about 12 years before earning her B.S. in Education and her M.A. in English Language and Literature. Jamie feels without a doubt that her time at MCC contributed to her success. It was always a dream of Jamie's to end up back at her old MCC stomping grounds. In her time as an instructor at MCC, Jamie has felt fortunate to work alongside some of the same instructors who encouraged her to pursue teaching and English when she was here as a student. It's probably not surprising that, as English teacher, Jamie loves all things reading and writing. Lately she's been listening to a lot of audiobooks. She lives in a full house with two teenagers, two cats, and a golden retriever who all keep her quite busy. She multitasks by listening to books while she cleans, or exercises, or works on projects in her yard. Jamie loves being outside and getting her hands dirty planting or by refinishing old furniture or other finds in need of some tender loving care. Jamie's favorite part of being an instructor at MCC is the students she gets to work with. Her biggest piece of advice for students is this: Really get to know your instructors. They are here to learn with you and support you.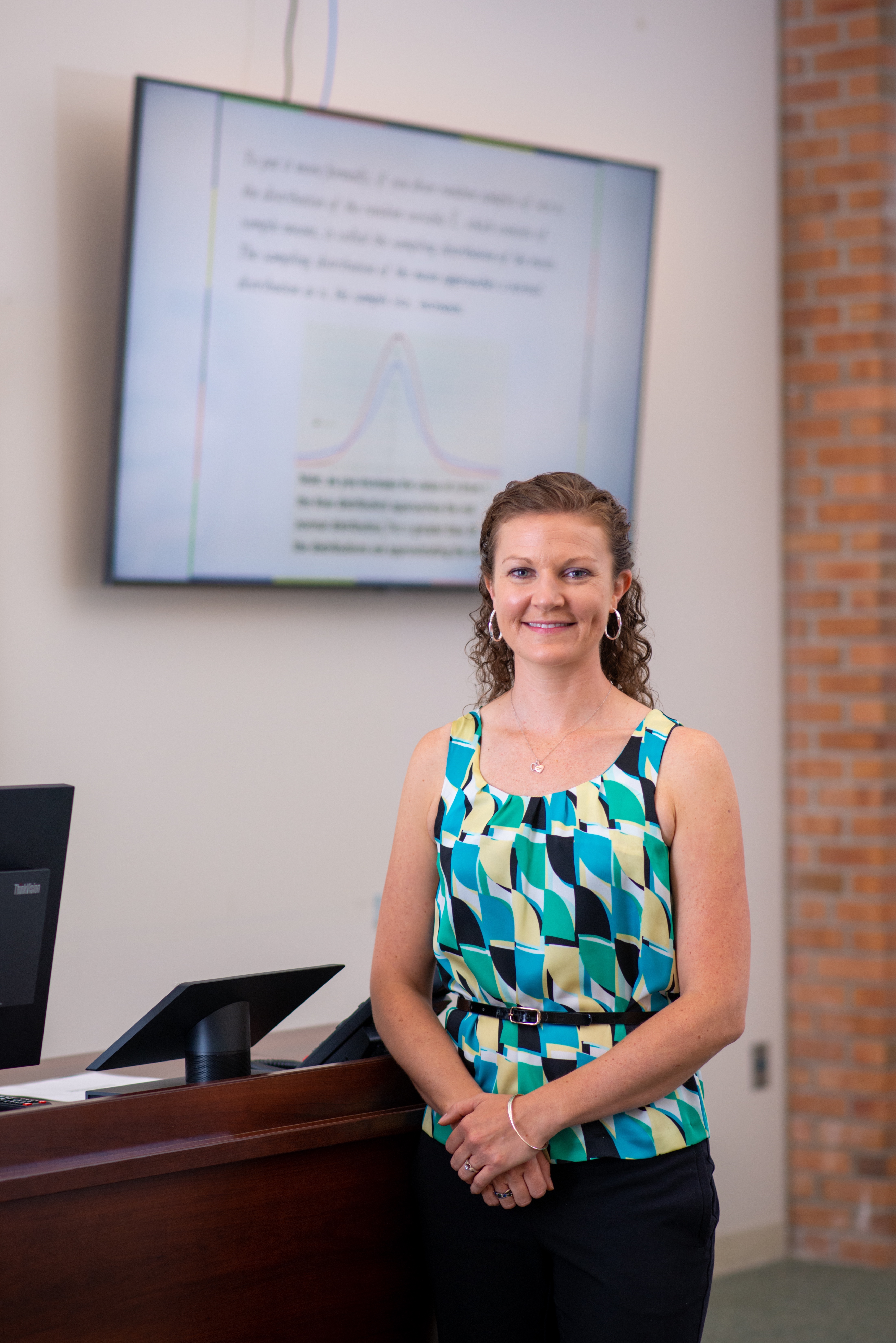 Katey Johnson, M.A., was raised in Greenville and dual-enrolled at MCC prior to earning her Bachelor of Science in Mathematics and Secondary Education from Alma College.   
She began teaching math and science at Belding High School in 2006, earned her Master of Arts in Teaching Mathematics from the University of Idaho in 2010 and her Master of Arts in Curriculum and Instruction in 2014. Johnson started teaching at MCC as an adjunct instructor in 2007 while teaching full-time high school math and science. She joined the staff as a full-time instructor in 2017, teaching mostly statistics, college algebra and trigonometry.   
Teaching at MCC has provided Johnson with an opportunity to give back to her community by empowering her students. She is inspired by the efforts and sacrifices her students make to achieve a brighter future and she works hard to assist them in their quest. Johnson is MCC's Online Education Committee Chair and Volleyball Club advisor.    
Outside of the classroom, she enjoys spending time with her family and being outdoors. She volunteers as the St. Charles School Board President in Greenville and enjoys sailing, exercising and coaching youth sports in her spare time.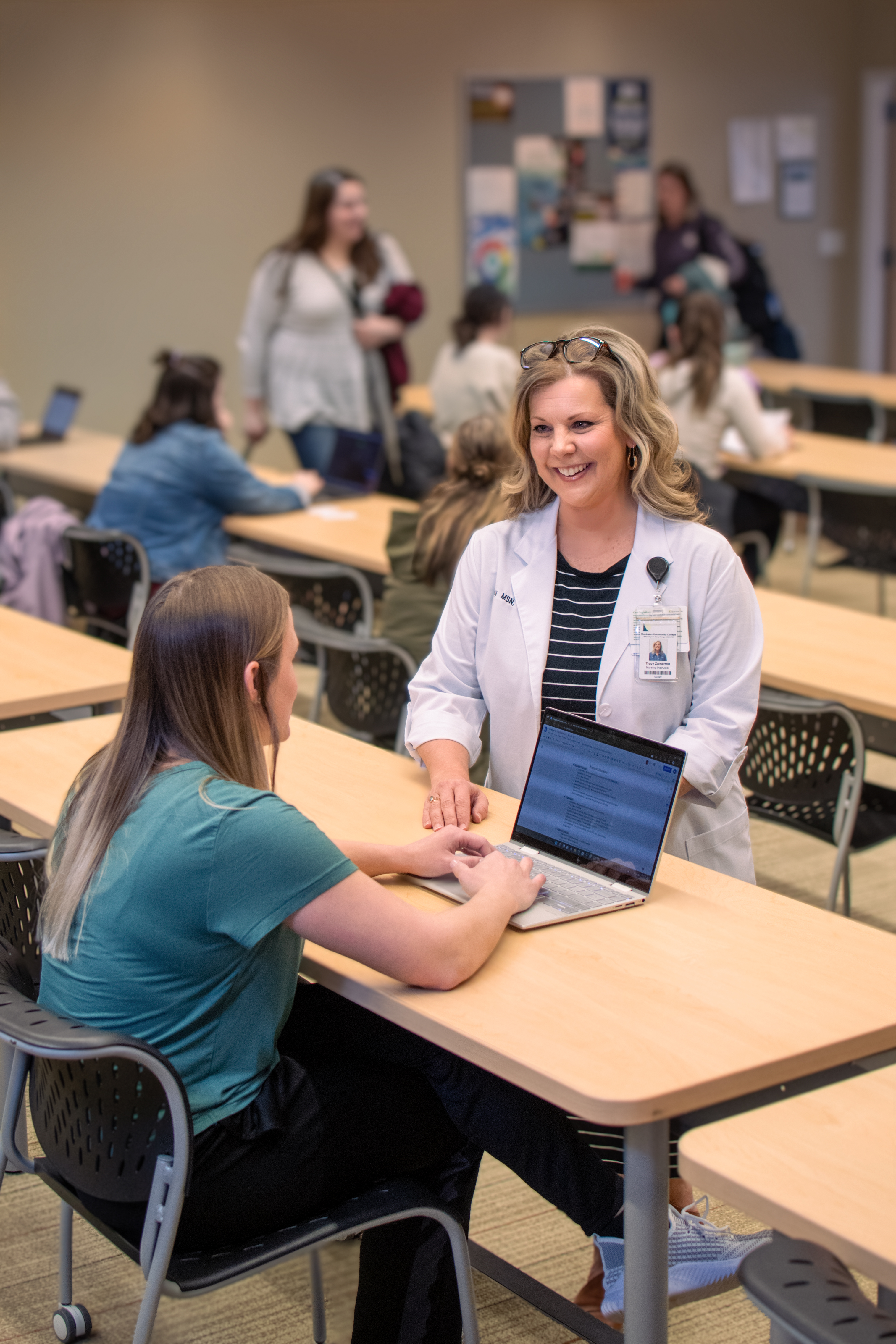 Tracy Zamarron, MSN, RN, is a full-time nursing and allied health instructor at Montcalm Community College.  
During college, Tracy played on Ferris State University's Women's Tennis team and was planning on pursuing a degree in Professional Tennis Management but changed her mind after her sophomore year and began taking classes to become a Registered Nurse.  
Tracy received her Registered Nursing degree from Ferris, Bachelor of Science in Nursing from the University of Phoenix and Master's in Nursing Education from Ferris.  
In 2011, she joined the MCC team as a Nursing Clinical Adjunct and Lab Supervisor, and in 2018 she took on her current role as a Nursing and Allied Health Instructor. Tracy has taught several classes including Maternal Newborn Nursing, College Success for Nursing and Medical Terminology.  
One of her favorite aspects of teaching is connecting with students on a personal and professional level and helping them grow. She chose to teach at MCC to improve the lives of the people in the communities we serve. 
In her personal life, Tracy enjoys spending time with her husband, their three sons, and their Yorkie Shitsu mix named Grover. When she's not with her family, you can find Tracy refurbishing furniture, painting, gardening and enjoying a cup of coffee with friends! While Tracy has been to places like Zion National Park, she still hopes to one day make it to Hawaii and Australia.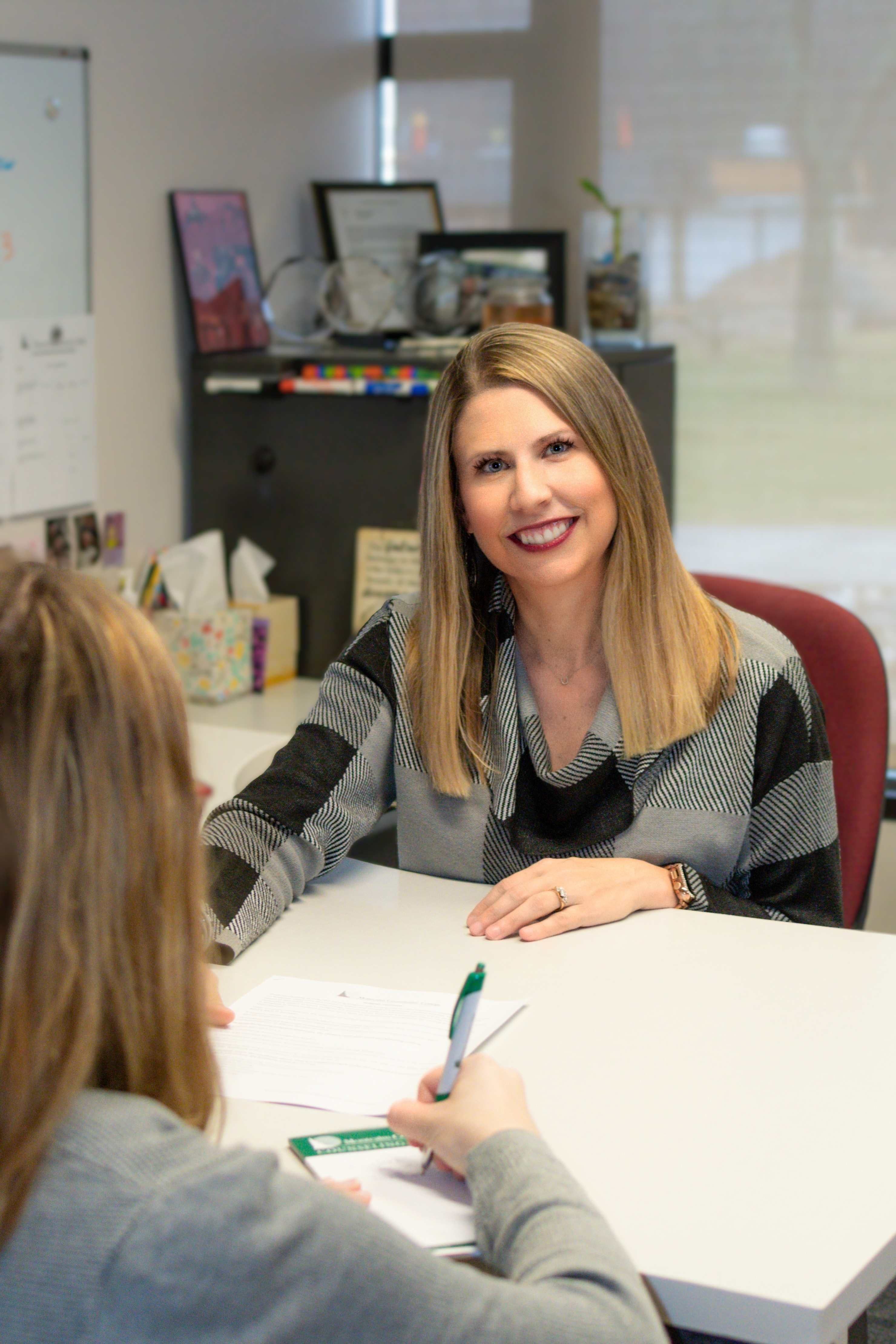 Brandy Bunting, M.A., is a Counselor at Montcalm Community College. She first came to MCC as a student in the late 1990s and returned in 2004 as an adjunct instructor. In 2006, she became an adjunct counselor. She received two full-time counselor appointments in 2008 and 2009 and was hired as a full-time faculty member in 2009. Her primary role is as a counselor, but she has also taught psychology, sociology, political science, and general education courses. Brandy earned a Bachelor of Arts in Psychology and a Master of Arts in Counseling, both from Michigan State University.
Brandy lives in Montcalm County with her husband and two daughters.  She is raising the 5th generation to live on their farm.   
In her spare time, Bunting shows horses on the American Quarter Horse Circuit. Brandy has shown the American Quarter Horse Circuit her entire life all over the nation and in Canada. Showing her horses, she is a two-time National All-Around Champion (1999 All Around Youth, 2017 All Around Amateur-only the 3rd person to hold both titles) and a four-time individual National Champion (Showmanship and Hunt Seat Equitation). She has also won the All American Quarter Horse Congress twice and been Reserve World Champion.  Her daughters also keep her busy as they are involved with several sports and the Montcalm County 4-H fair.  
Brandy enjoys traveling and has been to places such as Italy and Australia.  However, still on her bucket list are trips to New York City and the Grand Canyon.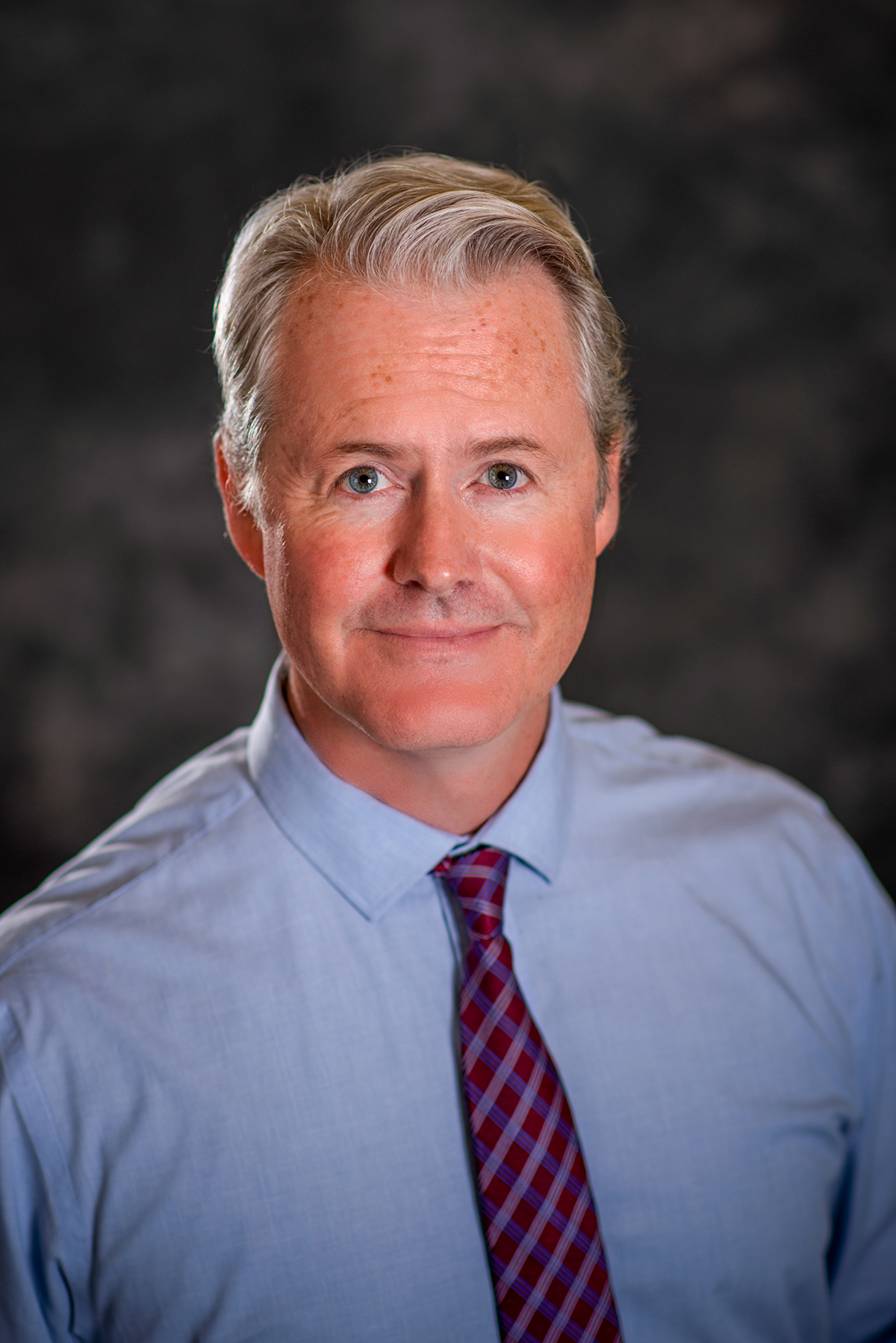 Ben Stancil, M.A., is a full-time English instructor and dual enrollment coordinator at Montcalm Community College, where he teaches English courses and the occasional Film Studies class.  
Ben joined MCC in 2019 after a 13-year high school teaching career. He attended Hope College and Aquinas College for his undergraduate work, and CMU and Lindenwood University for his graduate work.   
As a lifelong learner, he is passionate about reading and writing, and how they contribute to the advancement of intellect and character.  He's a firm believer that an intelligent society is something we can and should strive for.   
Outside of class, he's a father and husband and can be found tending his backyard garden, strumming a guitar, and chasing after his two daughters, Piper and Lucy.  He and his wife, Jasmine, met in 1999 and, in the past five years, have rescued two large and lazy huskies who roam their yard and terrify Amazon delivery drivers.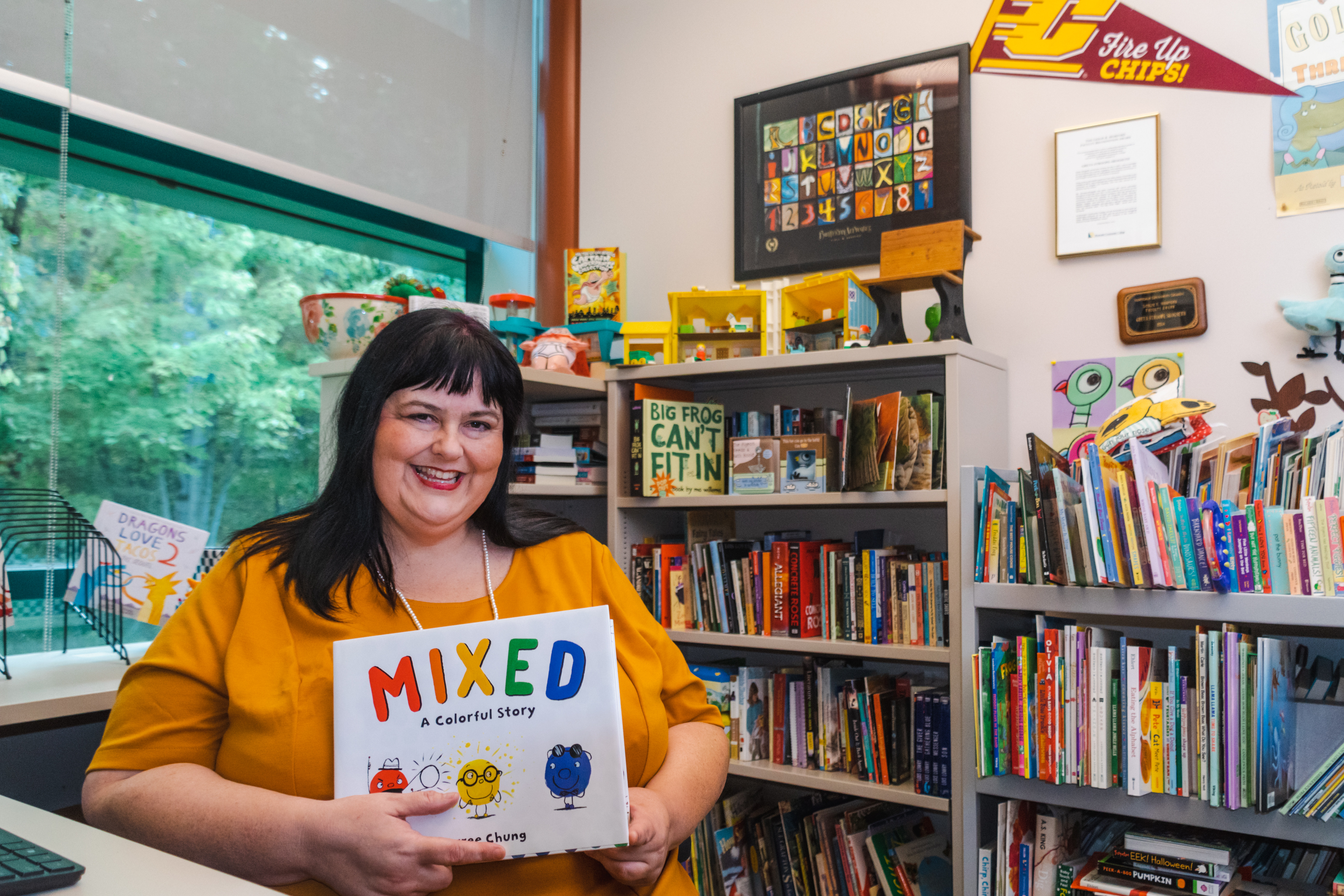 Greta Skogseth, M.A., has been a Language Arts Instructor at Montcalm Community College (MCC) for more than 20 years and feels that MCC is the perfect fit for her."Much like many of our MCC students, my mom turned to a community college to complete her education. The college provided her with a quality and affordable education; most of all though, her instructors treated her with respect and encouragement," Greta said. "Her experience at a community college made a huge impact upon me. When I graduated from Central Michigan University (CMU) with a degree in English Language and Literature, I knew that I wanted to work with students earning an education at a community college." Greta graduated from CMU with a Bachelor of Science in English and a master's degree in English Language and Literature. She was a graduate assistant and adjunct faculty member at CMU, in addition to Delta Community College and Saginaw Valley State University. In 2001, Greta returned to Michigan after leaving a tenured position at Lincoln Trail College in Illinois.Greta has two daughters, Emma and Alison, who are her greatest accomplishments, she says. She also has two pugs, Tulip and Sherman, in addition to her grand dog, Margo.  In Greta's free time she loves crafting and trying recipes on Pinterest. She said, "you'll also catch me watching guilty pleasures on TLC and crushing candy on Candy Crush.  Most of all though, I keep current on children's and young adult books. I am a book addict." She teaches our Children's Literature course, and she says that her favorite book is Bridge to Terabithia.One of Greta's most memorable travel experiences was visiting the Neuschwanstein Castle in Germany. She has traveled to Germany seven times in her life. She said that even though she had to hobble up the steep mountain and limp up the stairs of the castle, it still causes her to have goose bumps decades later.Greta shares some facts about herself:
She

was born on Labor Day.

Her

mom left the hospital without naming

her

.

She is

usually awake at strange hours of the night

.

Toys from

her

childhood make

her happy

.

She doesn't

wear coats (even in the winter), but

she

own

s

many

.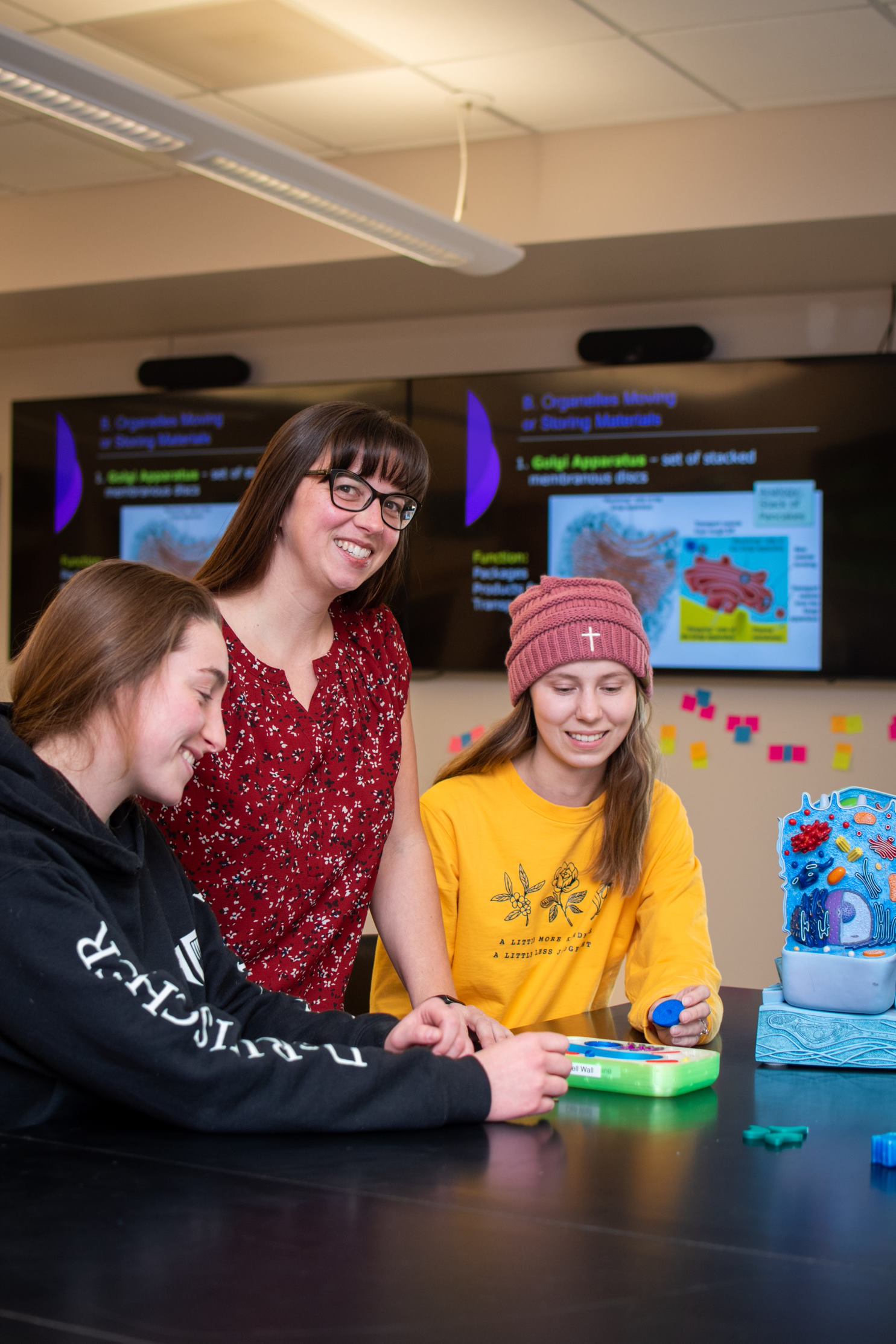 Heather Wesp, M.S., began her career at MCC in 2003 as a full-time biology instructor and has stayed in the position ever since. 
She teaches a variety of biology courses including Biological Science, Anatomy and Physiology, College Biology II and Nature Study. She's excited to start teaching Environmental Science during the Fall 2022 semester.  
Heather grew up in Michigan and enjoyed summer vacations at campgrounds all over the state. She attributes her love of science to those nature-filled family trips. 
She earned a bachelor's degree from Hope College in Holland, Mich., where she majored in biology and doubled minored in chemistry and German. She then completed a master's degree at Northern Arizona University in Flagstaff, Ariz., where she focused on animal behavior and morphology. Her college experiences helped her decide that teaching was the perfect way to combine interests in science and the desire to help others.  
When Heather isn't at work, she loves to spend time with her dogs, Callie and Lulu, and do just about any outdoor activity including hiking, biking, kayaking, camping, etc. She also very much enjoys traveling and exploring the world – from the amazing beauty of Michigan's Upper Peninsula to the grand national parks here in the U.S. to the thrilling novelty of places like Australia and New Zealand. Heather also volunteers with the Montcalm County Animal Shelter and has been a big sister (through Big Brothers Big Sisters) for more than 10 years.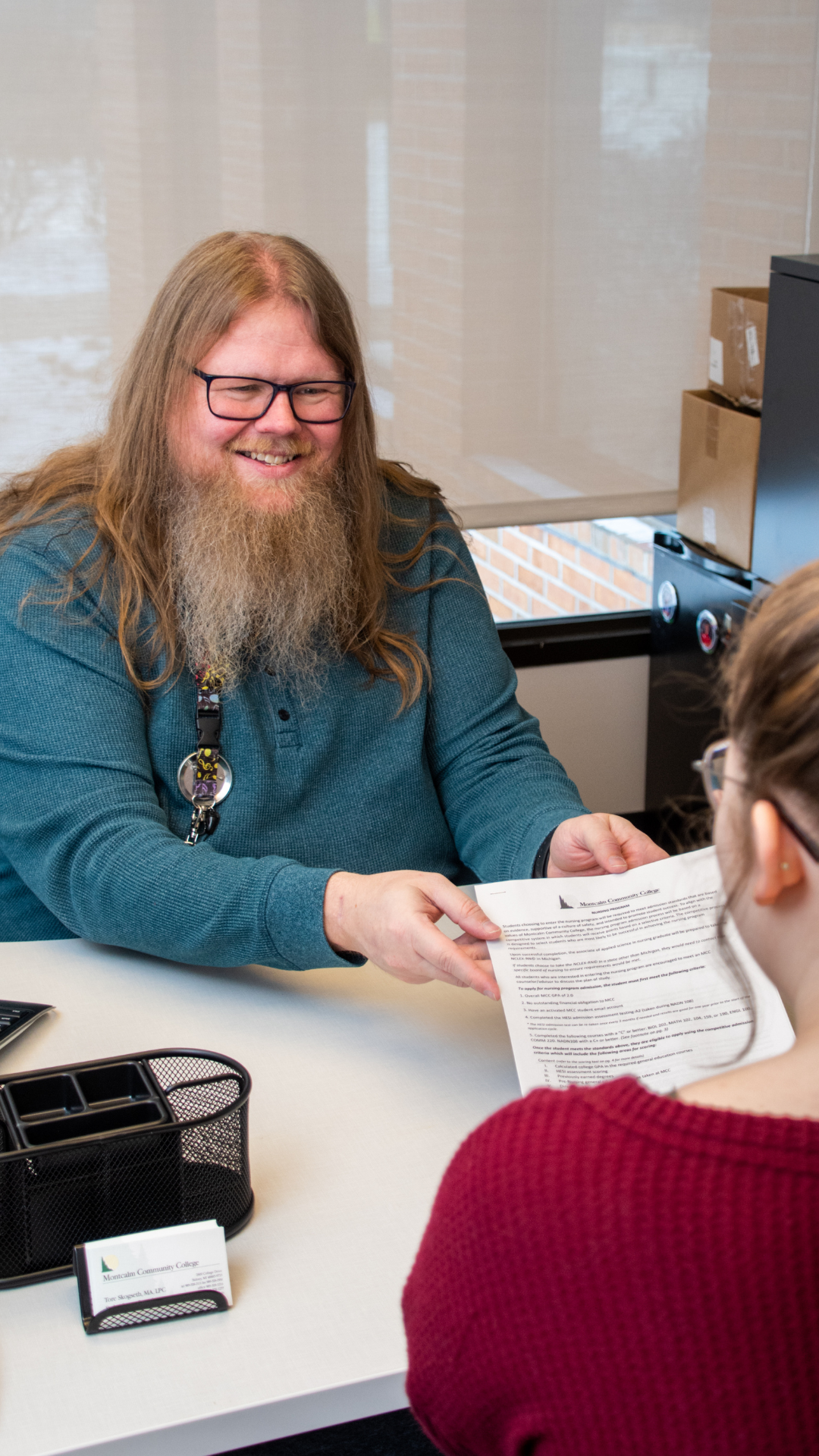 Tore Skogseth, M.A. is a Student Success Counselor at Montcalm Community College. 
Hailing from the foothills of the Norwegian mountains, this thunderous bearded Norwegian left the fjords of Norway for the cornfields of Michigan (following a brief interlude between soybean fields and refineries in Southern Illinois). When he packed his suitcase for his big move, it was filled with CDs, with just a few clothes used as padding. In a life filled with detours, he finally found his destination here at MCC, where he started as a Student Services Assistant in 2001 and returned as a counselor in 2010. In between these stints at MCC, he also spent time at Alma College and GRCC, but it is here that he now feels at home. 
 
In an educational career marked by false starts, he still holds his Associate in Arts, which he earned at Lincoln Trail College in Robinson, Ill., in 2001 as his greatest educational accomplishment. He earned both his Bachelor of Arts in Family Life Education in 2004 and his Master of Arts in Counseling in 2007 from Spring Arbor University. He is a Licensed Professional Counselor in the State of Michigan. 
 
His love for music is one of his major driving forces – his music collection keeps growing, but if you ask him, there was never (and will never be) a band greater than The Beatles. He does feel a similar reverence to Motorpsycho, his hometown heroes from Trondheim, Norway, who combine the power of hard rock with the improvisational nature of jazz creating new uncharted territories. His top five list of bands and artists are rounded out by David Bowie, Rush, and Opeth, with King Crimson and Steven Wilson/Porcupine Tree bubbling right underneath the surface (ask him tomorrow, and he may have a very different answer). 
 
When the urges overcome him, he can be found noodling on one of his guitars or his keyboard – or exploring one of his music authoring apps on his iPad. His favorite meditative state is going full-on zen with a LEGO set, completely tuning everything else out to focus on the bricks in front of him. He also makes a point to solve the New York Times daily crossword puzzle every day. 
 
Tore also loves reading and movies, and if he feels extra social, you might find him playing card and board games. He is also starting to own up to being an avid RPGer in the past. While he hasn't picked that back up yet, you should never say never – if you feel adventurous, ask him if he still can hear the Call of Cthulhu.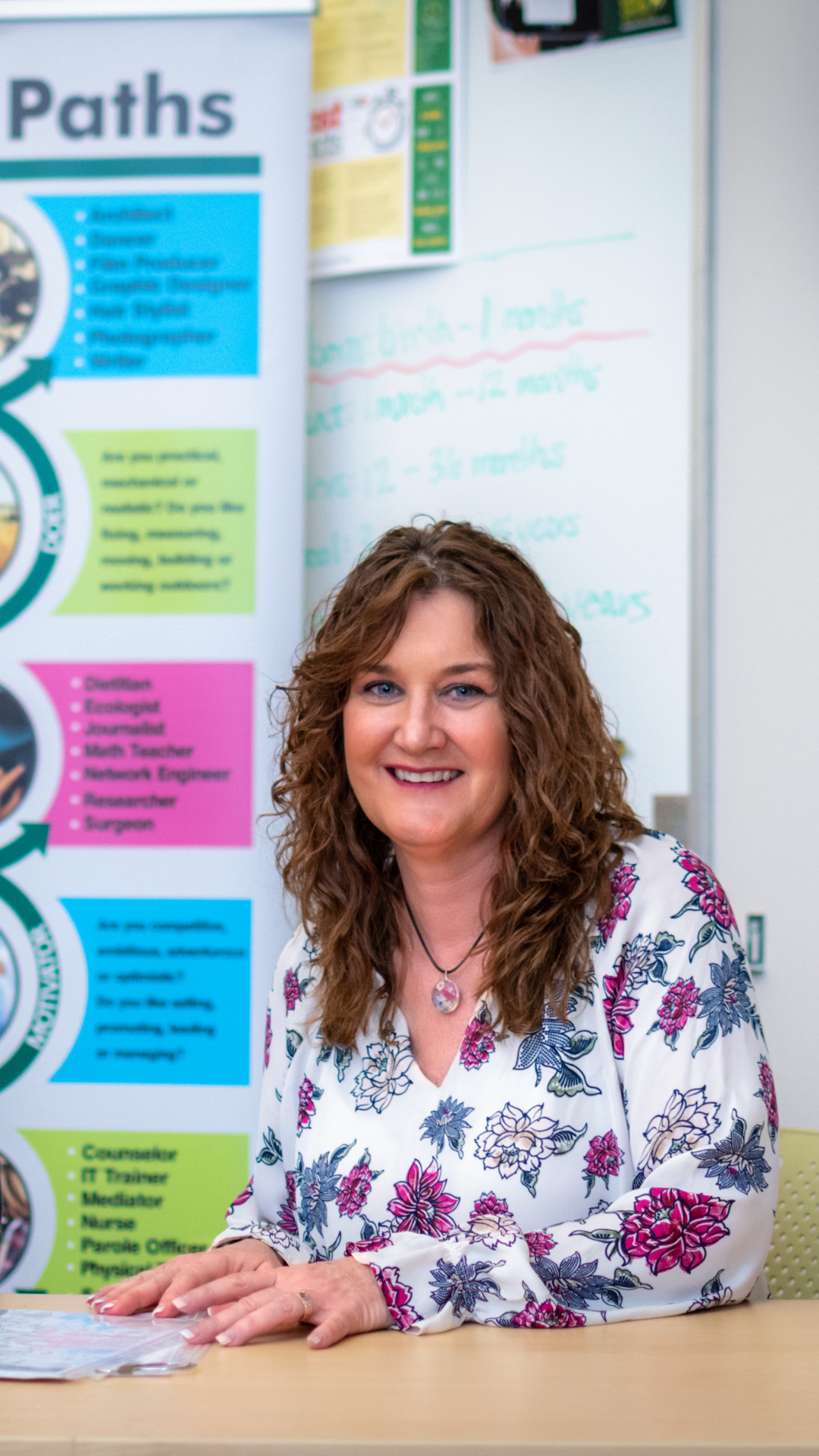 Amy Zdanowski, M.A. is a full-time Career Advisor at Montcalm Community College. She lives by her career advising motto "Explore. Plan. Do!"
Amy joined MCC in 2018 as a full-time career advisor.
She says her passion for career advising grew out of 21 years of school counseling, and it is fueled by the resilience, motivation and persistence that the career planning process can provide to individuals of all ages.
"It's a joy to help people learn about themselves and dream," she says.
Most recently, Amy says she added the word "repeat" to her motto to indicate the need to keep moving forward and keep growing.
Amy's education includes a Global Career Development Credential, a Master of Arts in Professional and School Counseling from Central Michigan University and a Bachelor of Arts in Criminal Justice from Saginaw Valley State University. To stay informed, she serves on the board of the Michigan Career Development Association and the National Career Development Association's Global Connections Committee. 
On a personal note, Amy and her husband love to travel. Much of their travel includes attending multiple sporting events for their son, who is an only child and a privilege to parent. He is currently in college and has graciously humored Amy over the years by testing out and offering feedback on her career planning strategies for students.  
Growing up in a large family is a point of pride for her, too. She and her twin are the youngest of 10 children! She says she truly admires her parents for the family they created and instilling a "can do" mindset. She says her upbringing fostered her love of the outdoors and animals. In fact, one of her early career dreams was to be a wildlife photographer. She says she had a lot of career dreams along the way. She encourages people to ask about them sometime and take a trip down memory lane themselves and revisit some of their own childhood career dreams.   
Amy shares some facts about herself: 
There are two sets of twins in her family, born 16 months apart. 
One of her favorite books is "The Last Lecture," by Jeffrey Zaslow and Randy Pausch. 
It's not uncommon for people (Michigan residents) to ask her where her accent is from, though she has always lived in Michigan.
Her first professional job offer out of college was from the United States Marshal Service. That was the most extensive interview process she has ever experienced. 
One day, she plans to experience a full-on butterfly migration in the wild.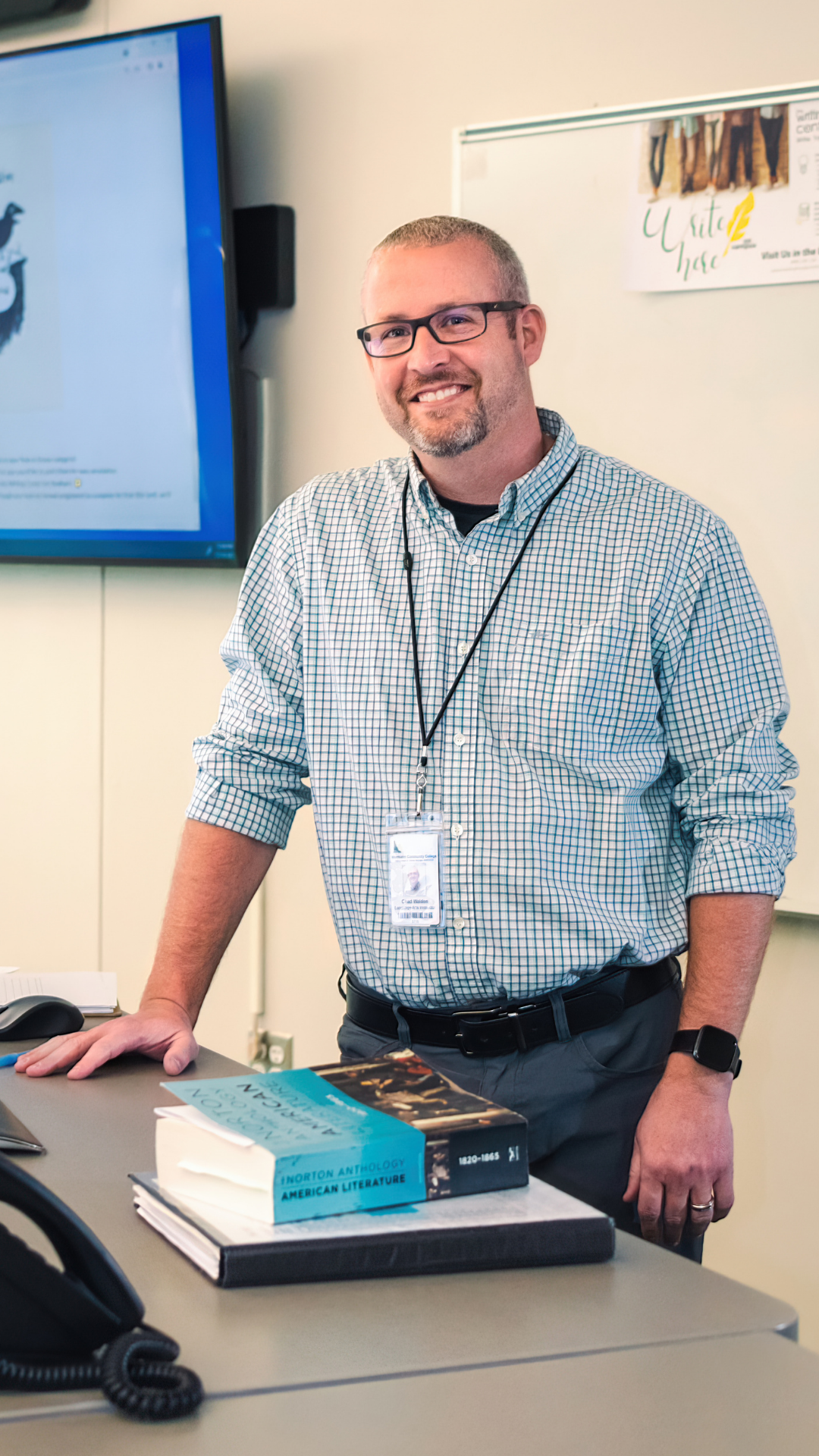 Chad Walden, M.A. is a full-time Language Arts Instructor at Montcalm Community College. He believes all students can grow if they are willing to push through adversity when it inevitably comes.  
One of his favorite parts of teaching is when he sees a student dive into a challenging task, push through the difficulty, and emerge with increased confidence and a hard-won sense of accomplishment.  
Chad began his college experience as an MCC student in 1994 before transferring to Central Michigan University, where he completed his bachelor's degree in secondary education and a master's degree in English Language and Literature. After 15 years of teaching high school English at Central Montcalm and Fulton, Chad joined MCC's full-time faculty in 2014. At MCC, he has taught a variety of communication and English courses. In addition to teaching composition and literature courses, Chad is the coordinator of the MCC Writing Center, which assists students with a variety of writing assignments.  
Chad is passionate about helping students develop skills that will empower them. Reading and thinking critically, sifting through, and evaluating the vast amounts of information encountered daily, sharing ideas through effective writing and speaking, building and critiquing arguments with empathy — these skills and habits are crucial to long-term flourishing as individuals and as a society. Chad believes when these skills are mastered, people gain the power to pursue and achieve their goals, improve the quality of their lives, and leave the world better than they found it.     
Chad is married and has one son and two daughters. They also have a dog, two outdoor cats, a painted turtle, and a panoply of tropical fish. If Chad wasn't a teacher, he would enjoy being a sportswriter, marine biologist, or a record/book/guitar/aquarium store owner. Sometime in the future, Chad and his daughter hope to cage dive with sharks.  
Chad shares some facts about himself:  
My childhood hero, Detroit Pistons legend Isiah Thomas, once sat down next to me in a locker room and asked if he could borrow soap. 

I am

the

founding member of the Rainbow Lake Polar Bear Club.

My mom taught at MCC for 30-plus years, and I can remember running around the halls of the Smith Building when I was in preschool.
While in Long Island for a work conference, I once took a taxi to perhaps the most famous haunted house in America. (I didn't get any closer than the sidewalk.)
Shark Week and March Madness are annual holidays in the Walden household.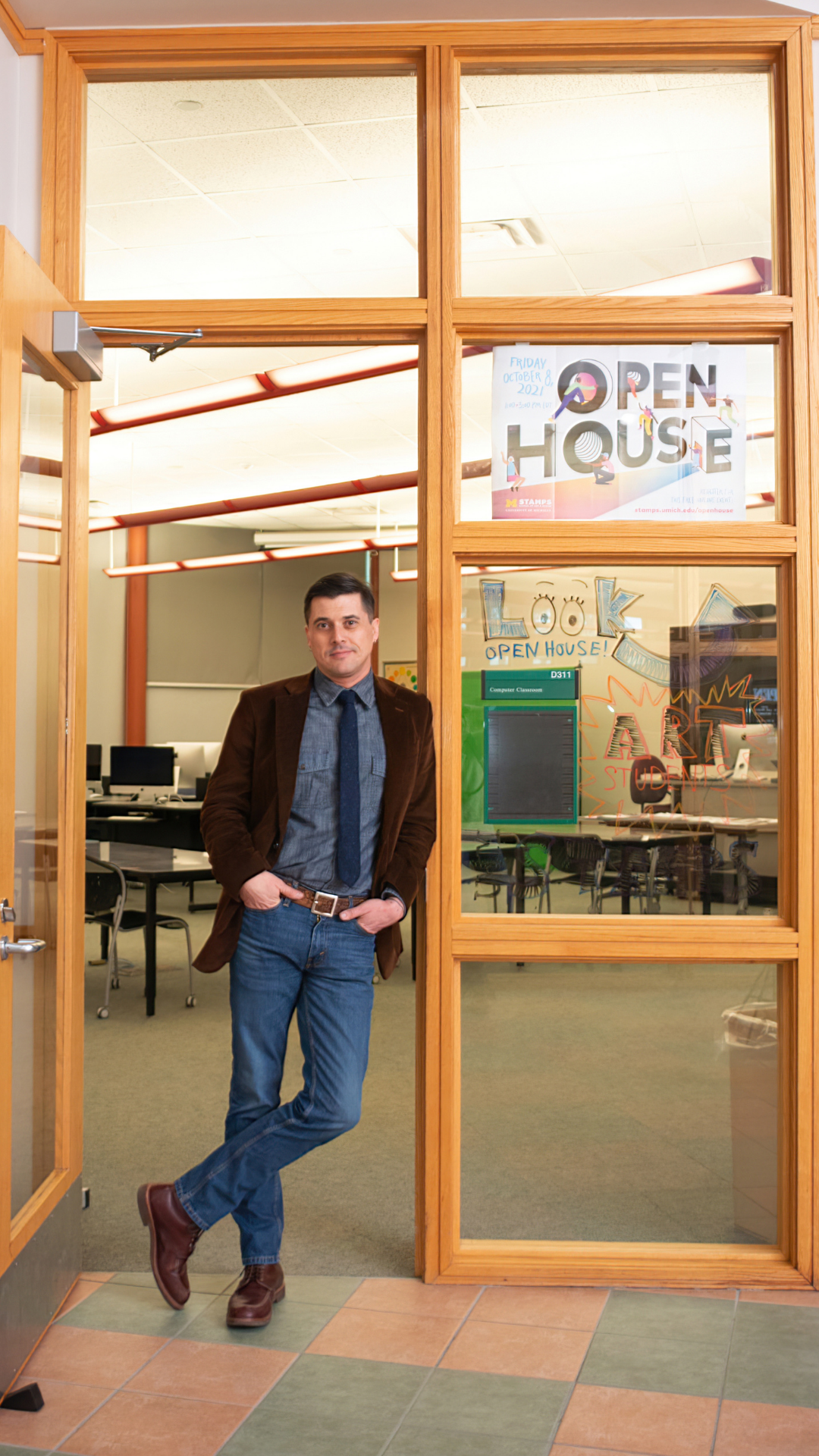 Seth Thomas Sutton, M.A., is a Métis artist, scholar, author and activist.  
He is an Arts & Humanities Instructor at Montcalm Community College, where he also serves as chair of the college's Arts & Humanities Department. He was nominated for the college's outstanding faculty award in 2017 and 2018. 
Seth holds a Master of Arts in Visual and Critical Studies from Kendall College of Art & Design. 
He is a council member on the Native American Advisory Council at Grand Valley State University as well as a member of several other Indigenous-centered educational groups throughout the United States and Canada. He is a co-founding member of wiinwaa niizhaasing (We the 7th), an Indigenous led environmental, cultural and socially minded collective that was nominated for an Emmy Award in 2017, with their documentary series, wiinwaa niizhaasing (We the 7th) and in 2021 for a four-part documentary series, Shaping Narratives. He has lectured on Cultural criticism, critical theory, post-colonial political landscapes, Tribal sovereignty, traditional Indigenous and Western arts and culture, and more.  
Seth is currently completing his new multi-media project, the Commodity of Culture. Along with his collective, We the 7th is now exhibiting with Standing Rock Solid; a traveling retrospective of Indigenous protest art, currently on display at the Ziibiwing Center of Anishinabe Culture and Lifeways in Mt. Pleasant, Mich., and more recently in New Jersey's Raices Cultural Center. Sutton is the author of "A Deconstruction of Chief Blackhawk: A Critical Analysis of Mascots & the Visual Rhetoric of the Indian (2021). 
His commercial work can be seen at: Anchor Hocking, Amazon.com, Home Depot, HGTV, Log Home Living, Necco Candy Company, CBM Motorcycles along with several other national and global publications as well as global Internet commerce sites. 
Seth is a descendant of the North Shore Band of Waganakising Odawa and a non-enrolled member of the Little Traverse Bay Bands of Odawa Indians.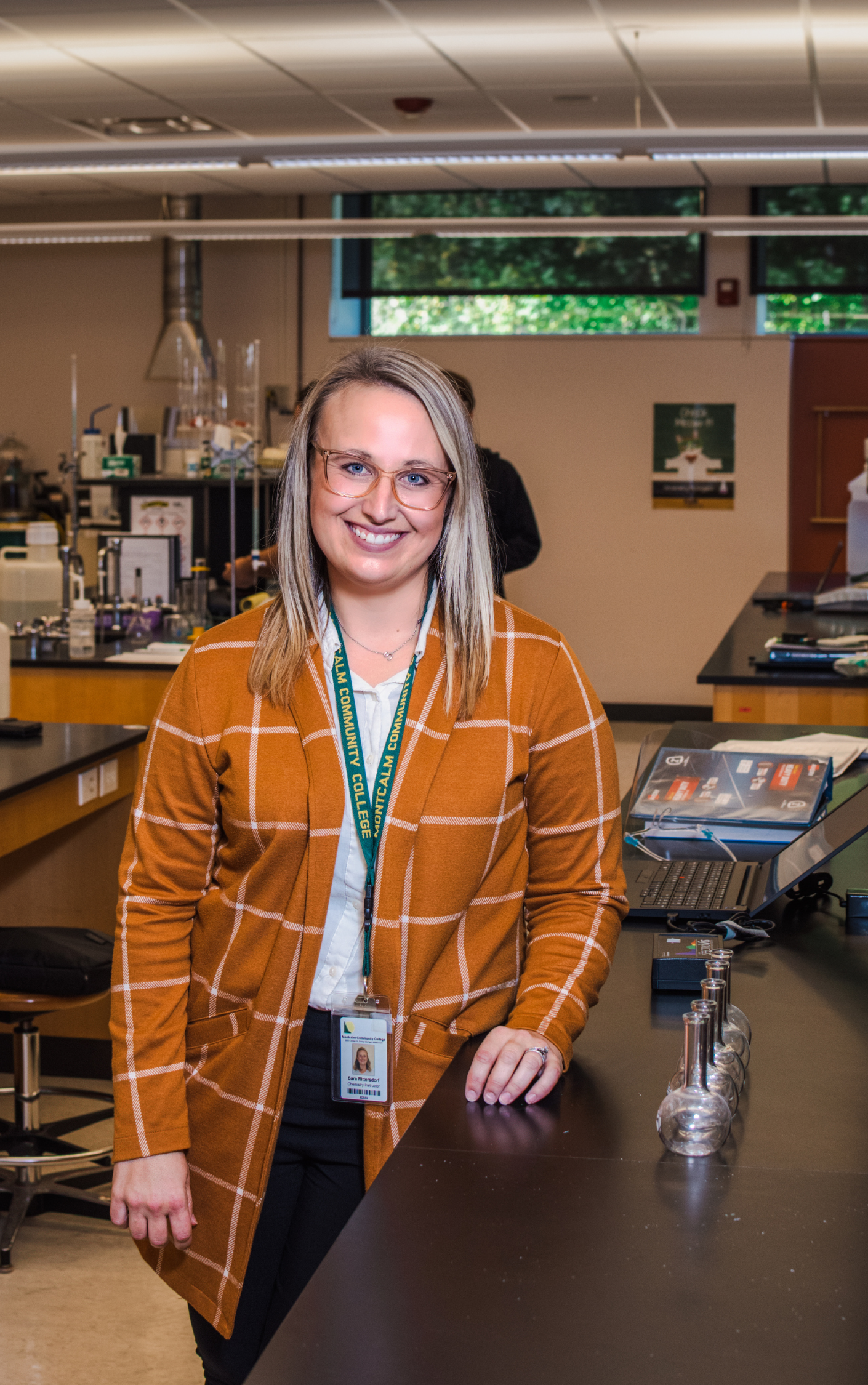 Sara Rittersdorf, M.A., is a full-time Chemistry Instructor at Montcalm Community College. She first came to the college as a dual-enrolled high school student and found her way back here several times for part-time jobs throughout her college years.  
After graduating from high school, she received her Bachelor of Science in Chemistry, a Minor in Math and a Secondary Education Teaching Certificate from Michigan Technological University. She went on to earn a Master of Arts in Science Education from Western Michigan University and is anticipating a Master of Science in Applied Statistics from Michigan Technological University in December 2021.  
Before joining MCC full-time in August 2021, she spent 11 years working in the K-12 school systems primarily as a math teacher, but she also taught chemistry. During her first two years as an educator, she worked in Arizona. She especially loved this time in her life because she was a quick drive to Las Vegas or the Grand Canyon and could visit on a whim. 
Sara has been married to her husband, Ryan, since 2011. They have three children together: Addison, Miles and Elliot. They also have a house full of pets including three dogs, a bunny, and a cat and this summer they raised pigs.  
When asked who she admires most, Sara said her parents. She said they have always worked hard for what they have and live a simple life keeping their focus on family.  
Sara shares some facts about herself:
I played the violin for several years. 
I played in euchre tournaments in college. 
I am an only child. 
My right foot is a half-size larger than my left.
I am right-handed, but left eye dominant.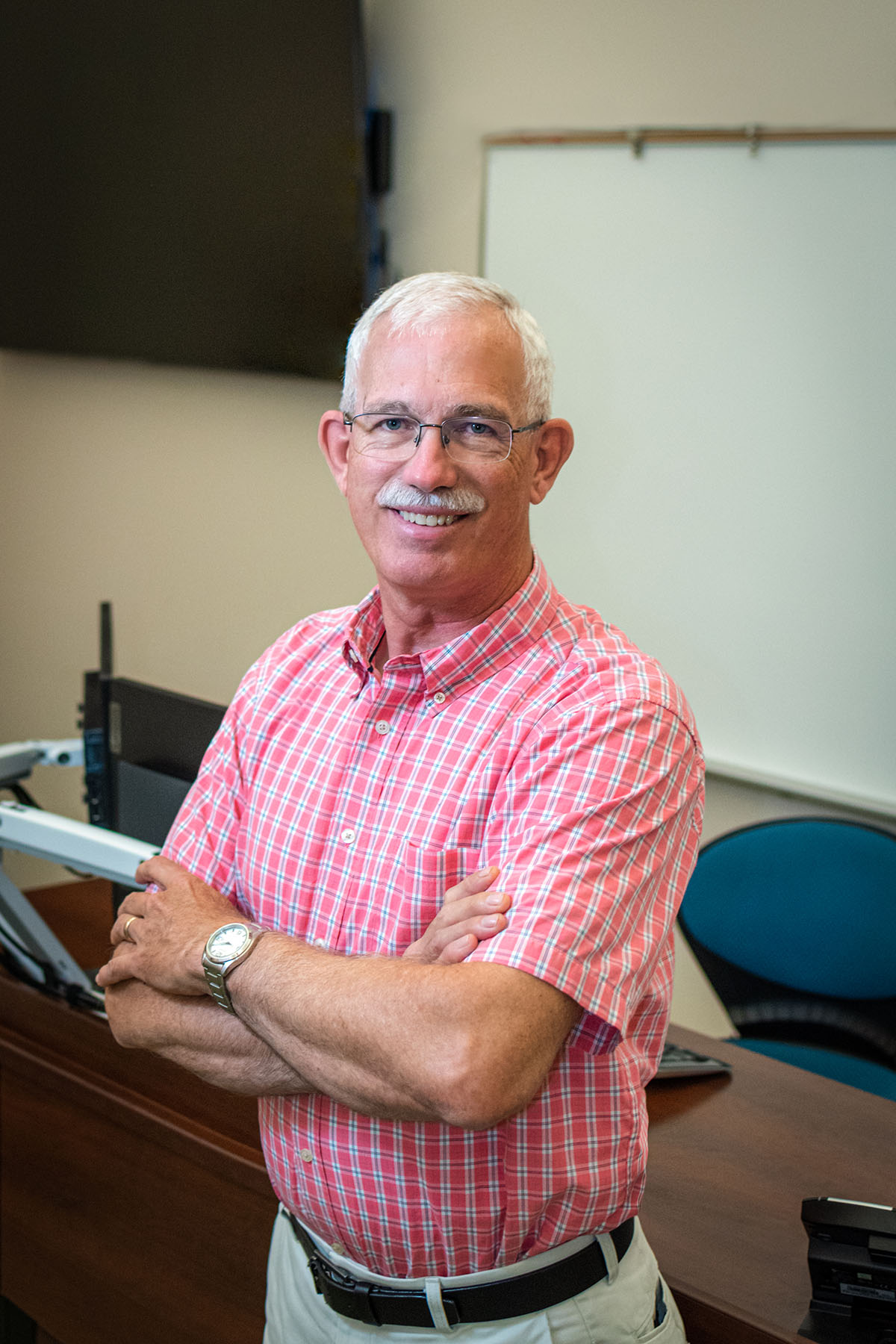 Bill Bishop, M.B.A., started with MCC as an adjunct instructor in 2004, became full-time in 2013.  Bill truly loves being part of this institution. He especially enjoys keeping in touch with former students, hearing about their successes, and witnessing personal growth and development in rewarding careers cultivated during their studies here. His areas of instruction include Accounting, Taxation, Business, and Management.  Bill serves as the Department Chair of MCC's Accounting, Business, and Criminal Justice Studies, and is the co-advisor of the College's Business Professionals of America Club.  Having lived in West Michigan his entire life, he received his Bachelor of Science in Business Administration (majoring in Accounting and Business Administration) from Aquinas College and Master's in Business Administration from Ferris State University. Prior to coming full-time to the college, Bill worked for more than 25 years with a variety of companies in Michigan, Indiana, and Ohio as a consultant, controller, and Chief Financial Officer.  Bill and his wife have three sons, five grandsons, and two granddaughters. Activities he enjoys include hunting, gardening, reading, and playing bass guitar. However, those activities pale to his favorite joy of fishing, and it does not matter the location. He is equally at home on the many small local lakes, wading a trout stream, or making an off-shore run to Lake Michigan or Saginaw Bay for the best that Michigan has to offer.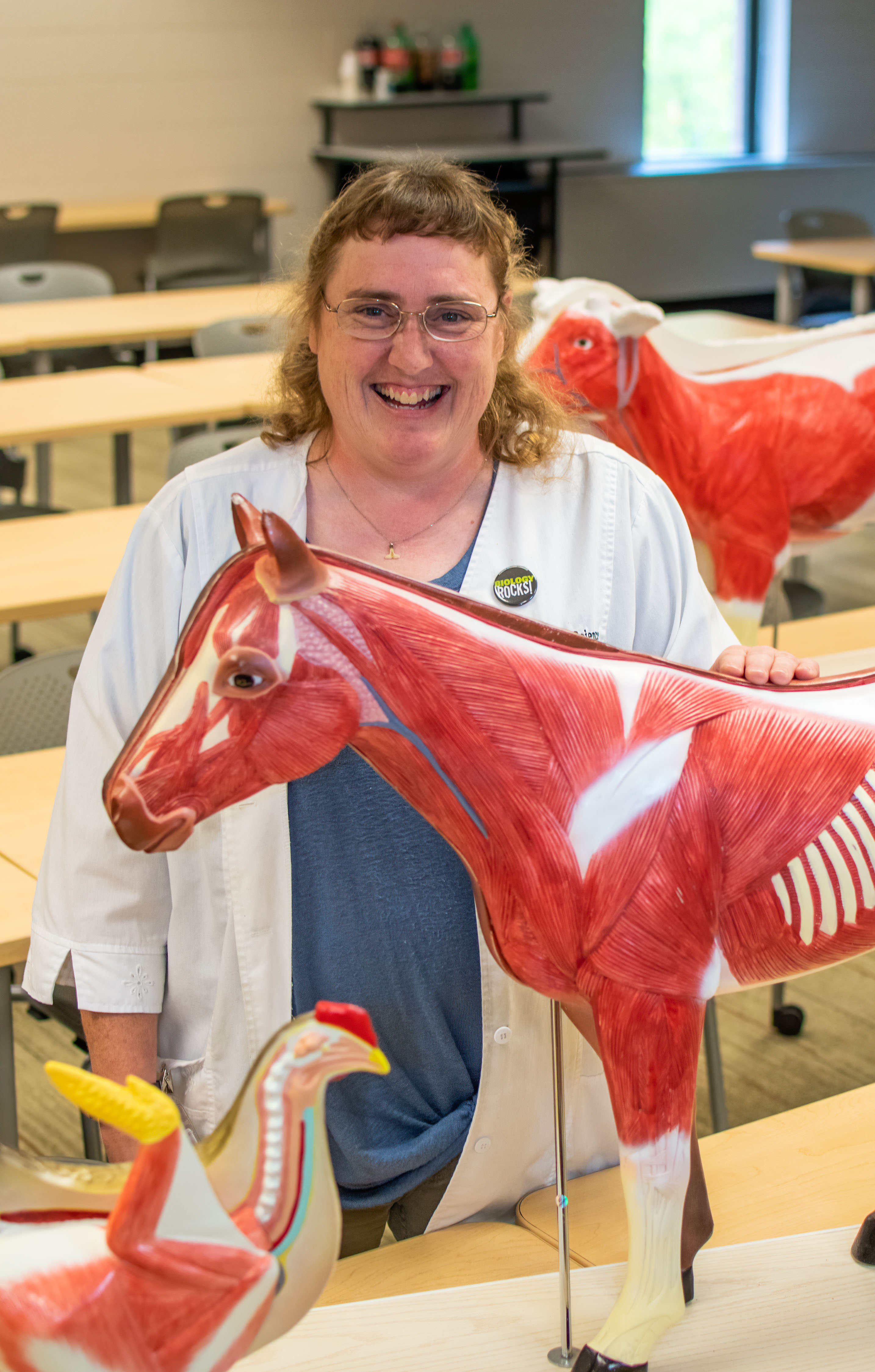 Michelle Gibson, Ph.D., is a full-time Biology Instructor at Montcalm Community College since 1999. Michelle thoroughly enjoys her position. "I like to make science fun and understandable," she says. A pet peeve of hers, however, is when a student asks if she's going to talk about "anything important" during an upcoming lecture. Michelle asserts that nothing unimportant would be worth lecturing about.Michelle graduated from Northern Michigan University with a Bachelor of Science in microbiology with minors in chemistry and physics. She went on to receive a Master of Science then a Ph.D. from Michigan State University, both in Animal Science.Michelle grew up on a farm with her three brothers, her sister, and her parents. She remains close with her family and spends much of her free time with them. The people Michelle admires most in the world are her parents, remembering how hard they worked for the sake of her and her siblings.Next to her family, Michelle spends time with her livestock and pets, claiming to have owned just about everything except a horse. She also enjoys gardening, reading, completing puzzles and riding her bike. A few of Michelle's favorites are the Christmas movie "Love Actually", ice cream, and the song "When You Say Nothing At All" by Ronan Keating. A bucket list item for her is to shake the hand of a president. Her life motto is, "be kind."Michelle shares some facts about herself:
I have a Korean sister and a Vietnamese brother.
I have played Candy Crush for years but never once paid any money into it.
I can dress out chickens, dissect anything including cadavers and shovel any kind of manure out there, but can't kill an animal.
I believe that Mother Nature will always, always win.
I can't sing, but I really wish I could.