Kenneth J. Lehman Nature Trails
The Kenneth J. Lehman Nature Trails are located on MCC's Sidney campus. They are open to the public from dawn until dusk, 365 days a year. More than four miles of trails are marked with numbered trail posts, and maps are available at most major trail heads. There is no charge to visit these beautiful trails, which wind through forests, grasslands and wetlands. In addition, a disc golf course is open and free to use. Course maps and score sheets are available at the Recreation Desk in the Activities Building or at Hole No. 1, located between the tennis courts and College Drive. Discs are available to rent at MCC's Recreation Desk.
The MCC Nature Trails Committee welcomes new members.  The committee meets four to six times per year and provides direction on upcoming projects.
Mission
The Kenneth J. Lehman Nature Trails provides educational and recreational opportunities for students and the community.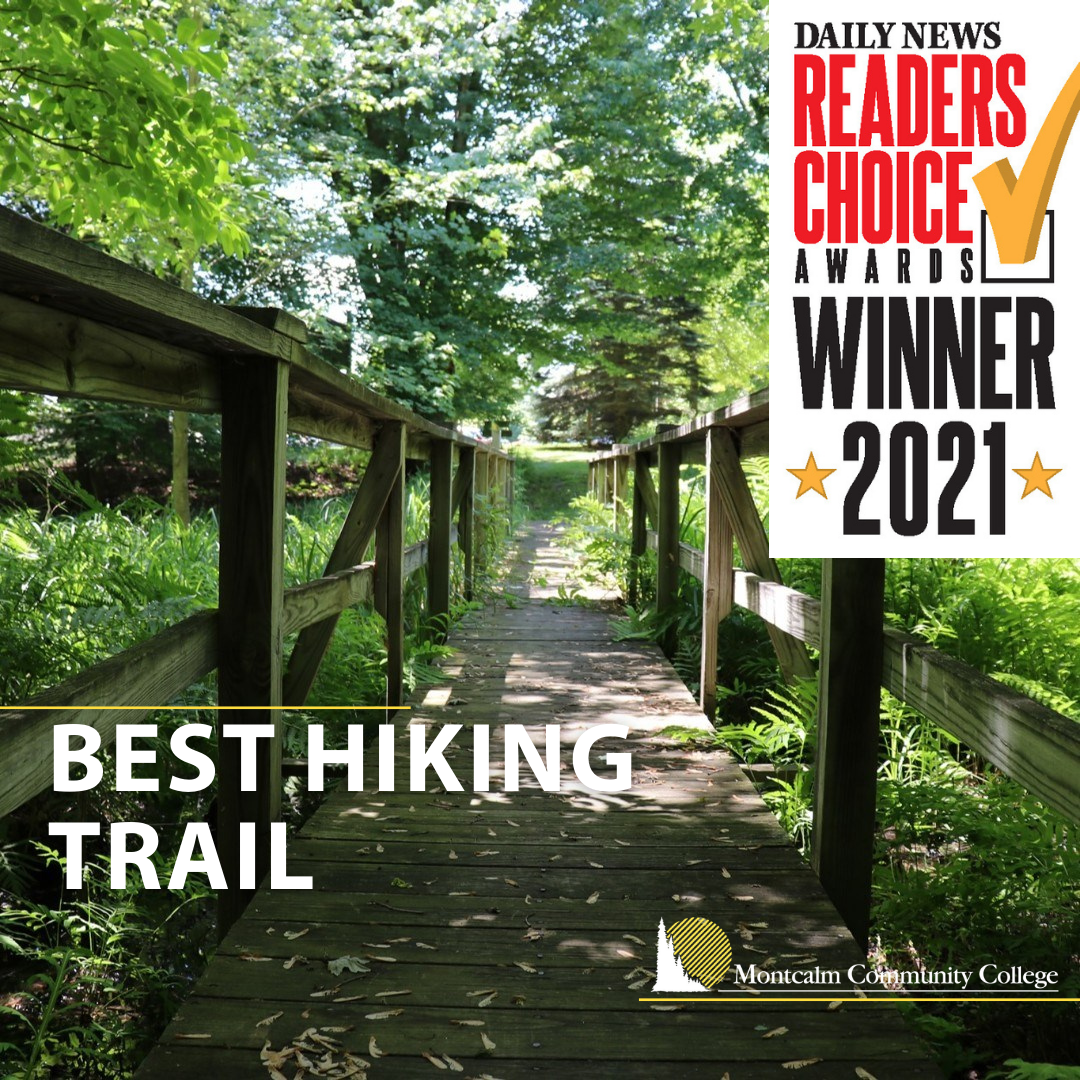 bramble ramble 5k run/walkThe annual Bramble Ramble 5k run/walk and  Mike Seaman Memorial 10k run showcase the variety and beauty of Montcalm Community College's Kenneth J. Lehman Nature Trails.
Disc GolfMCC's disc course is free to use. Discs are available to rent at MCC's Recreation desk, in the Activities Building, and are free for MCC students, faculty and staff with a valid MCC ID, and any community member with a valid MCC Recreation pass. All others may use a disc for a $2 fee.

The Nature Trails Committee puts together a variety of fun events for the community year-round. 
Registration policyRegistration is typically not required for nature trails events, but is occasionally to make sure there are adequate supplies. For events that require registration, please visit the Nature Trails events page, find the event you are looking for and pre-register via the link found there. 
Cancellation policyAll outdoor events are subject to cancellation due to poor weather conditions, including steady rain, thunderstorms, or extreme wind or temperature. Decisions will be made approximately two hours (or more) prior to an event and will be posted directly to the MCC Nature Trails Facebook page.
VOLUNTEERThe Kenneth Lehman Nature Trails are maintained entirely by volunteers, with the occasional help of the Montcalm Community College Maintenance Department.  Workdays are typically held in April and September.  Groups (scouts, youth groups, etc.) that would like to volunteer are encouraged to participate. If you would like to volunteer, please contact Heather Wesp at 989-328-1270 or email naturetrails@montcalm.edu for more information.
adopt-a-trail programVolunteer to adopt-a-trail from May through October and commit to visiting the trail every other month to provide low-key maintenance.
DONATEWhile time is the most valuable thing you can donate, we are happy to accept materials and supplies as well as monetary donations.  Your gift can benefit and impact the Lehman Trails in many ways.  Donations will go to the Montcalm Community College Foundation and are tax deductible. MCC Nature Trails values partnerships with local businesses. Contact Heather Wesp for more information and giving opportunities.
Funding Sources
Trail activities, maps and brochures, and maintenance are funded by a combination of low cost events (like the Bramble Ramble 5k) and contributions from Montcalm Community College and the MCC Foundation.  In the past we have sold note cards and envelopes with pictures from the trails as well as dedication/memory benches.  If you would like to purchase note-cards or a bench, please contact Heather Wesp at 989-328-1270 or email naturetrails@montcalm.edu for more information.
" It's a recreational experience that provides acres of land to explore. It's perfect for families to use. "
Jeni Williams, of Sidney